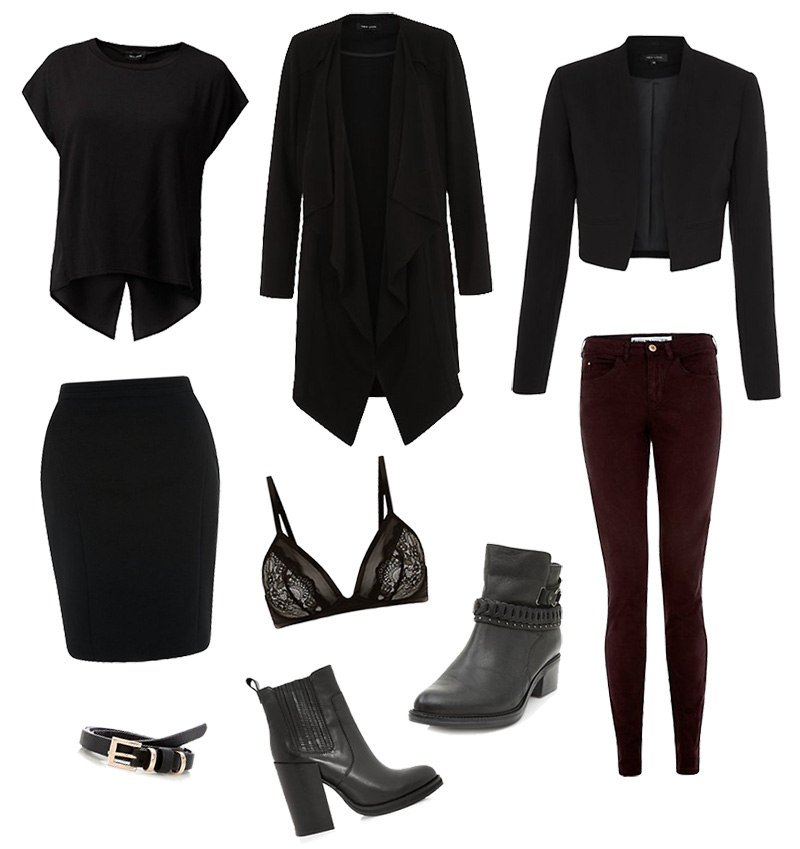 Wrap Back Tee / Crepe Waterfall Jacket / Cropped Blazer /
Stretch Pencil Skirt / Lace Underwired Bra / Burgundy Skinny Jeans /
Skinny Belt / Block Heel Chelsea Boots / Chain Wrap Ankle Boots
This post is in collaboration with New Look. The start of a new year always makes me want to re-evaluate my wardrobe, throw things out & make lists of items I'm missing or that would be a good addition. When New Look asked if I'd create a wishlist based on my fashion resolutions for this year, I thought it'd be a good excuse to get them written down, instead of just floating around in my head.
My main priority, after I've given my wardrobe it's once a year major, ruthless clear out is always filling in the gaps of basic pieces that I don't have or that need replacing. I'm obsessed with buying items that are basics with a little twist, these small details can make all the difference & this tee with crossover back is a perfect example, super plain from the front but then with that lovely wrap detail at the back, showing a little flash of skin through the split. I have plenty of these types of pieces already, but I don't think you can ever have too many & I'm always looking to add more of them when I find them.
Something I said I wanted to do last year, but never really stuck to, was to introduce more burgundy pieces. I absolutely love this colour paired with black, and every time I put on one of the few pieces I do own in this shade I always think how much it suits me & that I need to get more. I'm now completely smitten with these jeans, such an effortless way to easily work more of it into my daytime wardrobe.
My last one is to buy more comfortable shoes, and get rid of at least some of the many pairs I own that I can barely stand to walk in. I'm a sucker for a super high heel, they look beautiful & when I'm wearing them they make me feel a hundred times more confident – well, for about an hour until I'm in agony & dying to sit down again! As I've got older I've shunned these spindly skyscrapers for more sensible block heels & medium heights, yet they still sit there on my shelves unworn & never likely to be again. There are some I know I'll never part with, but for the rest of them I'm telling myself that every time I get rid of one pair of those, I'm allowed to treat myself to a more practical pair to replace them. If new shoes can't persuade me to sell them or throw them out, nothing will!