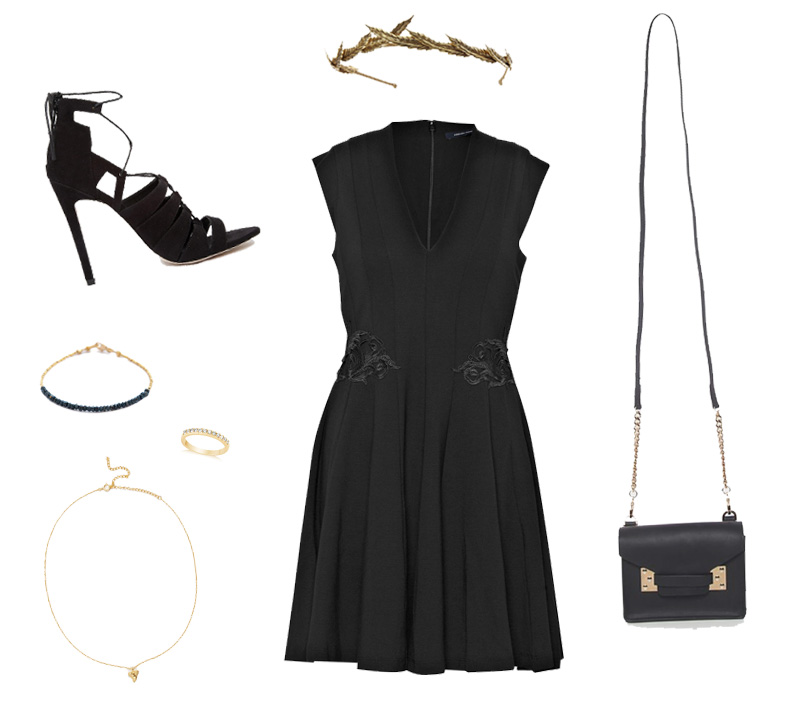 ASOS Heels / Jennifer Behr 'Eris' Crown / French Connection Lace Trim Dress / Sophie Hulme Crossbody Bag / Vashi Ring /
Vivien Frank Tennis Bracelet / ASOS Gold Plated Shark Tooth Necklace
Summer means wedding season, and apparently you can't wear black to a wedding, as I'm continuously told every time I get invited to one! In the past I've gone out & brought dresses in purples, blush & dove grey purely for this purpose to keep everyone happy, knowing I'll never wear them again. It's a huge waste of money, I usually just end up giving them away after as there's no point them sitting in my wardrobe collecting dust, and honestly it's kind of ridiculous – black is smart, classy & super polished, so what's so bad about wearing it to a wedding?
I did actually wear black to my cousins wedding a few weeks ago, as you might have seen on Instagram and I've been meaning to get some proper outfit photos of it to prove that it can totally be wedding appropriate with the right styling. Sadly the weather has other ideas right now! I have two more weddings in the next few months too, and I fully intend on wearing black to both of them as well, so when Vashi got in touch to ask what my perfect wedding outfit would be I thought it'd be a good excuse for some wishlist outfit planning!
I think the key to making this work is keeping it simple with feminine silhouettes & fabrics, like this wonderful lace trimmed French Connection dress, and then picking a few pretty accessories to help you fit in amongst all the florals & pastels that everyone else will undoubtedly be wearing. This way you still have a nice dress that you'll be happy to re-wear, instead of one brought just for this occasion and never to see the light of day again. Jennifer Behr's garland crown does this so effortlessly, and it's subtle enough that you could wear it casually too, honestly I'm already dreaming up outfit possibilities and cost per wear to justify buying it!