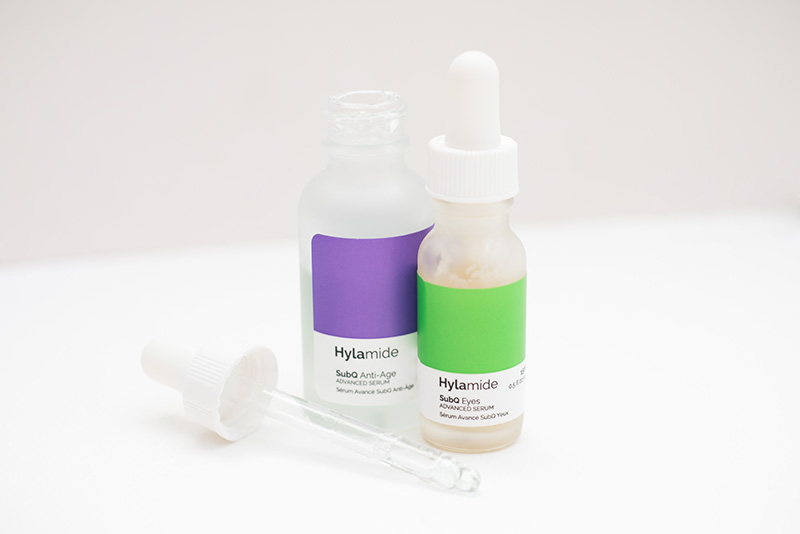 Hylamide SubQ Anti-Age Advanced Serum / Hylamide SubQ Eyes Advanced Serum
A lot of my favourite buys, of both the fashion & beauty kind, are often brought on impulse as they catch my eye whilst I walk past on my way to buy other things and this was exactly the case with these Hylamide serums from Deciem. I'd only gone into Boots to buy shampoo, but their bright, clean, scientific looking box packaging boasting long lists of active ingredients drew me right in, and then I saw the prices £30 and £27! I'd expected them to be much more considering all the claims and quality ingredients, so I knew I had to try them out.
I don't read an awful lot of beauty blogs, but I was surprised I hadn't come across these sooner as I checked for reviews on my way home and saw how glowing and positive they all were, hyping them up as 'game-changers'. I'm usually pretty sceptical when reading phrases like that, however after trying them out for a few weeks I can honestly say that I think both fully live up to their hype. Consider me highly impressed!
Hylamide SubQ Anti-Age Advanced Serum:
"For multi-depth rehydration and visible reduction in lines and irregularities. A highly active concentrate of advanced hyaluronic complexes, next-generation peptides and biotechnological technologies to target rehydration on and below skin surface, while visibly improving lines, wrinkles, sagging skin and textural damage."
This is a lightweight, clear and slightly gel like liquid, it sinks into the skin so quickly and immediately makes my skin look plumper and hydrated. I don't think I've ever tried any other skincare that gave such an obvious effect this quickly – other than a facial! Thankfully this isn't just a quick, temporary trick, I've definitely noticed an improvement in my skin since using it, my face looks glowy, smooth and well rested. It's continued to improve my skins hydration and seems to have helped balance it out too, my t-zone is a little less oily and the dryness on my cheeks is completely gone.
Hylamide SubQ Eyes Advanced Serum:
"For immediate and longer-term visible correction of under-eye aging, puffiness and dark circles. High-strength serum concentrate uses a wide array of peptides, plant saccharides and active technologies to rehydrate the fragile eye area below and above the surface, while targeted technologies visibly improve fine lines, crow's feet, puffiness and dark circles. Offers results immediately, within days and within weeks."
I didn't notice as immediate of an effect with this as I did the facial serum, however I do think that it's had a bit of an impact on my dark circles over the past few weeks, they seem lighter and I think I look less tired as a result too. This is a creamier, thicker liquid than the serum, and it tingles quite a bit when you apply it! I was unsure if this was my eyes being sensitive to it at first, but it doesn't seem to be irritating them at all & from other reviews it's something a lot of others have mentioned also. I'm just going to assume it means something is working! The best thing about this one for me is that it absorbs nice and quickly and leaves no greasy residue behind, it's perfect for under makeup (no smeared eyeliner!) and I don't wake up with puffy eyes when using it at night, as is often the case with other eye creams that feel this nourishing.
I have to admit, I can't really comment on how well either performs in the claims about wrinkles or sagging skin, as I don't really have those worries just yet. I'm a big believer in prevention being better than cure though, so I take care of my skin as much as possible, avoid too much sun & hope that products like this, packed full with beneficial ingredients, are helping to keep those inevitable things at bay for a little while longer.
I'm now eagerly awaiting the launch of their Booster Series, which includes serums targeted at improving problems such as radiance and sensitivity, plus the seriously intriguing sounding 'transparent foundation'. I'm all about a light base recently, so I'm dying to find out what exactly that is!