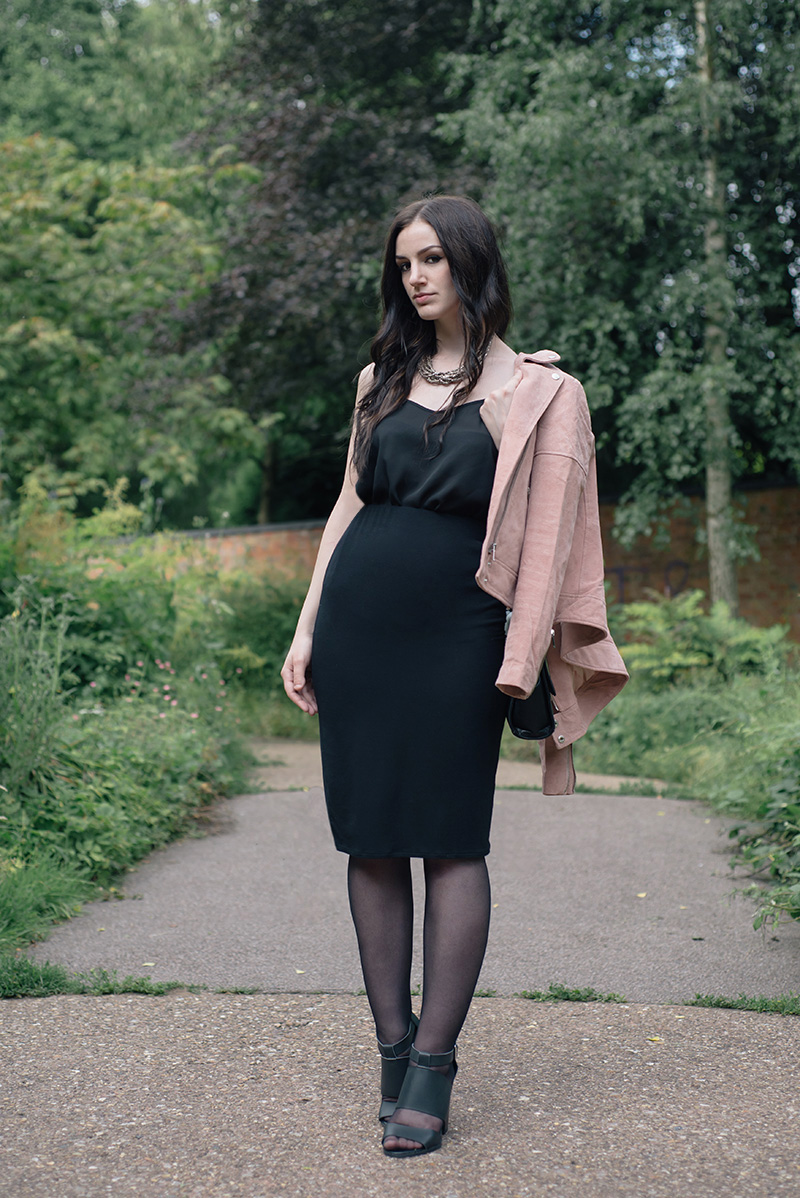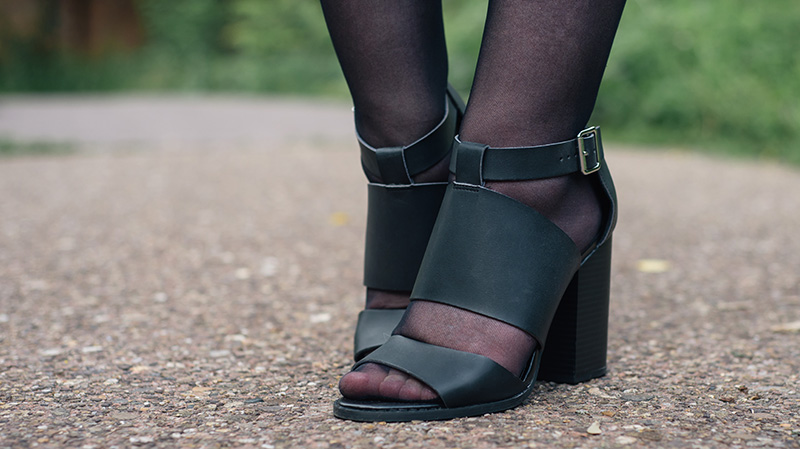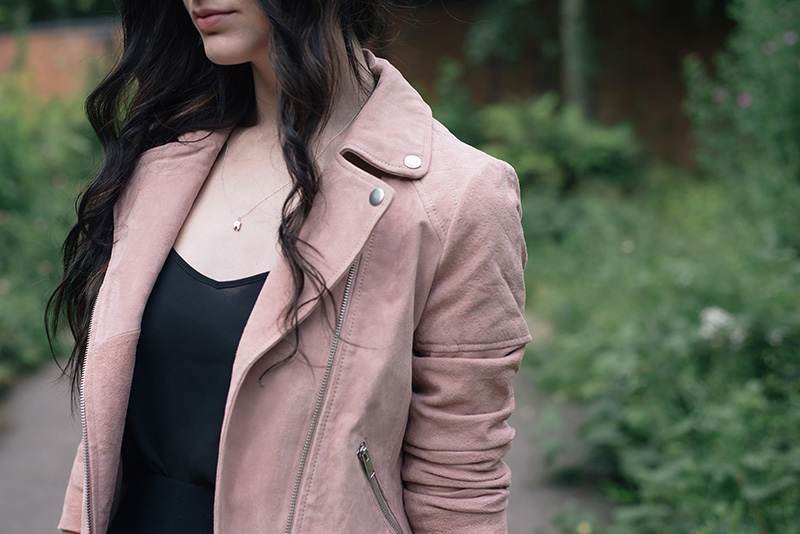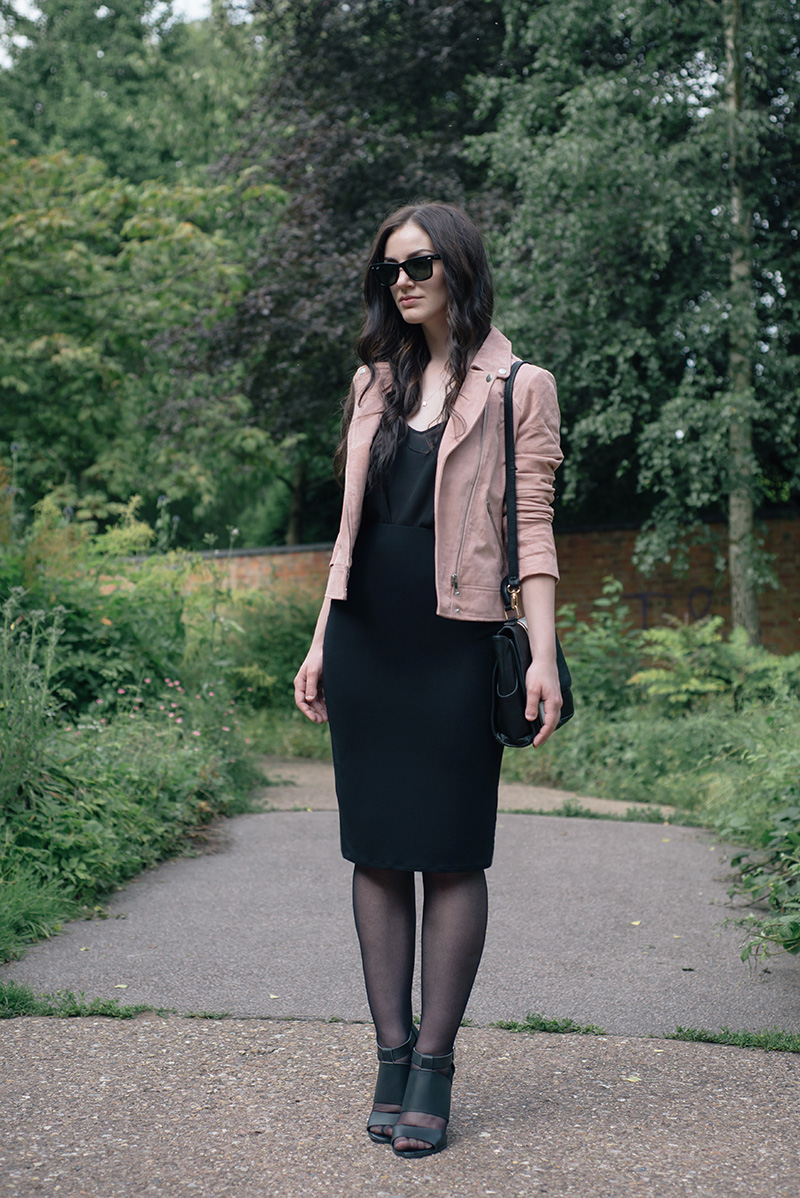 Dorothy Perkins Blush Suede Jacket * / Dorothy Perkins Camisole * / Dorothy Perkins Tube Skirt * / Head Over Heels Sandals * /
Dorothy Perkins Bag * / AllSaints Choker / Ray-Ban Wayfarers
No, your eyes are not deceiving you, that is a blush pink jacket on my blog! Isn't it beautiful though? I have a little rule that if I really fall in love with a piece that's not black then it means I must really like it, so I'm allowed to get it. As you can probably tell, this rarely happens, as I usually think of non-black things more in the mindset of 'Oh, beautiful! That would look amazing on someone else', but this one I fell for.
Dorothy Perkins recently asked me to style up my ideal summer work wear outfit, and I'm definitely a Day To Night kind of dresser, simplicity is key for me and I'm often too busy for the fuss of outfit changes. Though I'm self employed and work from home, I still like to make an effort with how I dress and try to avoid the trap of working in my PJ's, as tempting as that may be! I feel like getting dressed properly puts me in the right mindset for the day, and of course I rarely know exactly how my day is going to play out in advance either. I rely on staple pieces that are comfortable and can be dressed up or down with small additions to make sure that I'm ready for whatever the day brings.
A simple camisole and pencil skirt is a classic, it's light and easy in the heat, it looks smart enough for day wear and meetings, but then switching jewellery for something a little more statement instantly dresses it up and makes it more evening appropriate. My hero piece for day to night dressing will always be a great leather jacket though, it's perfect for throwing over outfits like this to give a more casual vibe during the daytime and yet it won't look out of place at a bar either. A lightweight one like this is ideal for fuss free layering in the hot summer months and staying one step ahead of the unpredictable British weather.
Dorothy Perkins have created a fun little quiz to determine your own work wear personality, are you 'Day to Night' like me or are you more 'You Mean Business'? Play along here. You can also see all of the work wear personalities along with the perfect pieces for each look in their Summer work wear feature.