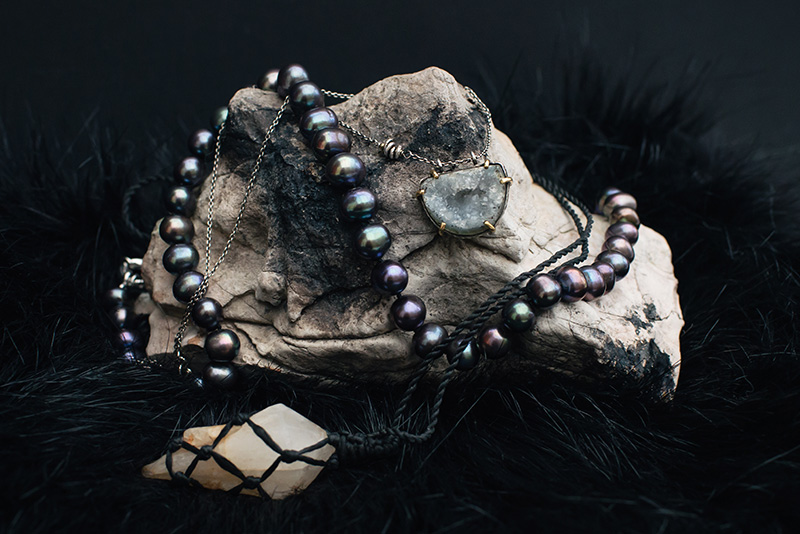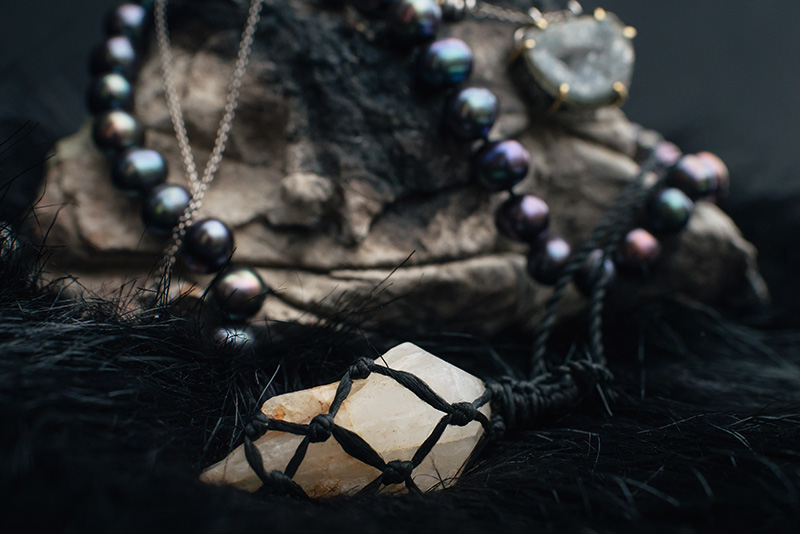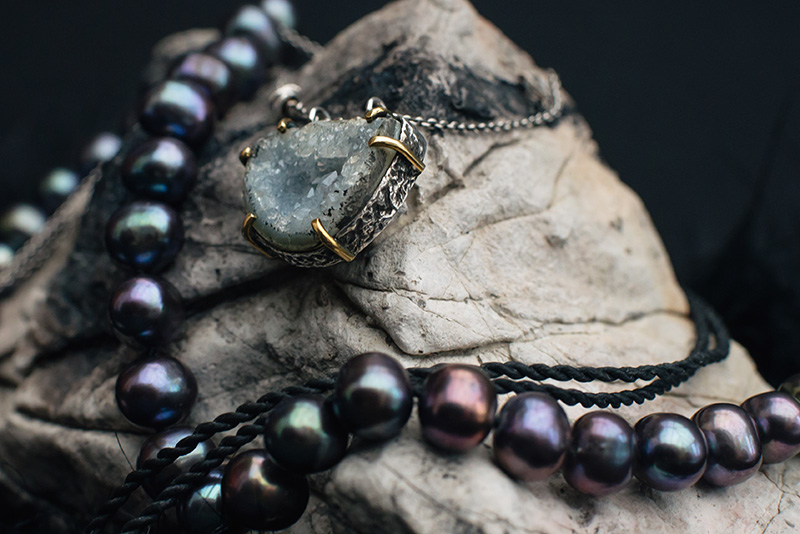 When I started unpacking, I noticed that by complete accident I had come home with a piece of jewellery from each of the countries we had visited on our trip. A silver and blue topaz crystal necklace from Chiang Mai in Thailand, a milky quartz pendent from the Siem Reap night market in Cambodia and a string of black pearls from Beijing in China. I love collecting jewellery, but I wasn't really looking out for pieces or souvenirs whilst I was away. I just kind of stumbled upon each of these and knew immediately that I needed them.
Quartz from Siem Reap
The first was the quartz shard. We were wandering through the night market in Siem Reap on our way to dinner when I saw a wooden cart all decked out in fairy lights, smelling of incense and essential oils. As I got closer I saw that it was draped in crystal jewellery. The pieces were beautiful, but none of them really felt like me. I was about to walk away, when the lady who owned the stall asked if I needed any help. As we got talking we learned that she was British, and that she had been a nurse back home but had moved to live with a Hill Tribe in Chiang Mai after her kids had grown up. She now sells these handmade pieces along with teas and oils, and comes to Siem Reap with her husband every few years to sell at the market. We couldn't help but feel a bit envious, but also quite inspired by her adventurous spirit. She pointed me to a little basket of crystals on the shelf, and told me to see if anything caught my eye. I poured through, and suddenly found myself drawn to this pointed, white fragment. Nat said it reminded her of a tooth, and that was that. I handed it over and when I returned a little while later it had been hand knotted into the perfect necklace.
Silver & Topaz from Chiang Mai
Next came the silver and topaz necklace. On our second day in Chiang Mai, I spent the afternoon wandering around the old city, drifting in and out of shops and sampling the street food. Chiang Mai is full of wonderful little independent boutiques selling handmade pieces and I was really glad I'd had the chance to look around properly. My heart skipped when I saw this necklace in the window of The Silver Cafe, and then again when I noticed the price. I couldn't afford it. I stared longingly at it for a while before forcing myself to keep walking, but I just couldn't stop thinking about it. Walking back to the hotel a few hours later I passed the store again and decided to go in. I looked in every case, and though there were many beautiful things none of them were the necklace. I knew I'd regret it if I didn't buy it, so I decided to see if I could put the haggling skills I'd honed in Siem Reap to good use. It didn't look like the kind of place that would entertain offers, so I was amazed when I managed to get it down to a price I could afford. It was still a little more than I should have spent, but it's something I'll treasure and to me that makes it worth it.
Pearls from Beijing
Lastly, the black pearls from Hongqiao Pearl Market. When we arrived I was pretty underwhelmed by the silk scarves and knockoff fake leather bags on the lower floors, but then we reached the 3rd floor and saw the pearls. String and strings of them! Personally I don't like the perfectly round, uniform kind so I was much more taken by the cheaper, imperfect sets. The prices seemed too good to be true, but we gave them all the tooth and scrape test, and they were infect real. When I brought these black ones I thought I was buying them on a string and that I would have to make them into a necklace myself. I hadn't even haggled with her on the price as they were already so cheap (£7!), so I was speechless when she whipped out some silk thread and a clasp from under the counter and started knotting them into a necklace.
There's something so special and even a little magical about jewellery. It seems to capture memories and moments in time so effortlessly. Each piece developing its own story and history that can be passed down and built upon over the years. I never intended to pick up a piece from each place, but I'm going to try to carry this on and bring a home a new piece from each country I visit from now on.