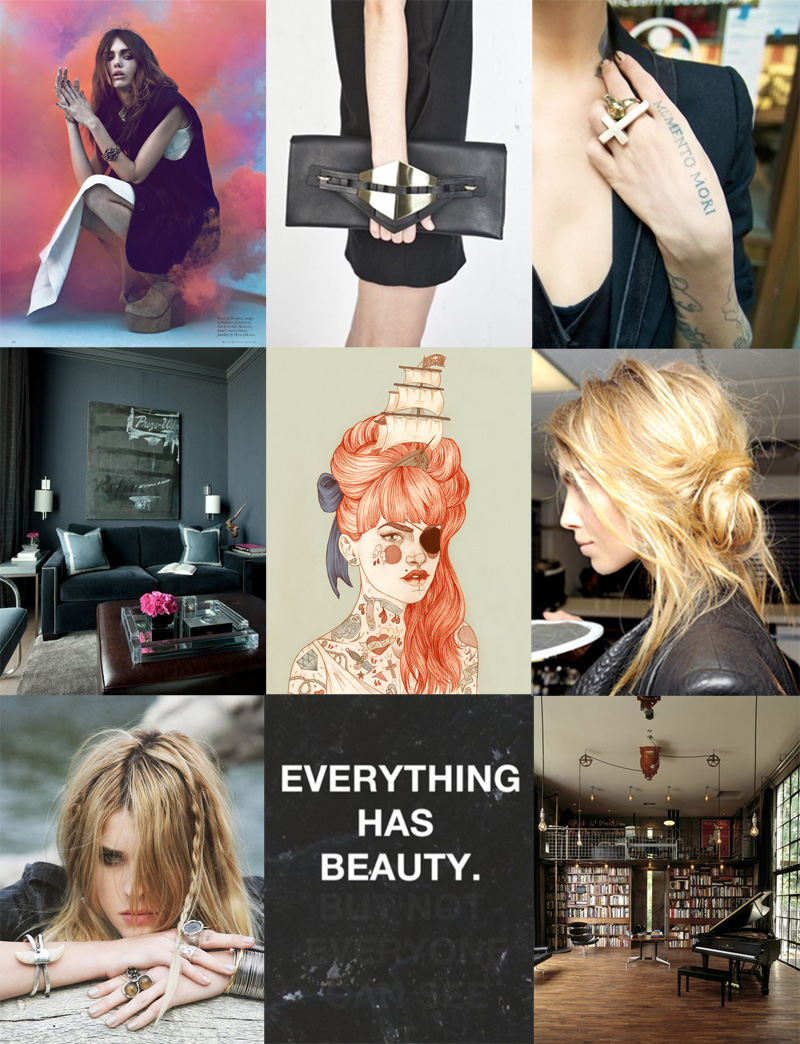 Darren McDonald Black Magazine Editorial / Fleet Ilya Clutch / Tattoos & Rings
Black Living Room / Liz Clements Illustration / Messy Bun at Proenza Schouler
Perfect Summer Hair / Words to Live By / Dream Library
I'm going to have another go at doing a weekly round up of my inspirations, I know I just sorta stopped doing the Tumblr one, so with this I'm not going to restrict myself, It'll be 9 images every Monday of whatever I have found most inspiring over the past week, no particular theme, just a random mix.
I'm also going to try & include a playlist of my 10 favourite / most listened to tracks of the past week, music is such a huge part of my life & a massive influence, so it makes sense to include something like this & I think it'll be fun to look back over them all at the end of the year! I shall just say now though, my tastes are quite varied, expect anything from Grunge to Hip Hop, Folk, Metal, Electro, cheesy 80's Pop & anything in between, so there will probably be no theme to each list, and again it'll just be a totally random mixture. Most likely the tracks selected are my current favourite from that particular album, as I prefer listening to full albums rather than a mix, I'll try not to repeat songs for future lists, but as I have a lot of old favourites that are constantly on repeat you'll probably get a different song from the same album now & then. I love discovering new artists to obsess over, so I'll try & include some newer stuff on each one, as well as older stuff I listen to regularly, also, if you know of any new or obscure artists you think I may like, feel free to recommend!
You need Spotify to view the playlist, if you don't have it, I highly suggest downloading it – it's free, or you can choose premium. Honestly, I've barely used my Ipod since getting it about a year ago!
10 Favourite / Most Played Tracks This Week…
Click to open in Spotify : [ Playlist for 21/05/11 – 27/05/11]
Inc. The Breeders, Jeff Buckley, Nirvana, Dinosaur Pile-Up, The Jim Jones Revue, Modest Mouse, Wolfmother, Pulled Apart by Horses, Aerosmith, The Violent Femmes