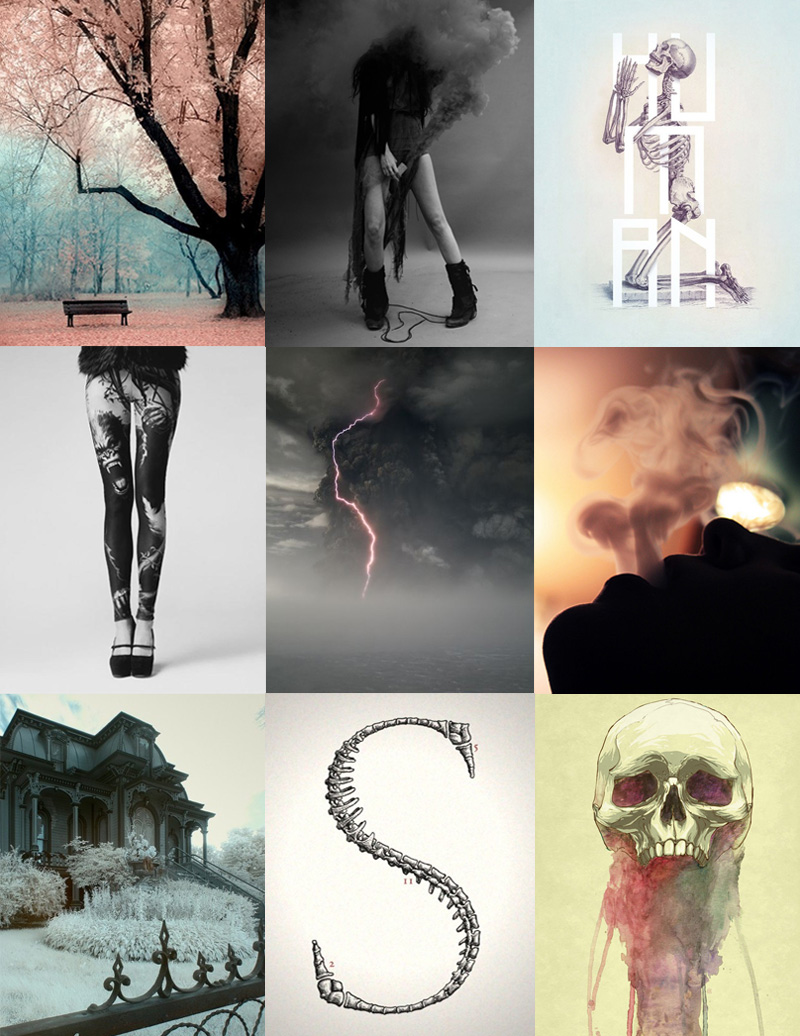 #1 : Infrared Photography by Yiu Yu Hoi / So dreamy & beautiful… Like another world…
#2 : Alexandra Valenti / Another photographer who's work I'm seriously crushing on at the moment…
#3 : "Bone – Anantomy Illustrated" book by Josip Kelava / In love with this idea of taking 16th-19th C anatomy illustrations & adding a graphic twist! I'm obsessed with these type of illustrations anyway, but the graphic edge makes them seem so fresh!
#4 : Gorilla leggings by Trash / I need these so badly!
#5 : Erupting volcano / Nature is so beautiful & awe inspiring, love the colours here too…
#6 : Smoke / Really wish I knew who this was by, I'd love to see their other work…
#7 : Gothic house / This is my dream house, I absolutely love gothic architecture!
#8 : Björn Johansson / Gorgeous typography, the whole set is just stunning!
#9 : Vanessa Rivera / Love the mixture of watercolour & digital vector work here, really awesome!
10 Favourite / Most Played Tracks This Week…
Click to open in Spotify : [ Playlist for 01.07.12 - 08.07.12 ]
#1 : Bat For Lashes / Horse & I
#2 : PJ Harvey / The Last Living Rose
#3 : Sonic Youth / Sacred Trickster
#4 : Fight Test / The Flaming Lips
#5 : MGMT / Kids
#6 : Florence & The Machine / What The Water Gave Me
#7 : Goldfrapp / Beautiful
#8 : Feist / Graveyard
#9 : Devendra Banhart / Noah
#10 : Bon Iver / Holocene