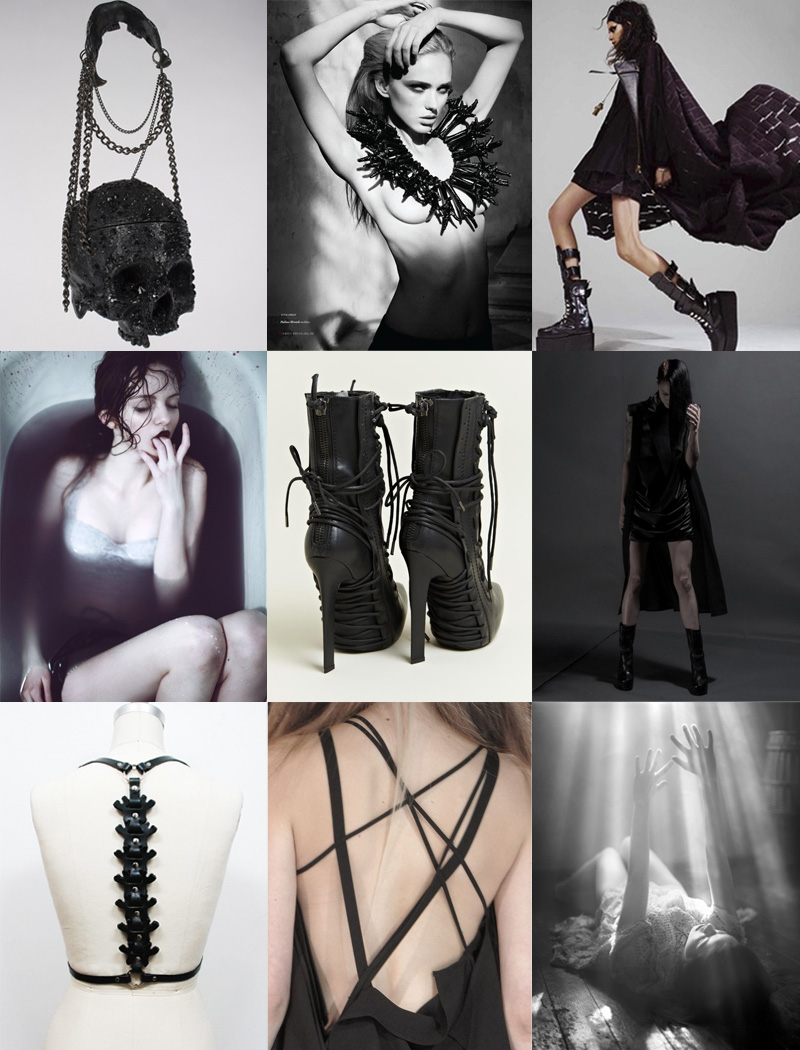 #1 : Richard Hible Skull evening bag / I think I want, no need, one of these…
#2 : Szymon Brodziak for Idoll Mag / I always love really dramatically lit B&W images & this is a perfect example of that.
#3 : Benny Horne for Vogue Turkey / I love the image, but mostly I just want everything the model is wearing, how awesome are those boots?!
#4 : Unknown / I wish I could find where this is from, so grungy & perfect!
#5 : Haider Ackermann boots / He is one of my absolute favourite designers, but I never paid much attention to his footwear… These might be my ultimate dream boots!
#6 : Area di Barbara Bologna A/W 12 / In love with everything from this collection!
#7 : Zana Bayne Spine Harness / I've always loved anatomically inspired things & I just adore this harness.
#8 : Yohji Yamamoto S/S 13 Details / In my opinion Yamamoto is the king of gorgeous little details like this…
#9 : George Pruteanu / A photographer I came across thanks to Pinterest, the light in this & the pose is so beautiful.
10 Favourite / Most Played Tracks This Week…
Click to open in Spotify : [ Playlist for 14.10.12 – 21.10.12 ]
#1 : Instruction / Pissed Me Off Again
#2 : Bush / Machinehead
#3 : The Pixies / Levitate Me
#4 : The Smashing Pumpkins / Landslide
#5 : Sonic Youth / Reena
#6 : Bleech / Break My Nose
#7 : The Long Blondes / Only Lovers Left Alive
#8 : Goldfrapp / Ride A White Horse
#9 : Bat For Lashes / Glass
#10 : Yeah Yeah Yeahs / Skeletons