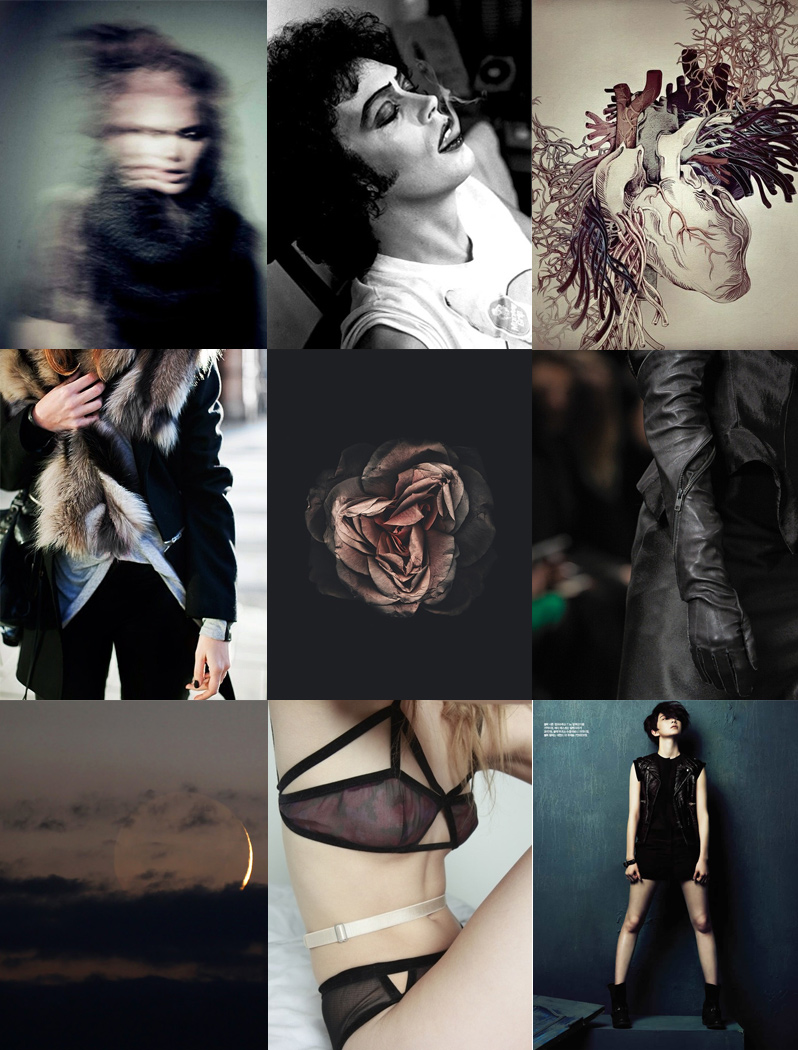 #1 : Blurry / Love the colours & the distortion in this, I so wish I knew who it was by though!
#2 : Frank'N'Furter from The Rocky Horror Picture Show / One of my all time favourite movies & characters, I have no idea why, but I still have such a huge crush on Tim Curry as Frank…
#3 : Sougwen Chung / So much gorgeous detailing in this, I could stare at it forever!
#4 : Texture mix / Although I'd never wear real fur, I love the mixture of textures here, definitely want to re-create this but in faux!
#5 : Leslie Ann O'Dell / I love how this looks almost too real, but it is a photograph! The use of light & shadow is so painterly, giving that hyper real effect, just beautiful.
#6 : Ann Demeulemeester FW12 / I adored this whole collection, but little details like this are why I love Demeulemeester so much…
#7 : Hazy sky / Those smokey clouds, pinkish sky & that little sliver of moon, so pretty!
#8 : Lonely Hearts underwear set / I still can't get enough of this underwear, such simple perfection, I wish they had a UK stockist!
#9 : Kim Yeong Jun for Singles Korea 'The Boy' / I featured Yeong Jun's work a few posts ago, this is another of my favourites of his. I'll always be a huge fan of androgynous looks & this whole editorial is killer!
10 Favourite / Most Played Tracks This Week…
Click to open in Spotify : [ Playlist for 02.12.12 – 09.12.12 ]
#1 : Palma Violets / Best of Friends
#2 : New York Dolls / Personality Crisis
#3 : Band of Skulls / The Devil Takes Care of His Own
#4 : The Black Keys / Tighten Up
#5 : Kings of Leon / Soft
#6 : The Strokes / Last Night
#7 : Ladyhawke / Girl Like Me
#8 : Massive Attack / Angel
#9 : Throwing Muses / Counting Backwards
#10 : Juliette & The Licks / Got Love To Kill