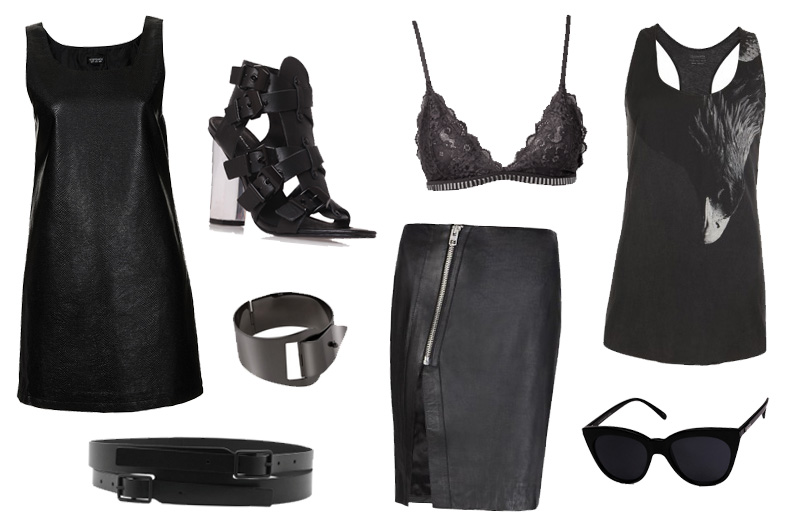 Topshop Snake Textured Dress / Kurt Geiger Buckle Heels / Issue 1.3 Bra / AllSaints Bird Print Tank Top /
AllSaints Buckle Cuff / AllSaints Leather Zipped Skirt / COS Double Buckle Belt / Le Specs 'Halfmoon Magic' Sunglesses
This week the continuing bad weather has put a stop to all outfit posts we had planned, so I thought I'd put together a wishlist of things I wish I was wearing instead…
My favourite summer staple is a nice, soft, loose fitting tank top. I have heaps of them already, but I'm always adding more to my collection, so I shall definitely be getting this eagle print one from AllSaints. Their tees are always so beautifully soft, they feel like ones you've been wearing in for years & the placement of the black on black print is perfect. I can't get enough of this split leather skirt either, I can't believe I don't already own a leather skirt, I think that needs to be remedied imediately!
One thing I really need more of though are some nice bras for under all of my loose tanks. You know, the kind that add something to your outfit when you see them peeking out the side? Why are they so hard to find? I always prefer simple triangle styles for this, I don't know why, but they seem less fussy & try hard. This lace version from Issue 1.3 is exactly what I've been searching for, so simple, but the lace & studded band help to make it feel like it's supposed to be on show when you catch a glimpse of it under a loose top.
Summer means new sunglasses too, even if they look practically identical to all of my other pairs, I can never resist a good cateye! I fell in love with Aussie brand Le Specs when I got a pair of their 'Runaways' & was so impressed with the quality for the very reasonable price. It's fair to say I've fallen head over heels for their 'Halfmoon Magic' style. There is a beautiful clear taupe colourway with rose mirrored lenses too, which I am pretty tempted by, but I think I'll end up getting the black, as usual!