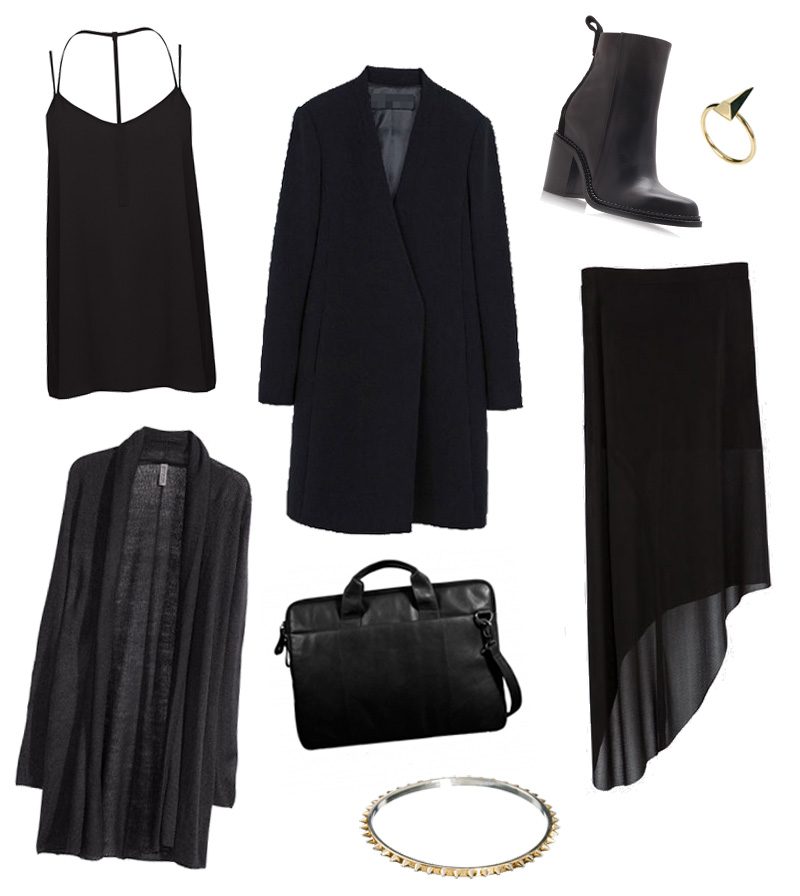 Warehouse Cami / Choies Slim Coat / Kurt Geiger 'Stand' Boots / Whistles Spike Ring
H&M Cardigan / Teals Boutique Bag / Zara Asymmetric Skirt / Maria Francesca Pepe Spike Bangle
Since clearing my wardrobe out recently I've been trying to make a real effort to only buy classic, staple pieces that I know I will still be wearing for years to come & it's lead to me buying an awful lot of very minimal, simple items. Those type of pieces that never seem to date & always look so fresh and modern. I know I'm saying this a lot recently, but it's true, the older I get the more I'm starting to favour a more paired back way of dressing. Practical items like this beautiful leather laptop bag & more comfortable shoes too, as I find myself buying ever more mid height heels, instead of the skyscrapers I spent my student loan on a few years ago. This pair from Kurt Geiger are my current obsession, they couldn't be more perfect everyday boots – nice height, chunky heels, classic & with that lovely thick stitching & pull tab to the back.
I usually prefer coats with all kinds of buttons & zips, bikers & trenches, but this super clean one really caught my eye whilst I was browsing Choies. I'm not sure if it's a little too severe for me, but I think it would be perfect with a drapey cardigan poking out underneath, or over a silk camisole or skirt to contrast against the starkness & make it a little softer.
Another thing I've been cutting back on is jewellery, I haven't been wearing much at all recently, and haven't brought any in the longest time either. Slowly I'm starting to covet a few select pieces again though. I love how the Whistles ring & Maria Francesca Pepe's bangle are dainty, unfussy & yet still interesting enough to make an impact.