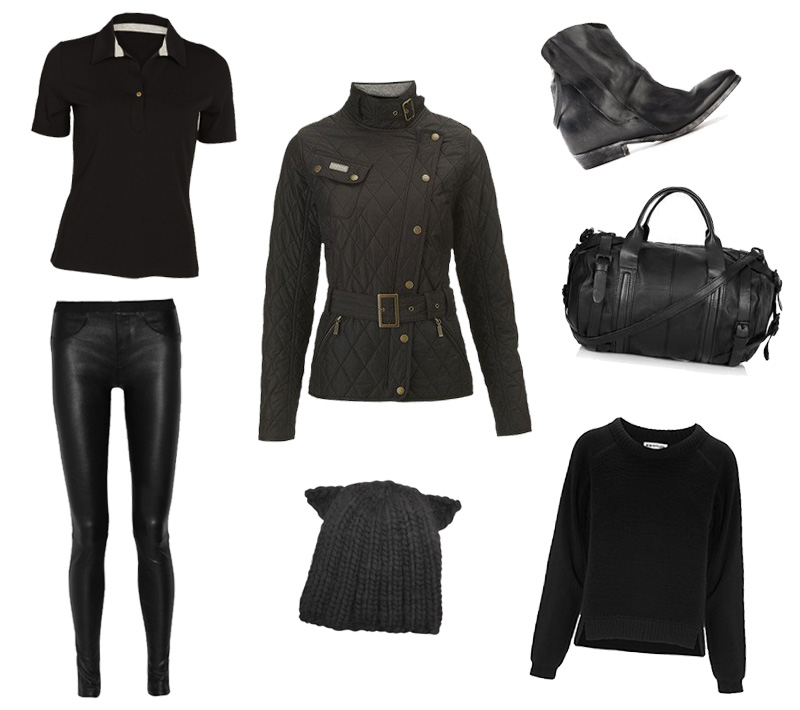 Barbour Polo Shirt / Barbour 'Matlock' Quilted Jacket / Cinzia Araia Boots / Topshop Barrel Bag /
Helmut Lang Leather Leggings / Eugenia Kim Felix Hat / Whistles Chunky Rib Sweater
A few weeks ago Alex from Barkarama asked me to take part in her Walking Style series showing what I wear when taking Nico for a walk (outfit photos of this very soon!) & it got me thinking a lot about my casual wardrobe & making mental wishlists of what pieces I'm missing from it. Though this is not exactly a dog walk friendly outfit, it's more off duty items, because I got a little carried away!
Whenever I go over to Ollie's I always end up borrowing his Mum's quilted Barbour jackets for dog walks across their fields & I've been meaning to get one of my own for a while. I have to admit I'm not the biggest fan of the more classic versions & couldn't justify the price for one, but this one is another story, the biker style, jersey lining & the little details like the buckle at the neck make it the perfect blend of comfort, practicality & style.
My quest for the perfect flat boots is still on going, the last pair I ordered were not quite right & so were returned like all the previous pairs. My next pair to try, once I have some spare cash, will be these Cinzia Araia ones, I love how worn & broken in they look, plus the minimal, fuss-free details make them a true classic. I hadn't heard of this brand before until Jenny posted about them, and I fell in love with pretty much every pair. I'm also still obsessed with any headgear with ears, so obviously I have my eye on this adorable Eugenia Kim 'Felix' hat too!