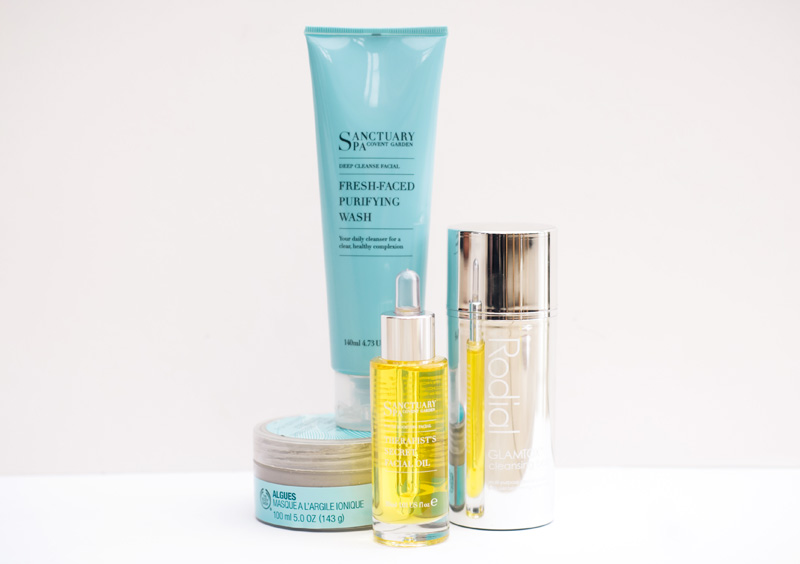 The Body Shop Seaweed Ionic Clay Mask / Sanctuary Spa Fresh Faced Purifying Wash /
Sanctuary Spa Therapists Secret Facial Oil / Rodial Glamtox Cleansing Balm
In my never ending quest to keep my problem skin under control I am constantly trying new products in an attempt to find ones that actually work for my skin. I mentioned last time that I'd found my perfect moisturiser & serum, but I still needed to find a really great cleanser & a night cream. These are a couple of products I've been enjoying using recently that are totally worth raving about.
The Body Shop Seaweed Ionic Clay Mask :
This is not a new find, but it's probably one of my favourite masks & I've been using it for years. I find clay masks work really well with my oily skin, and I've tried all manner of them over the years from super cheap to extortionately priced & I still think this is the best. It does such a good job at mopping up excess oils & really deep cleansing, but never makes my skin feel dried out no matter how long I leave it on & it leaves my skin looking clean & refined.
Sanctuary Spa Fresh Faced Purifying Wash :
Sanctuary was never a brand I payed much attention to until a few years ago when I brought my Mum some of their products for her birthday & she raved about how great they were. I've tried lots of their products since then & have actually been pretty impressed with all of them. This is a standout for me though, because it delivers squeaky clean skin but it feels gentle too, without that familiar tight, dry feeling on your face afterwards.
Sanctuary Spa Therapists Secret Facial Oil :
After trying out a heaps of night creams I've decided my skin just doesn't really like them, they're too thick & rich and always leave my skin greasy in the mornings. Instead I've started using this oil layered under my usual Vichy moisturiser for added nourishment. Previously I was using the Clarins Lotus Oil, but I honestly think this one is better & it's less than half the price too. It sinks in almost immediately & leaves my skin plump, soft & feeling really nourished when I wake up, without any greasy residue like the Clarins version left behind. I think the combination of this & the Rodial cleansing balm are also helping to control my oilyness, as my skin has been noticeably less oily since I've been using them. Both this & the face wash are currently 1/3 off at Boots too, making them even better value.
Rodial Glamtox Cleansing Balm :
I had a very generous sample of this in a goodie bag at the end of last year, it sat in my drawer for ages unused because I feared that it would break me out. The consistency is odd, like an oil in gel form that melts into a creamy oil when massaged into your skin. I finally tested it a few months ago & completely fell in love. Pretty much from the first use I knew I'd have to buy the full size, it removed every last scrap of makeup without the need to double cleanse and left my skin bright & glowy too, thanks to the amino acids. For years I had been using harsh soapy cleansers assuming that's what my skin needed to battle the oilyness, but this has worked better than any of them ever did. Maybe my skin was just crying out for a more gentle cleansing routine & a little moisture? Currently I use this as my night time cleanser & the Sancturary one in the mornings, the improvement in my skin has been really quite amazing, all the clogged pores & little bumps along my forehead & jaw have gone, as well as most of the stubborn blackheads on my nose too! The one thing I don't love is the price tag, though for me personally it's 100% worth it for the results, I honestly could not recommend this enough. I did recently come across it on AllBeauty at almost half price, though I'm not sure if this is a permanent discount or a special offer, so I've ordered a replacement just incase!