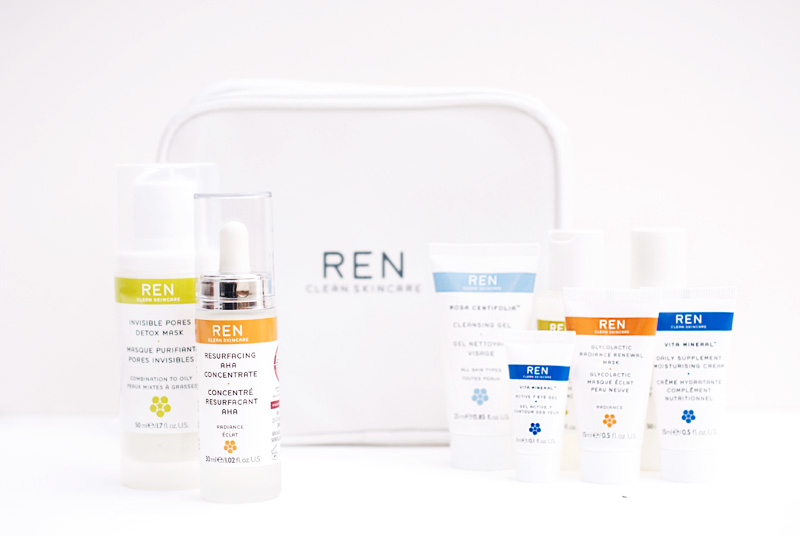 REN Resurfacing AHA Concentrate * / REN Invisible Pores Detox Mask * / REN Discovery Kit *

Discovery kit contains : Neroli & Grapefruit Body Wash, Neroli & Grapefruit Body Cream, Rose Centifolia Cleansing Gel, Vita Mineral Daily Supplement Moisturising Cream, Glycolactic Radiance Renewal Mask, Active 7 Eye Gel
REN is a brand I've wanted to try for a really long time. I love that all their products are clean, using natural active ingredients & without harsh chemicals, irritants & parabens. The brand is also against animal testing & as far as I can tell all the products are vegan too, a huge plus as far as I'm concerned. I hear a lot of their products, the masks in particular, raved about constantly but I like to buy new beauty products in person (is this just me? Am I weird?) & I didn't think anywhere here carried the brand. Then I saw it was stocked at my local Marks and Spencer, I feel this could be quite dangerous as I'm really impressed with the products I've tried so far! They are currently holding a Beauty Discovery event too, where purchasing 2 or more products from their many brands earns you a free gift. Each brand has a different offer on, so do check, the REN offer is this Discovery Kit full of generous sized samples of some of their best sellers.
Resurfacing AHA Concentrate :
I have been wanting to try this out for ages, especially after having my enzyme facial peel & seeing what a difference a good chemical exfoliation made to my skin. I will definitely be going back for another peel as soon as I can, but the idea of an at home treatment to use in between to keep the results up is appealing. I did want to try out the Alpha-H Liquid Gold, but honestly, it scares me a little & this is often mentioned as a gentler alternative. I was skeptical of it at first, I tried the mask out before this & the results of that were instant, so I expected something similar & was a bit disappointed when it didn't really seem to be doing anything. I went to bed without adding any moisturiser over the top & woke up to bright, healthy looking skin. This is supposed to be used over the course of a week, every night & then stopped for 2 weeks before repeating, so I'm hopeful that after the first week the results should speak for themselves.
Invisible Pores Detox Mask :
I'm a sucker for a good mask, and I often end up leaving the beauty hall with an armful of new ones to try that I've heard others rave about. Usually I find myself a little disappointed with the results, but not with this one, it fully lives up to the reviews for me. I think it may have even have overtaken my favourite The Body Shop seaweed mask as my number one clay mask too, though maybe it's too early to say just yet. I did find it a little hard to spread onto my face, it's creamy but dries very quickly to a chalky finish & the herb-like smell is not my favourite. However, within minutes I could see oily spots dotted all over my t-zone where it's drawn out the gunk from my pores, yuck! Once dry, you then buff it off with your finger tips for a little gentle exfoliation & wash the remainder off. It left my skin feeling thoroughly clean & fresh, and the areas of my face that are prone to blackheads, like my nose which other masks make no difference to, looked noticeably clearer & that really surprised me.
Discovery Kit :
I always love little kits like this, they are the perfect way to test out a couple of products without splurging on the full sizes before you've properly tried them out. This kit contains 6 of REN's best sellers & they are all really good, generous sizes, I managed around 5+ uses out of most of them, which is plenty to decide if you think a full size is worth it.
The product here that really stood out, and I will absolutely be buying a full sized version of is the Glycolactic Radiance Renewal Mask, both myself & my Mum were massively impressed with it, and she is hard to please when it comes to skincare. It's a sticky, orange fragranced gel that applies so easily you only need a small amount & immediately after wiping it off our skins were left fresher, glowier & feeling like velvet. Seriously, my face was so soft, I found myself absent mindedly stroking it for hours after!
I was also impressed with the cleanser which foams up really well & leaves skin feeling squeaky clean without any tightness & the eye gel too, though I don't imagine this does anything long term like a targeted cream would, it's seriously great at de-puffing in the mornings & feels nicely refreshing on tired eyes.
Marks and Spencer's Beauty Discovery Event is on until April 16th – Purchase 2 products from any of their brands including REN, Nuxe, Bliss & St. Tropez, amongst many others & receive a free product or gift!