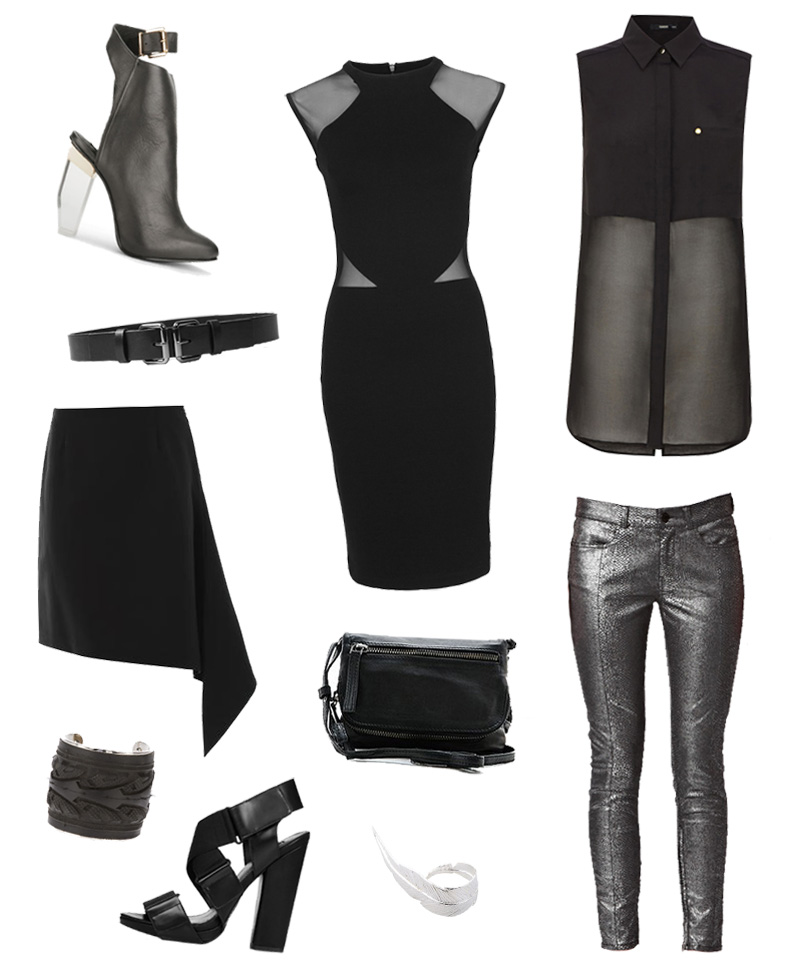 Miista Perspex Heel Ankle Boots / French Connection Sheer Panelled Dress / Oasis Chiffon Sleeveless Shirt /
Allsaints Double Belt / J.W Anderson Asymmetric Skirt / Beksondergaard Leather Bag / French Connection Silver Snake Trousers /
Carmina Campus 'Slave' Tire Bracelet / Topshop Elastic Strap Heels / Daisy Knights Feather Ring
I've been trying hard to avoid the sales this last week. I still have saving up to do & I'm trying to be less impulsive with my buys too, no matter how cheap they are. I always find sale season & the urgency of it all makes me pounce on things which then sit in my wardrobe unworn, tags still attached, never to be touched again. Trying to dodge those coercive emails is another story though & a little window shopping never hurt anyone! These are a few of the things that have caught my eye, I'm telling myself that if I still want them after a week or so, and they're still available, then I'm allowed to treat myself to a few.
Those perspex heel boots from Miista are at the top of the list at the moment, you guys know I have a thing for black ankle boots & I love how they've managed to make the perspex heel look elegant & luxe, instead of just a bit cheap like you'd usually expect. Plus, no one could tell me 'they look just like all your other pairs!' with these! The chiffon shirt is high up there too, though I don't really like having my stomach on show, so I'm thinking of styling options to justify getting it. Maybe a high-waisted skirt layered underneath, with a sliver of skin peeking though?
One of my favourite ways to add a bit of 'colour' to my usual all black is subtly with a really great metallic piece, I love that they blend in but add a real punch at the same time too. These silver snake print trousers have already been ordered, they were just too cheap to pass up! I love snake print, I love metallics & I love that it looks like the kind of foil print that will gradually wear off & look even better. I'm just hoping they fit well when they arrive though, you know how tricky jeans can be & there's nothing worse than a badly fitting pair.