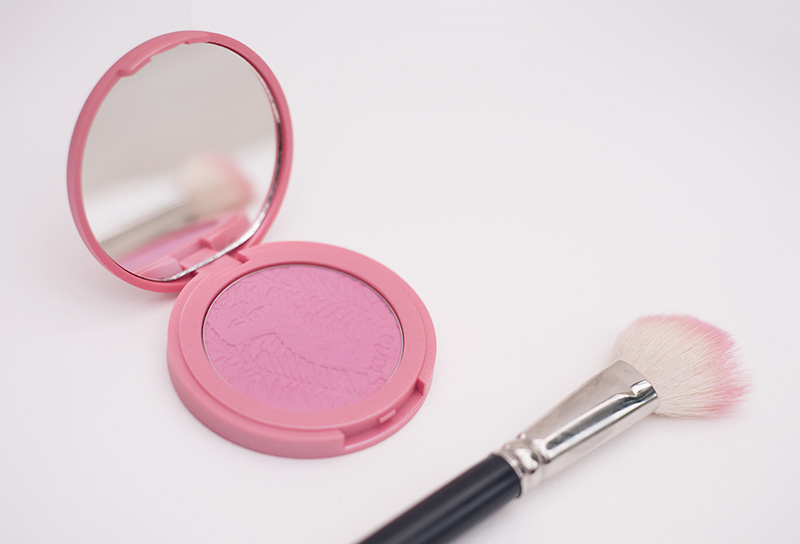 Tarte Amazonian Clay Blush in 'Dollface'
I usually refuse to buy new makeup online without swatching it first, especially when it's something like a base or blush where you really need to get a shade that suits you or risk it having been a huge waste of money. Tarte's Amazonian Clay Blush has been on my wishlist for such a long time now though, the formula is always being touted as one of the best & I've seen so many pale skinned beauty bloggers raving that the shade 'Dollface' is the perfect blush for pale skin. I've been holding out waiting for it to be stocked somewhere I could see it in person, but with no luck. When I found that to my horror my staple everyday blush (MAC Pinch O Peach) had been discontinued though, it was my first thought in the search for a replacement.
It's not often I find myself saying this about beauty products, but it completely lives up to the hype & I am so happy I took the risk buying it online! It's heavily pigmented meaning you only need a little to create a natural flush, but it also blends out easily if you go a bit overboard & pick up too much. I'd describe it as a pale, bright pink with blue undertones & it's extremely flattering on my pale skin. I usually pick up more peach or warm toned blushes as I thought they suited me more, but this has me converted, the cool tone adds a real freshness & brightens my whole face but looks totally natural too. The only point I was a little disappointed on was the '12 hour' claim, this is definitely long wearing & easily outlasts many of the other blushes I have tried, but 12 hours is really stretching it, I'd say it's closer to 6-8 hours.
I really like that all of their products are free of parabens, mineral oil, phthalates & other nasties, and are cruelty free, so I now have my eye on quite a few of their other products too. For us in the UK a small selection, including the blushes, are exclusively stocked by QVC. Tarte's Lights Camera Lashes mascara is going to be first on my hit list, along with the waterproof version, as it's another product I've seen raved about countless times & I must confess, I am a bit of a mascara hoarder, I have a whole drawer full! Have you guys tried any of their other products that you'd highly recommend? Let me know so I can add them to my list!