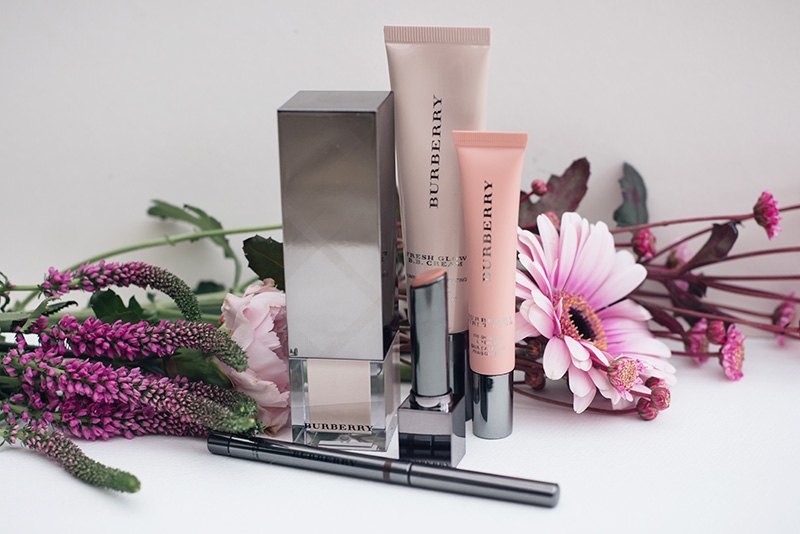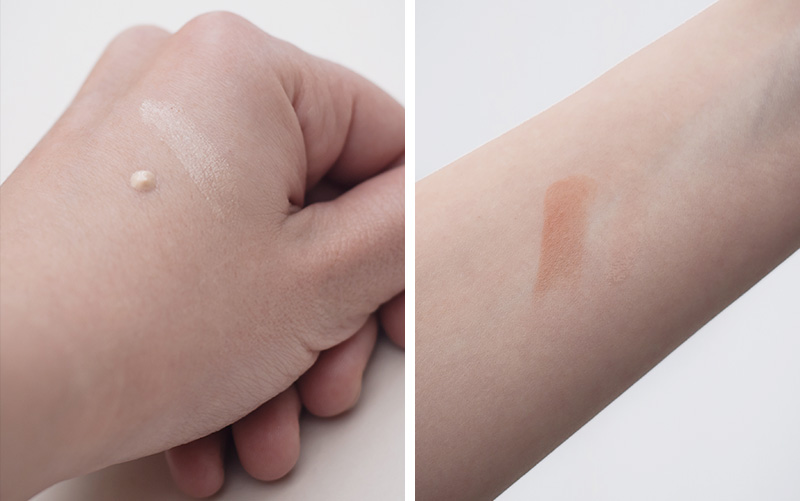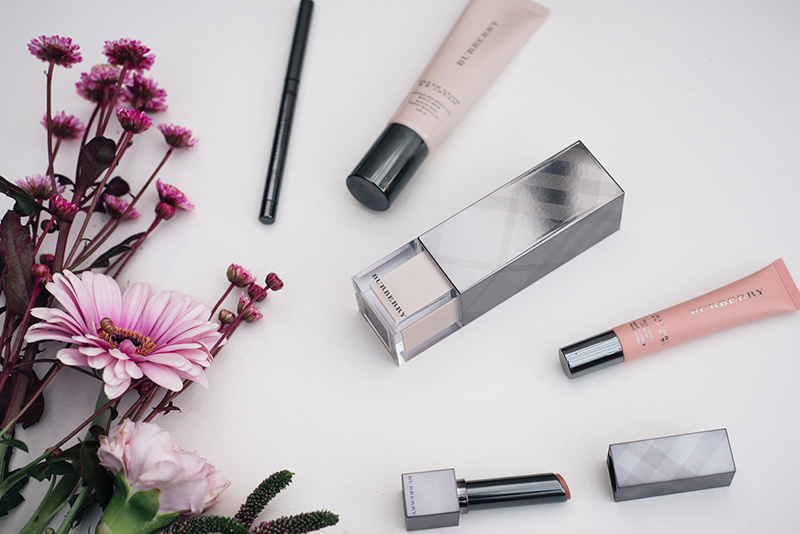 Fresh Glow Luminous Fluid Base 'No. 01 Nude Radiance' / Fresh Glow B.B. Cream 'No. 02 Medium' / First Kiss Lip Gloss Balm 'No. 01 Soft Peach' /
Kisses Sheer Lipstick 'No. 201 Nude Beige' / Effortless Kohl Eyeliner 'No. 02 Chestnut Brown'
A few weeks ago I was feeling completely run down, all curled up on the sofa feeling sorry for myself when this little package of goodies dropped through my letterbox and instantly brightened my day. I had never tried any of the Burberry beauty products until now, as I don't have any stockists near me and I actually had no idea that they had such a large range of products either. I've discovered a few new favourites, and now I've seen the beautiful quality (and packaging!) I have a list of others I'm dying to try out next time I'm near a counter too.
The standout amongst these for me is the Fresh Glow Luminous Fluid Base. I'm a little obsessed with primers and especially ones that promise to give skin a radiant glow, as pale skin can often look dull and grey, and this has quickly replaced my old staple one as my new favourite. It gives an absolutely beautiful healthy golden sheen to the skin and the water based formula is instantly hydrating too, making skin look glowy, plump and well rested. It's a subtle effect though, it's not obvious or shimmery on the skin when blended out like some of these types of primers can be, it's barely detectable but it gives this very soft, lit from within kind of look that makes people want to tell you that you 'look well today'. I've become more drawn to a light, natural looking base lately and this is one of those products that is perfect for faking naturally great skin, especially when paired with a dewy BB cream like this Fresh Glow one which gives just the right amount of coverage to blend in minor imperfections and even skin tone for that no-makeup, my skin but better look. It's a good multitasker too, I have been using this under makeup as a primer as well as dabbing lightly over makeup as a highlighter on cheekbones, brow bones and nose for extra glow.
Another close favourite is the Kisses Sheer Lipstick in Nude Beige. I'm not a big lipstick wearer normally, I tend to save it more for special occasions but I have really fallen in love with this fuss free formula for everyday wear. It's a sheer, balmy lipstick that feels incredibly moisturising when applied and it's just the most perfect peachy nude too, like a more flawless version of my natural lips. I've been enjoying layering it under the First Kiss Lip Gloss, which has a very slight tint (you can barely see it in the swatch above), when I want to feel a little more polished during the day.