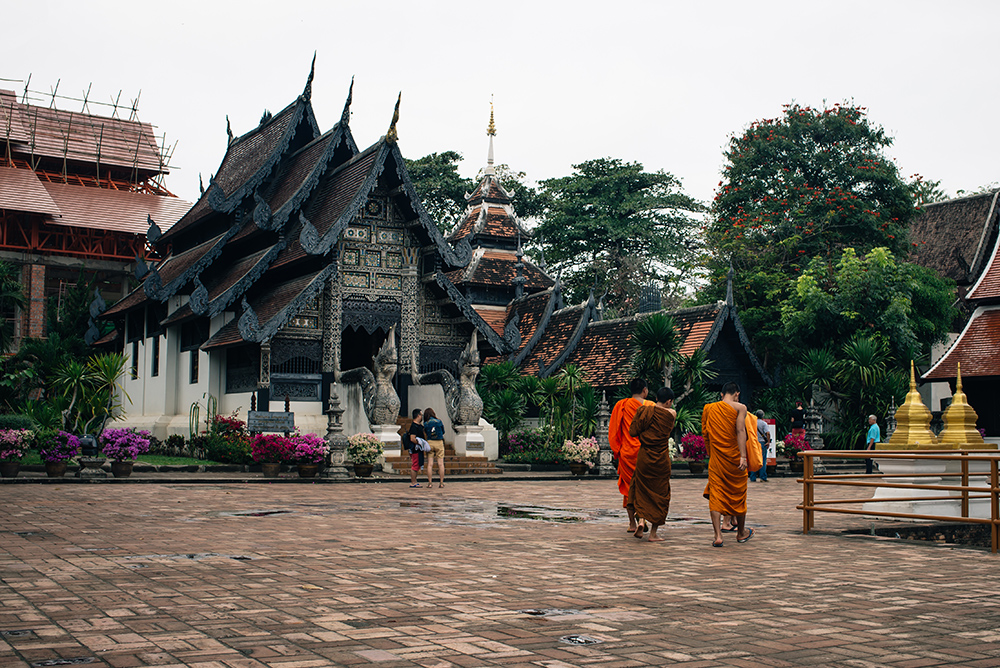 We visited a lot of temples whilst we were in Chiang Mai. There are over 300 dotted across the city, and wandering through the old city streets it feels like you stumble upon a new one to explore at almost every turn.
Of course there was no way we could visit them all, so we picked two that we wanted to make a real effort to see and then gave ourselves plenty of time to get sidetracked and peek inside any others that called out to us along the way. If you have more than a few days in Chiang Mai, I think this is the best way to see the temples and avoid that temple burnout feeling that can come from rushing between locations to check them off your list. Some of the prettiest and most atmospheric were the smaller temples away from the crowds of tourists, and if we'd had longer here I would have spent at least another day just wandering around with no real destination to see what other gems I might find.
These are just a few of my favourites within the old city walls. I'd also highly recommend Wat Phra That Doi Suthep if you're able to take a short trip out of town, it was one of the highlights of our time in the city and worth the trip alone just to see the views.
Wat Phan Tao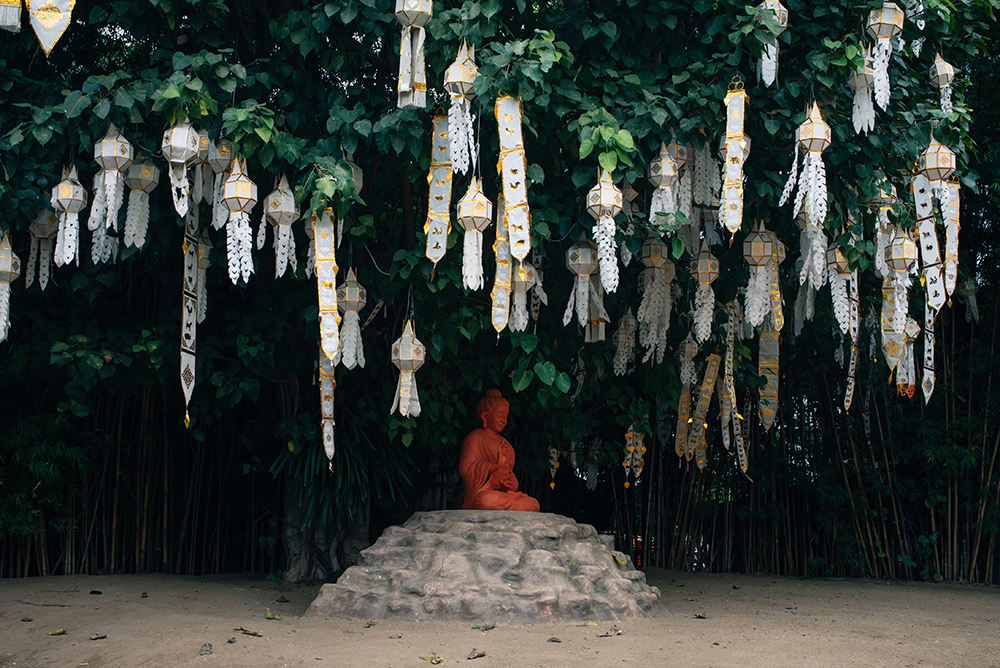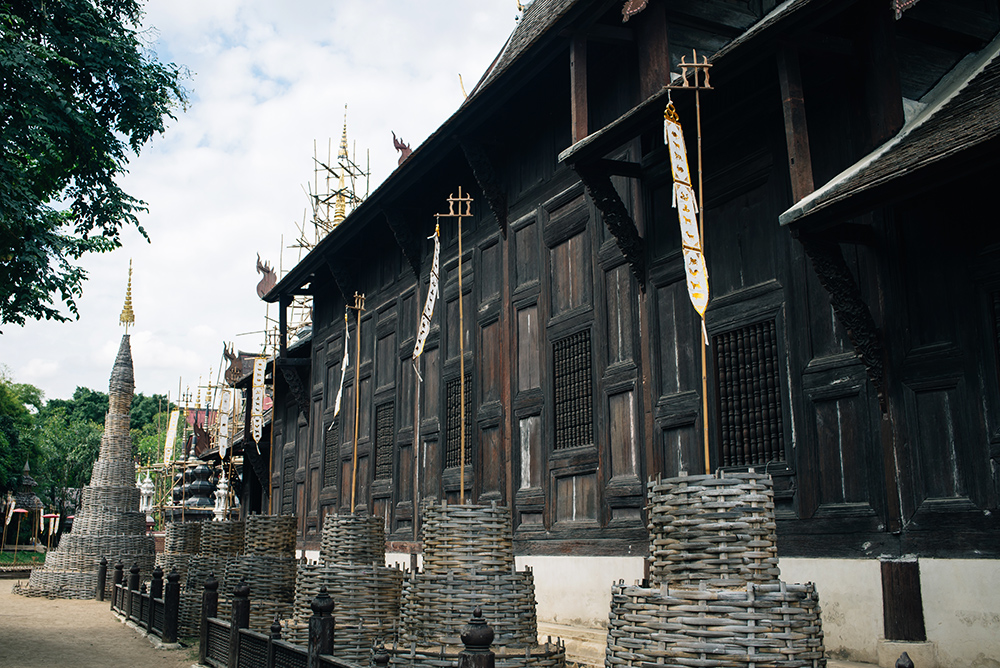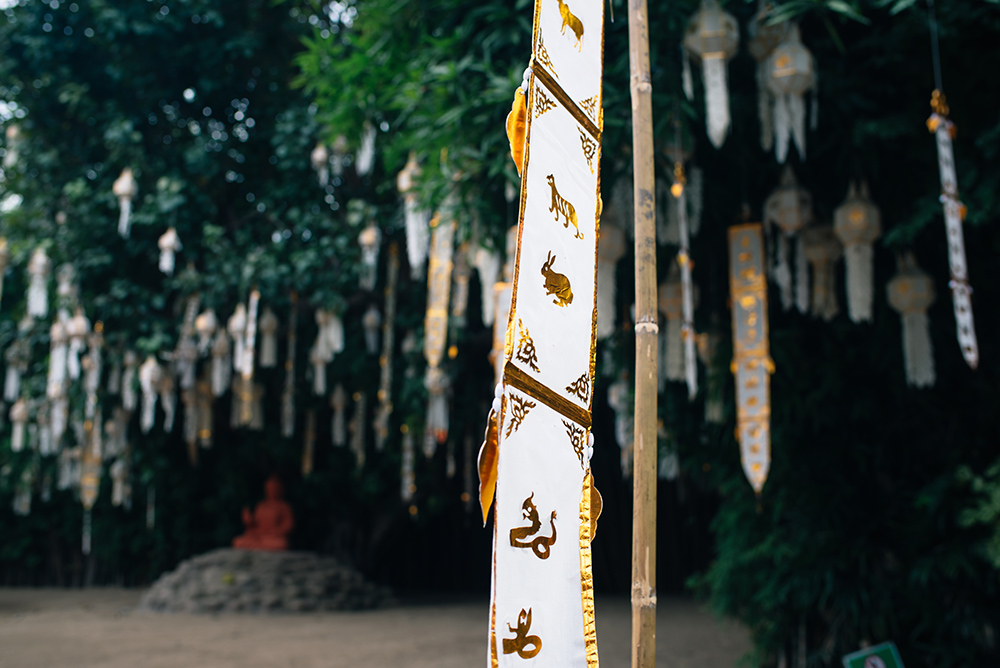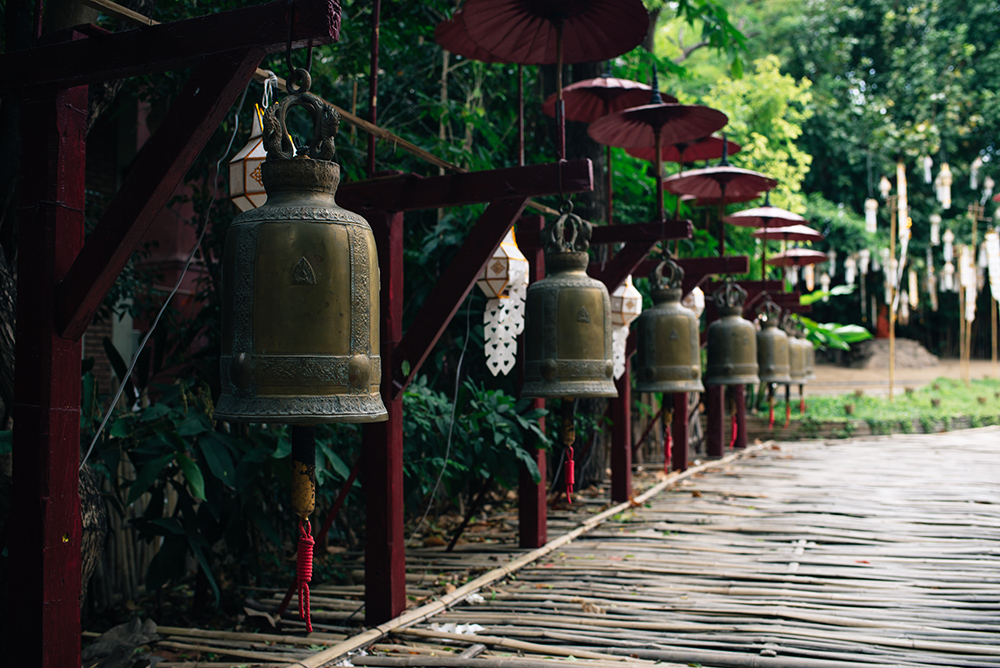 Wat Phan Tao was one of the temples we came across whilst walking back to the hotel on our first evening in Chiang Mai and we were immediately intrigued by its distinctive look. Sitting just across the road from Wat Chedi Luang, it's hard to miss its unusual dark wooden exterior and intricate gold accents. Crafted in the Lanna style during the late 14th century, it originally served as a throne hall before being converted into a monastery.
I think this may have been my favourite temple in the old city. The beautifully carved teak building has such an elegance about it, but in a much more refined and pared-back way. It was unlike any of the other temples we'd come across, and the atmosphere that surrounded it and the small peaceful garden adorned with flags and ceremonial bells felt a world away from the busy streets of Chiang Mai. There was a much stronger feeling of serenity here compared to the larger, busier temple complexes, and after our first visit I found myself back here again a few days later. Kneeling on the floor, I sat and quietly listened to the flags fluttering outside, and escaped for just a moment.
Wat Phra Singh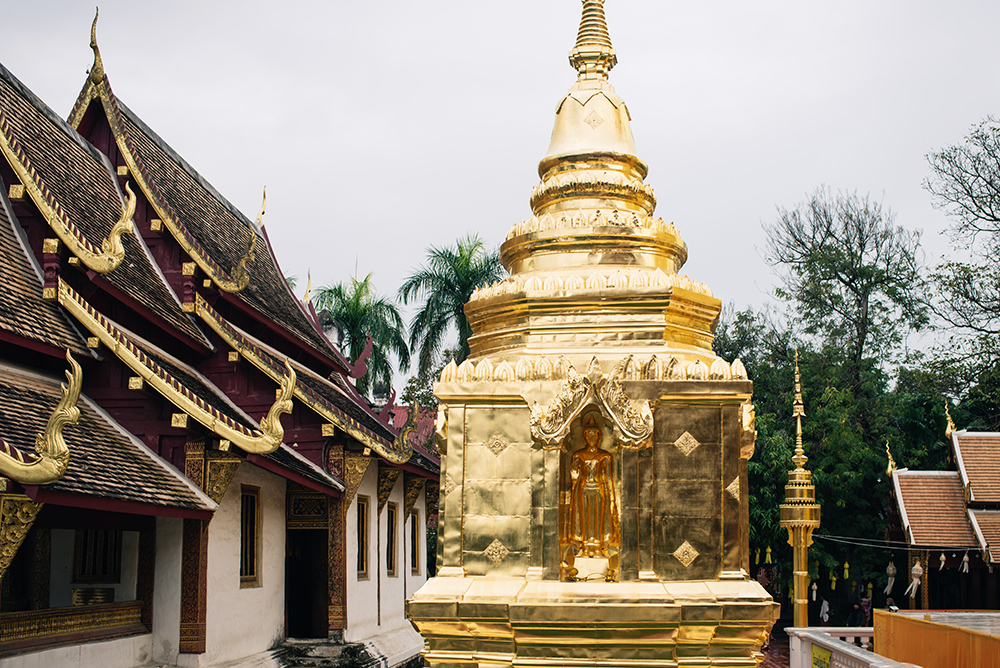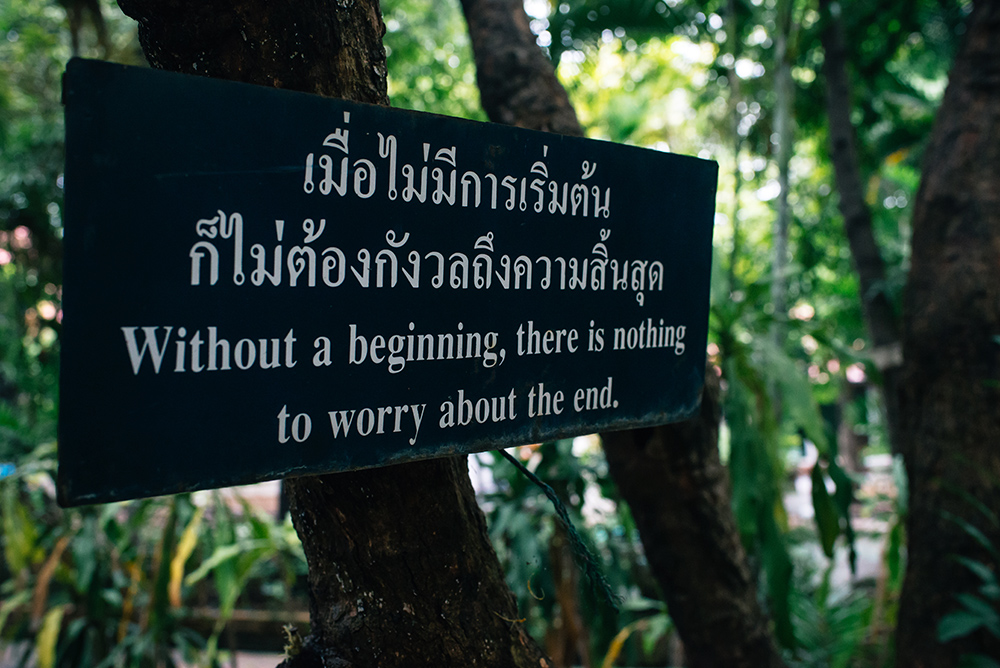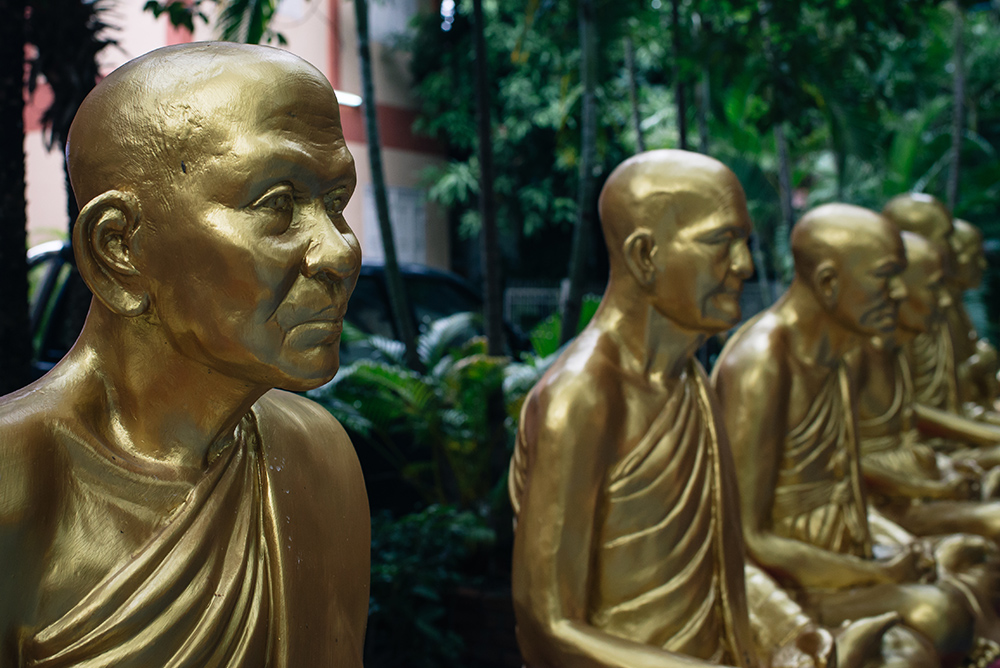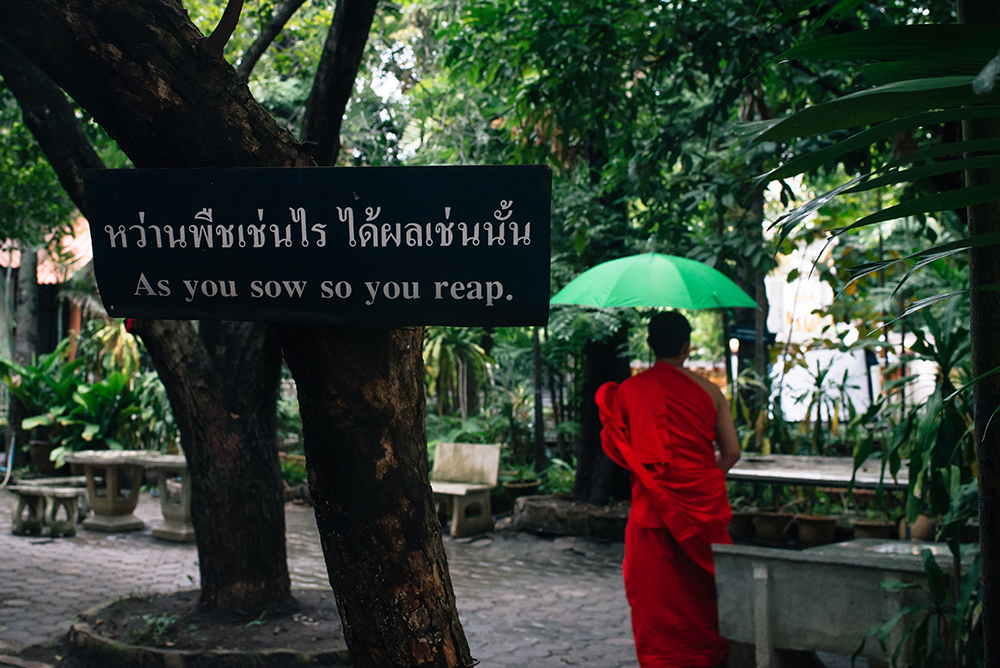 Wat Phra Singh is possibly the grandest temple within the city walls and contains some of the best examples of classical Lanna style architecture in the city. Its magnificent golden stupa dominates the scene, but it's the smaller buildings that are the real gems here. The attention to detail and level of craftsmanship that has gone into decorating both the outside and the interiors of these buildings is just breathtaking.
Surrounding the main complex, the grounds are full of small coffee shops, massage centres and places to sit and relax, giving it a really wonderful laid back vibe. I wish it hadn't been quite so grey and rainy so that we could have sat for a while and enjoyed the surroundings here a little more.
Wat Chedi Luang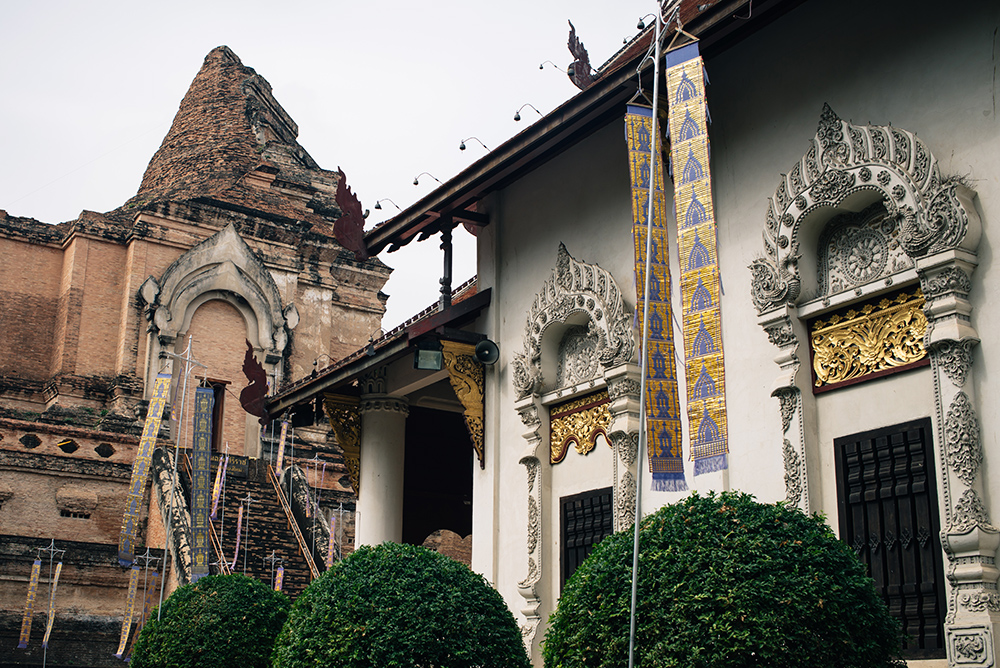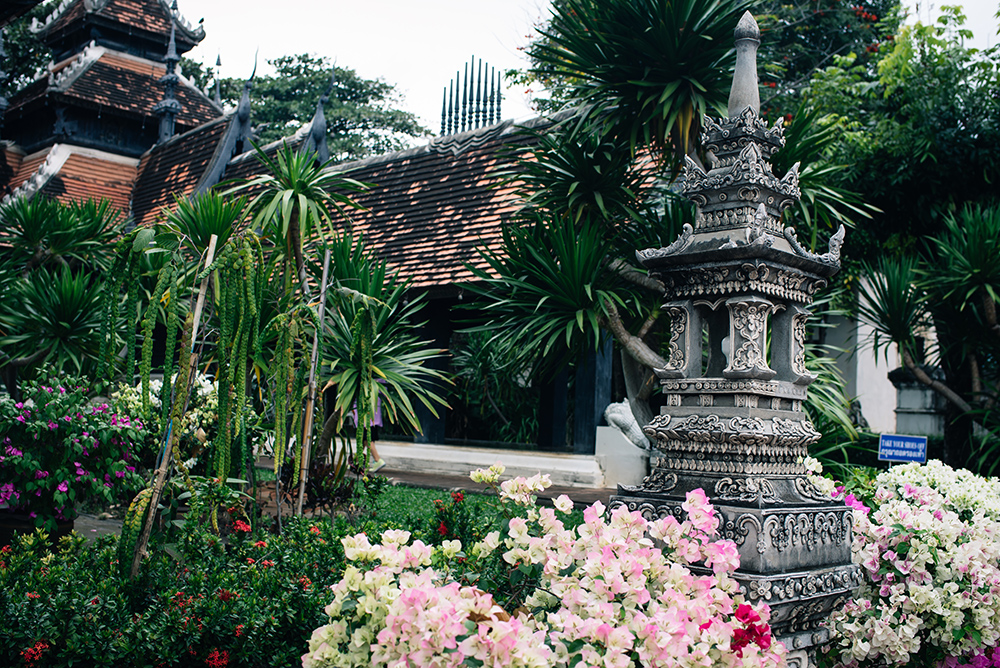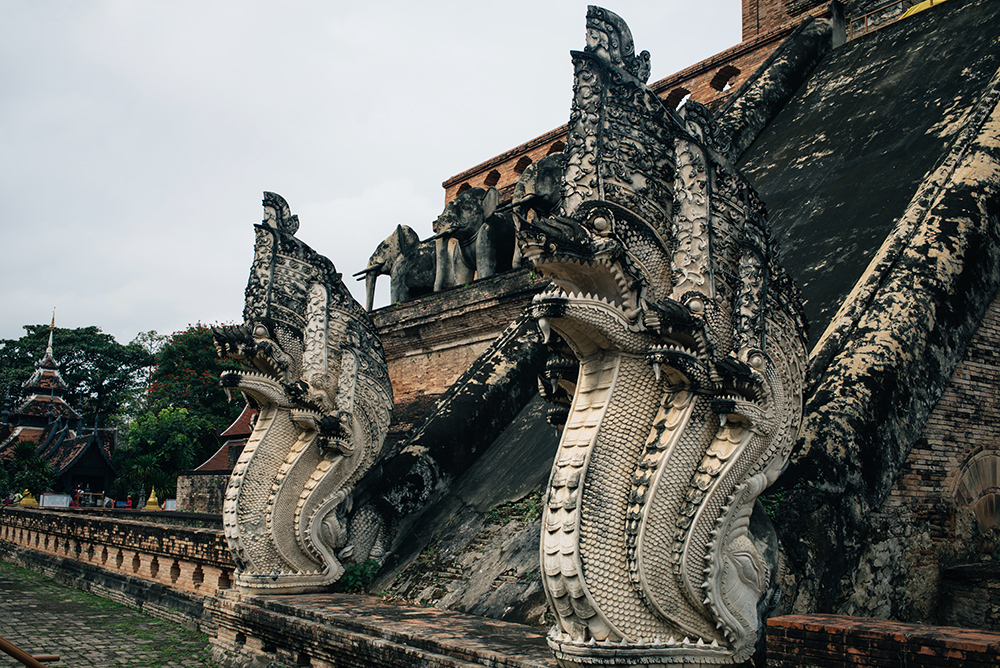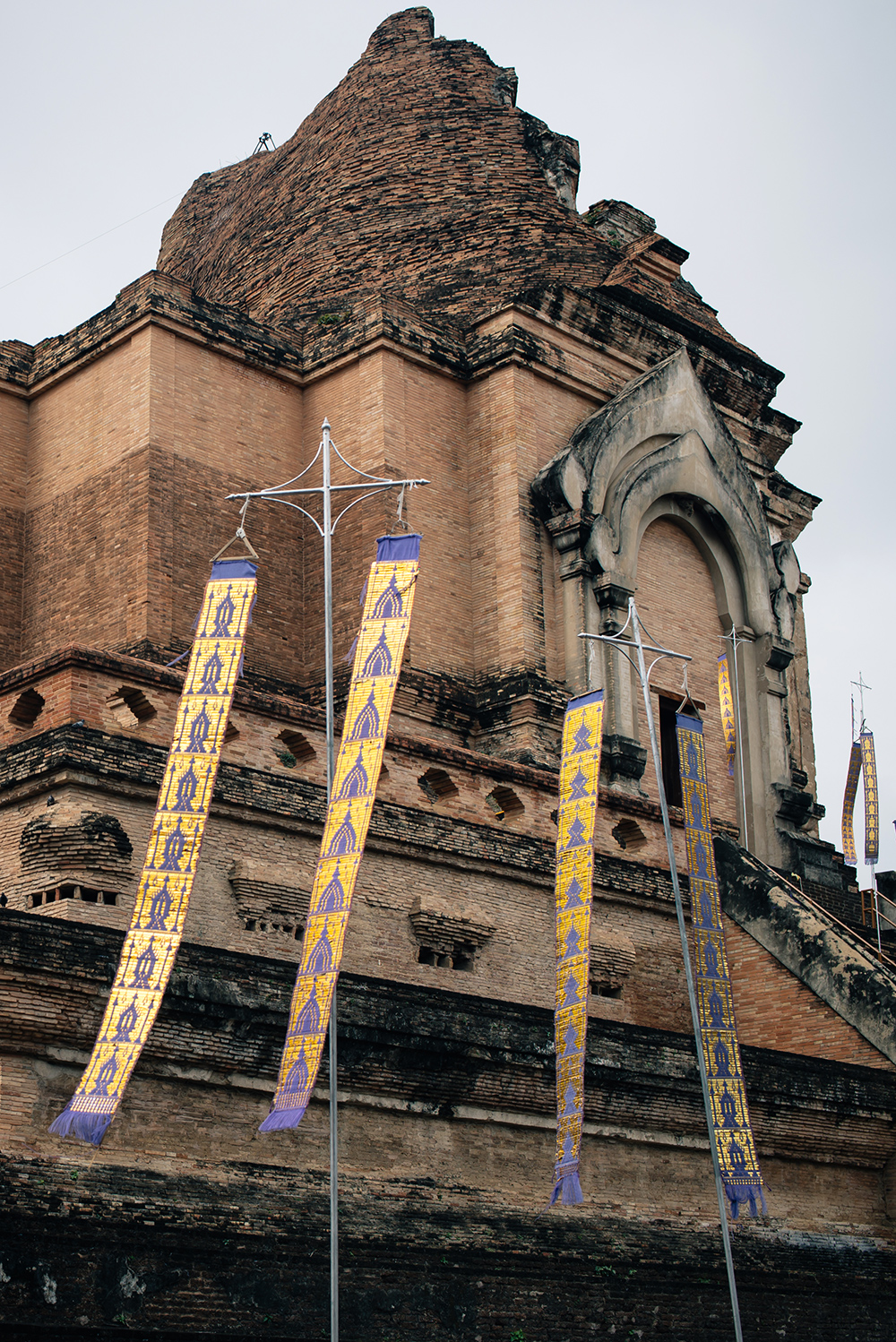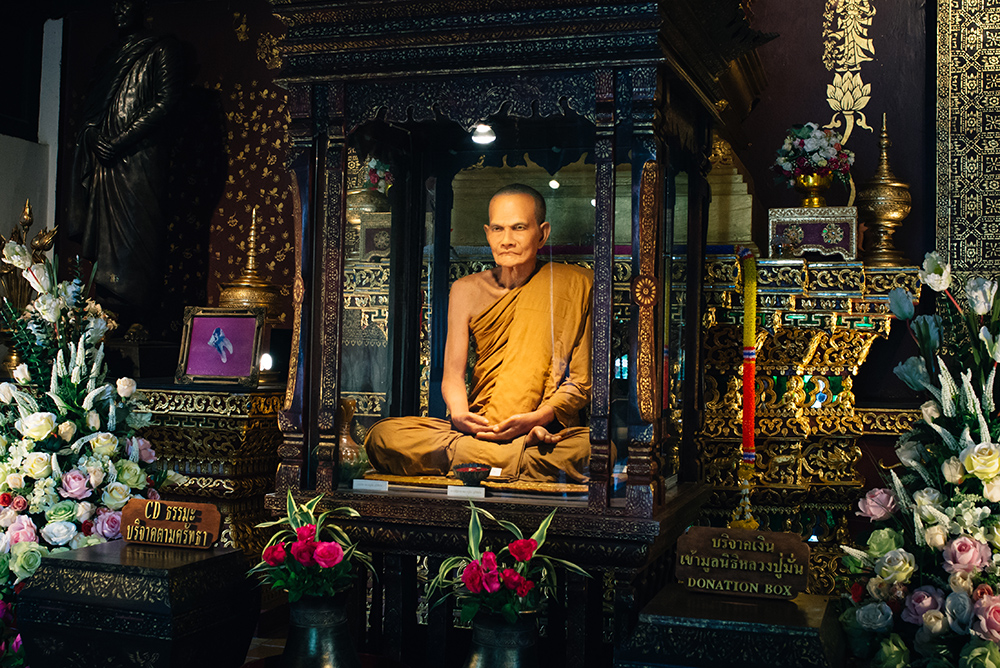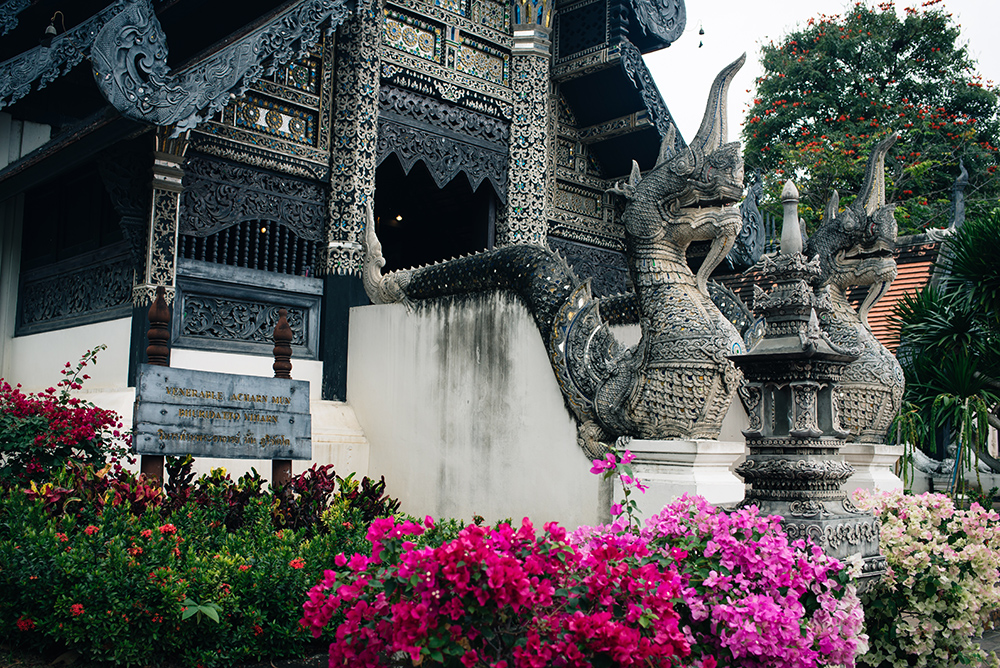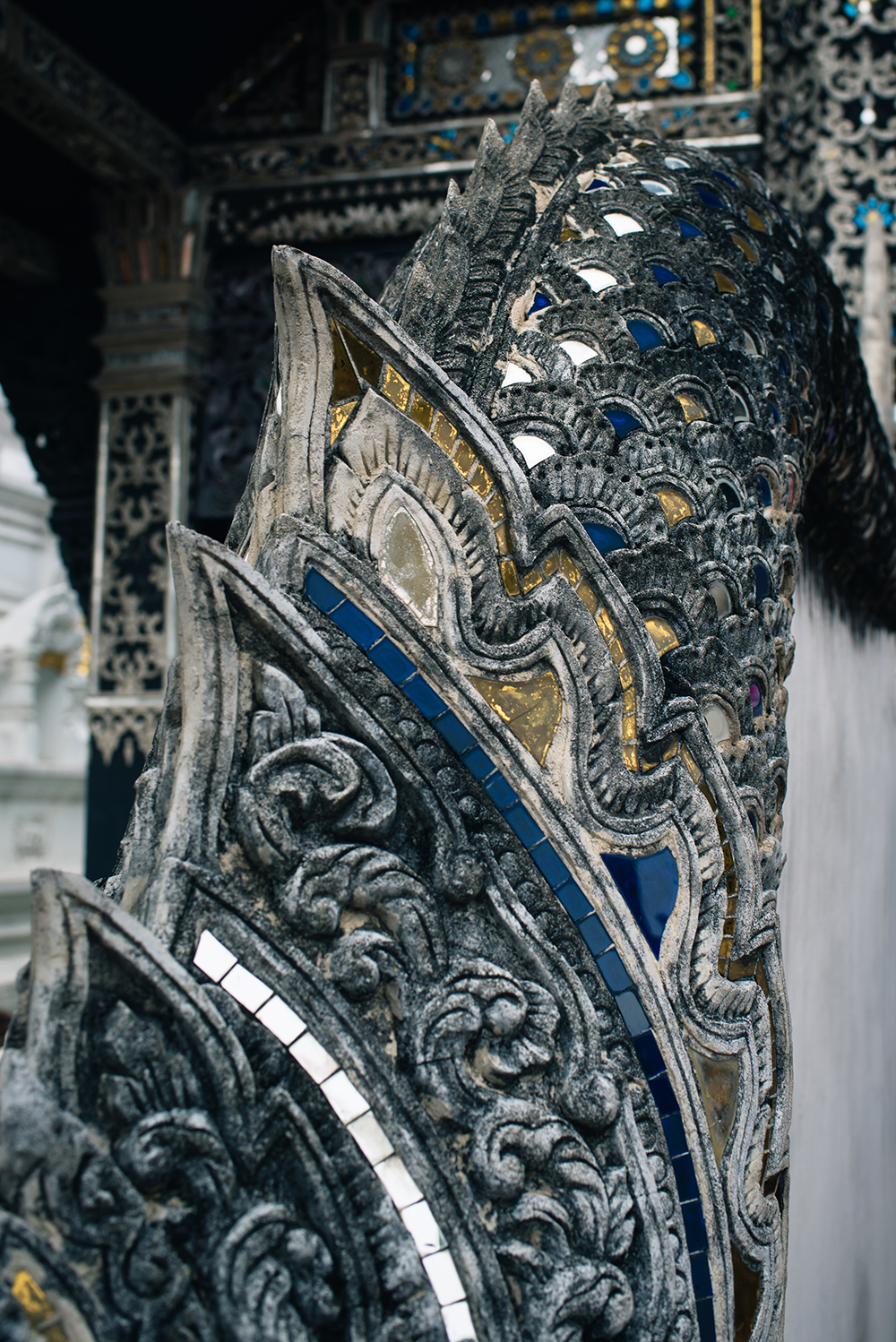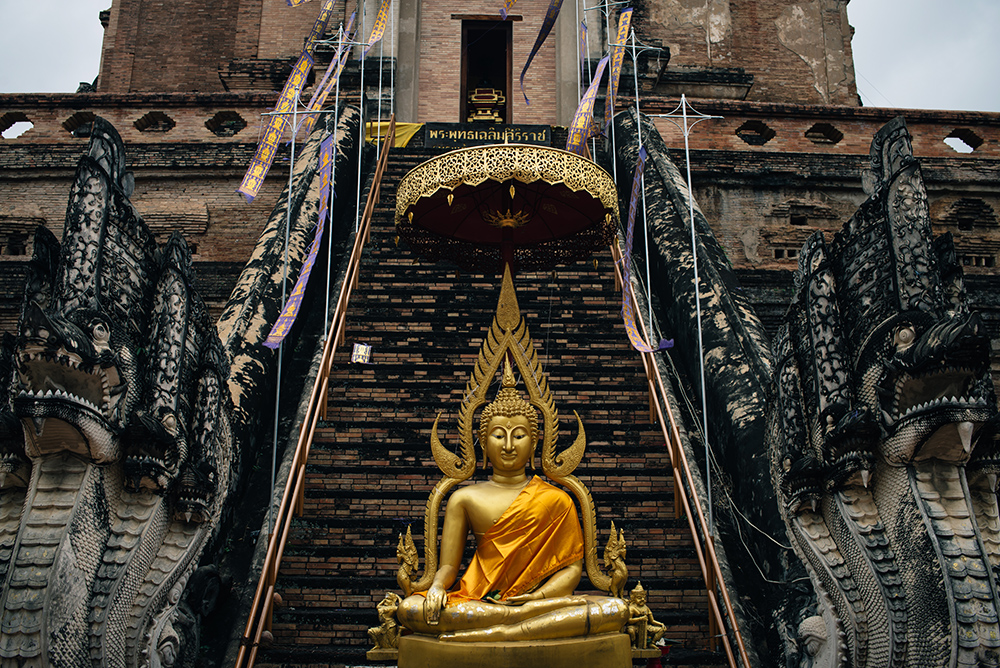 Wat Chedi Luang, or the Temple of the Great Stupa, is one of Chiang Mai's most important temples and was once the home of the sacred Emerald Buddha which is now enshrined at Wat Phra Kaew in Bangkok. Taking almost a century to build, it was the tallest structure in the entire kingdom of Lanna before a massive earthquake left the top half of the chedi in ruins during the 16th century. In recent years efforts have been undertaken to restore it to its former glory, and despite its ruined state it still serves an active place of worship.
I'm a bit of a sucker for a ruin, and the huge crumbling chedi, flanked by naga statues guarding each of its stairways, was one of my favourite sights in Chiang Mai. The surrounding grounds here are also equally beautiful too. Small gardens and intricately decorated chapels sit in the shadow of the great stupa, each containing many important treasures. Inside, eerily lifelike waxworks of a number of revered monks sit alongside bone fragments, relics, historical artifacts and ancient scriptures.