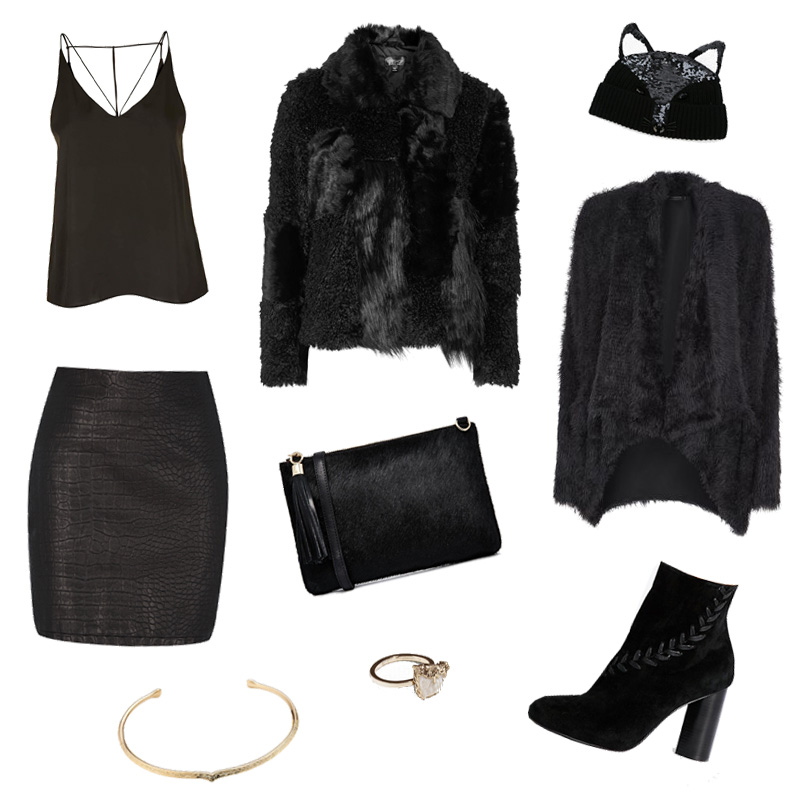 Topshop Strappy Cami / Topshop Patchwork Faux Fur Coat / Markus Lupfer Fox Face Beanie
Warehouse Croc Textured Skirt / Urbancode Ponyhair Clutch Bag / Religion 'Power' Cardigan
Aurélie Bidermann Choker / & Other Stories Rock Ring / Senso 'Sara' Laced Boots
The chill of Autumn is slowly starting to creep in after a super mild September, and now all I want to do is cocoon myself in layers of cuddly fabrics. I came across this incredible faux fur jacket as I walked past Topshop, and it's even nicer in person, the mixture of long, short and curly furs all in glossy black is the perfect texture mix all in one piece. I love the faux fur jackets I already own for when it's one of those dark, bitter winter mornings and I can just sit on the bus snuggled up into them (pretending I'm still under my duvet!) and I couldn't resist quickly trying this one to see if it was as warm and snug as it looked, and it is. I promised myself no more jackets this year (because I seriously have a problem!) but I think I might need to go back for this one, it's too good. This Religion cardigan is up there for the same reasons too, drapey, fuzzy and super strokeable, I'm already daydreaming about how nice this would be to curl up in on a cold day.
I don't think I even need to explain how much I need this little fox beanie, isn't it just one of the cutest things you've ever seen? I've always been tempted by the more novelty ones of these that were around a lot on the highstreet last year just for fun, but this one being all black and with the sequin embellishment just looks so much chicer, and is something I'd happily wear everyday. Sadly the price doesn't agree with me, so it looks like I'll be keeping a close eye on this until the sales!