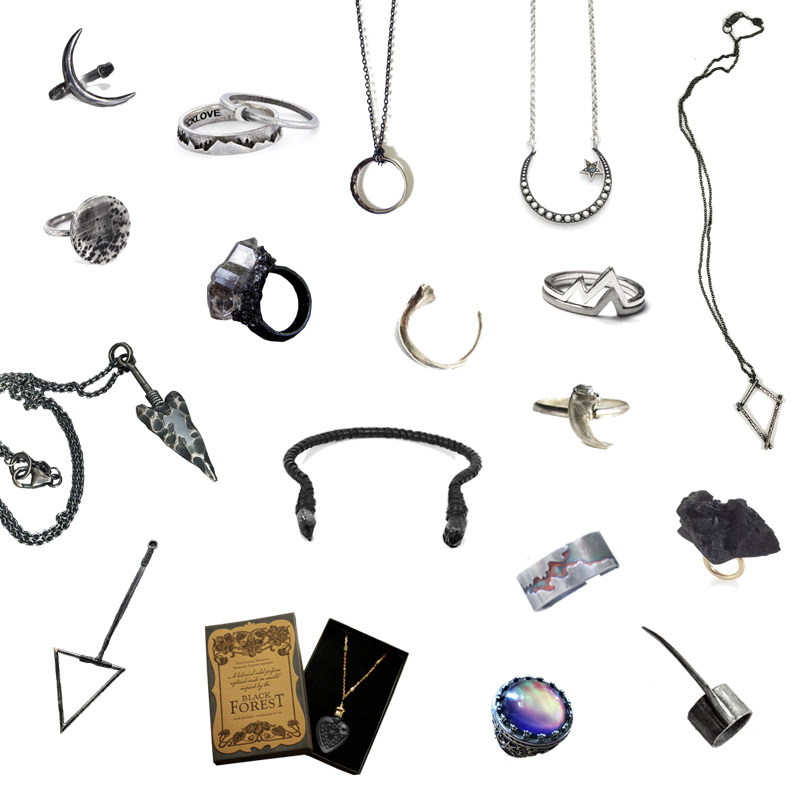 Wolf + Sadie Theurgy Ring / RockLove Moon & Mountain Rings / Wolf + Sadie Lucid Petite Necklace / RockLove Crescent Moon Necklace /
Lyleu Moon Ring / Elemental Luxury Phantom Quartz Ring / Birds N Bones Morelia Ring / Bloody Mary Metal Magni Rings / Lyleu Cesare Necklace /
The Windigo Arrowhead Pendant / Anu Tera Neck Cuff / Velvet Ruins Blanket of Ash Ring / Noritamy Half Metal Polymer Ring /
Sphaera The Solids III Pendant / For Strange Women Perfume Amulet / Evil Pawn Jewelry Ambience Ring / Hvnter Gvtherer Sphinx Claw Ring
Over the years I've been blogging I've come across so many incredibly talented independent designers and I always try my best to showcase them here in whatever way I can, as well as supporting them by buying pieces when I have spare cash too. I have a huge mental list of pieces on my to buy list, so I thought it would be a good idea to get them down somewhere, show them off to you and hopefully introduce you to a few new favourites as well, plus it's a great excuse for a bumper wishlist – so if anyone's stuck on what to get me for Christmas, and no I don't care if it arrives after the day, hint hint!
Somehow this list ended up being pretty much entirely silver pieces, it was only in the last year or so that I started buying silver jewellery and it's gradually taking over my love of gold. I find it so much easier to wear than gold lately, maybe it's the cooler weather, but it just seems so much more pleasing against my outfits. Most of these designers work exclusively in silver coloured metals, but a few offer gold options too. There are just too many great pieces here to call out individuals without missing anyone out, so please just browse through the list, pay a visit to their stores for even more beautiful things and consider supporting handmade when you're buying your Christmas gifts. I think it is so much nicer and more thoughtful to receive something like this as a gift, that you can see has been made by hand and with great effort and care, than something anyone else could have picked up from a large store.
I'll be trying to make these indie wishlists a semi-regular feature here, and there will be another one focusing on clothing before Christmas too. Please drop me an email or tweet if you know of any brands you think I'd love or that should be included, even if it's your own, I love discovering new designers to follow.