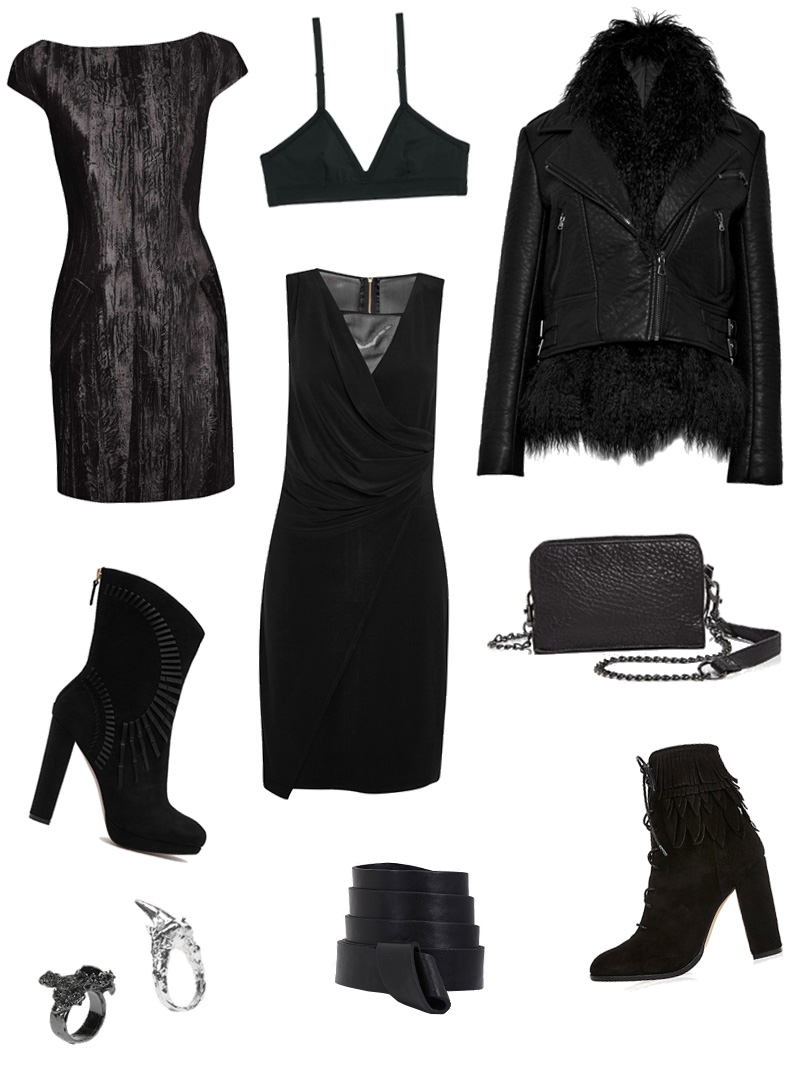 Topshop Unique 'Mayall' Dress / & Other Stories Triangle Bra / French Connection Faux Leather and Fur Jacket /
Reiss 'Dunaway' Boots / French Connection 'Mona' Drape Dress / Liebeskind Bag /
Estelle Deve Gunmetal Ring / Estelle Deve Spike Ring / Boohoo Knot Detail Belt / River Island Fringed Suede Boots
Why is it that when sale season rolls around and you have spare cash there's nothing you really want to spend it on, but as soon as you're trying to save money, suddenly everything in the sale is something you need? This time is definitely the latter for me. I've treated myself to a few pieces lately but I just can't seem to stop window shopping and tormenting myself with all the great things I really shouldn't be spending money on, even if they are ridiculously discounted.
I think it may be about time I actually brought this French Connection draped dress though, I've just noticed as I was typing this up that this is the second time it's appeared on a wishlist now. I figure that's a pretty fair justification!
I have to admit, if this faux leather and fur biker jacket was real leather I'd definitely have already brought it. I just can't see faux leather as an investment piece though, and so it doesn't meet my self imposed buying rules for new jackets. I have far too many as it is, so any I add to the collection have to be wear forever pieces. I keep seeing this a lot lately, really beautifully designed jackets and shoes that I would love to buy, until I see that despite the fairly high price they're faux. Maybe I'm just being a snob about it?