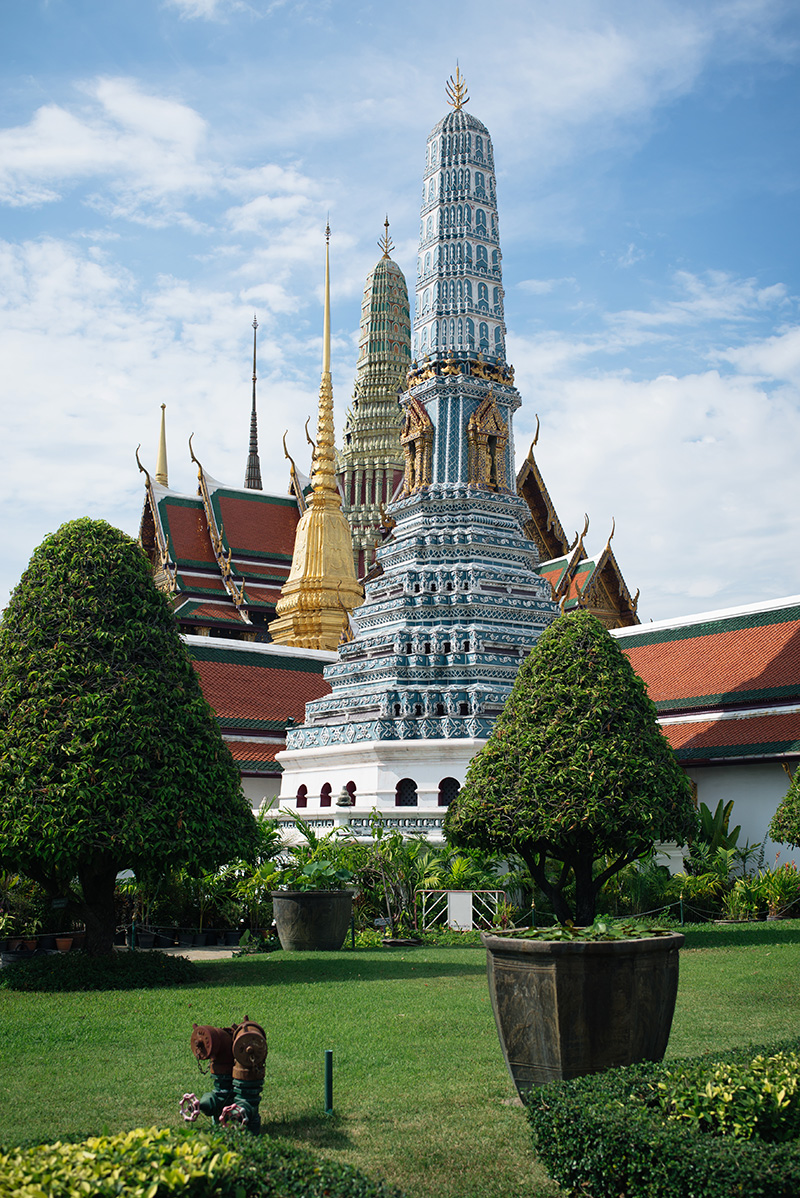 Even though our time here was cut short, we were able to spend one full morning and afternoon exploring the temples of Bangkok. There were a few smaller temples on our original list, but we didn't want to rush between them and end up feeling like we hadn't given each one enough of our time to fully appreciate, so we decided to focus on just the main three.
What I found most interesting was the way each temple had its own unique style, but yet was still unmistakably Thai. The three are all excellent examples of traditional Thai architecture. Each one has been expanded, added to and remodelled numerous times over the centuries, and the combination of different architectural styles that exist side by side is really quite charming.
One thing you need to keep in mind when visiting the temples is that you should dress respectfully. Many temples will not allow you to enter if you have your knees, shoulders or chest on show, or are wearing tight fitting or sheer clothing. I found Wat Phra Kaew to be the most strict with this, however I think even if it's not technically enforced, it's just polite to cover yourself up when visiting somewhere that is regarded as a highly sacred place by a lot of people.
The Grand Palace and Wat Phra Kaew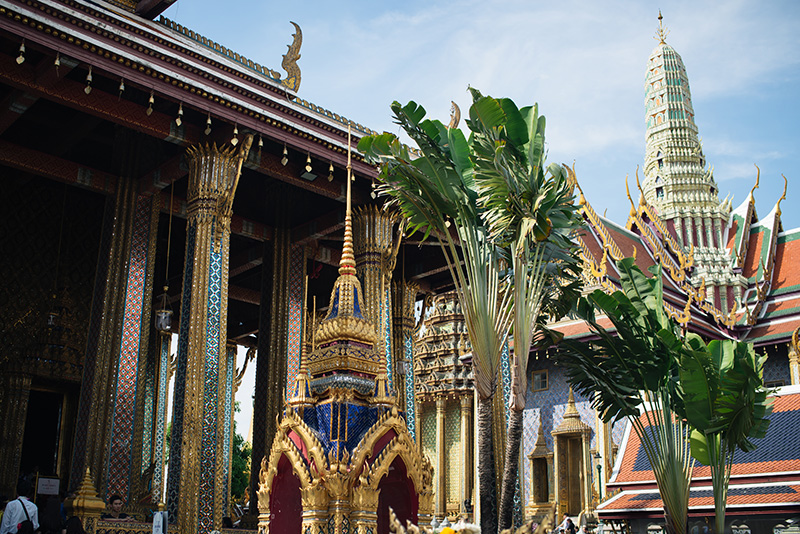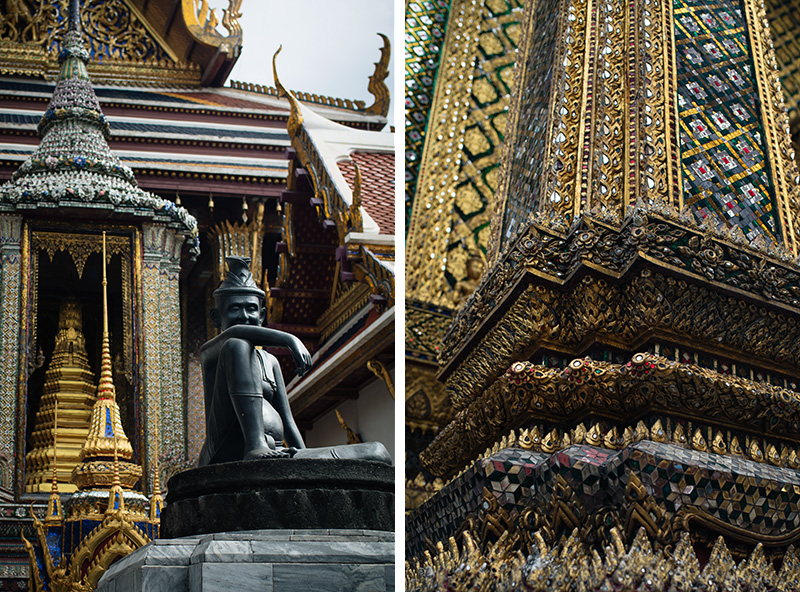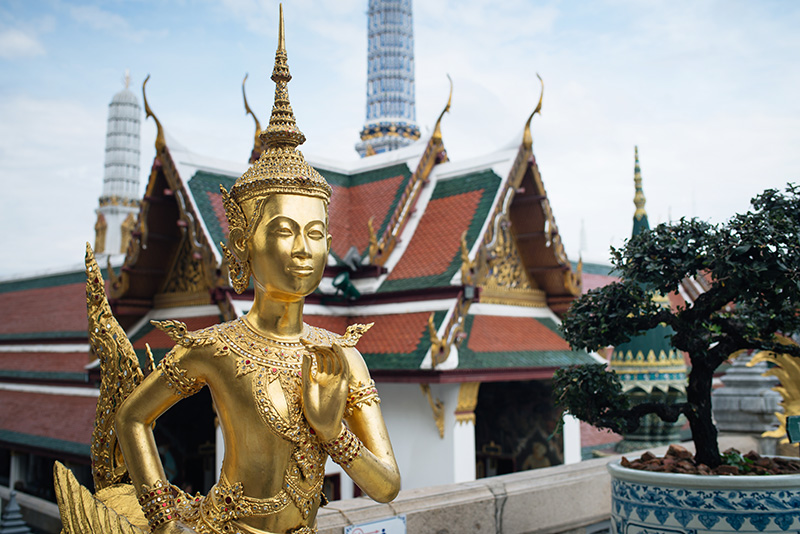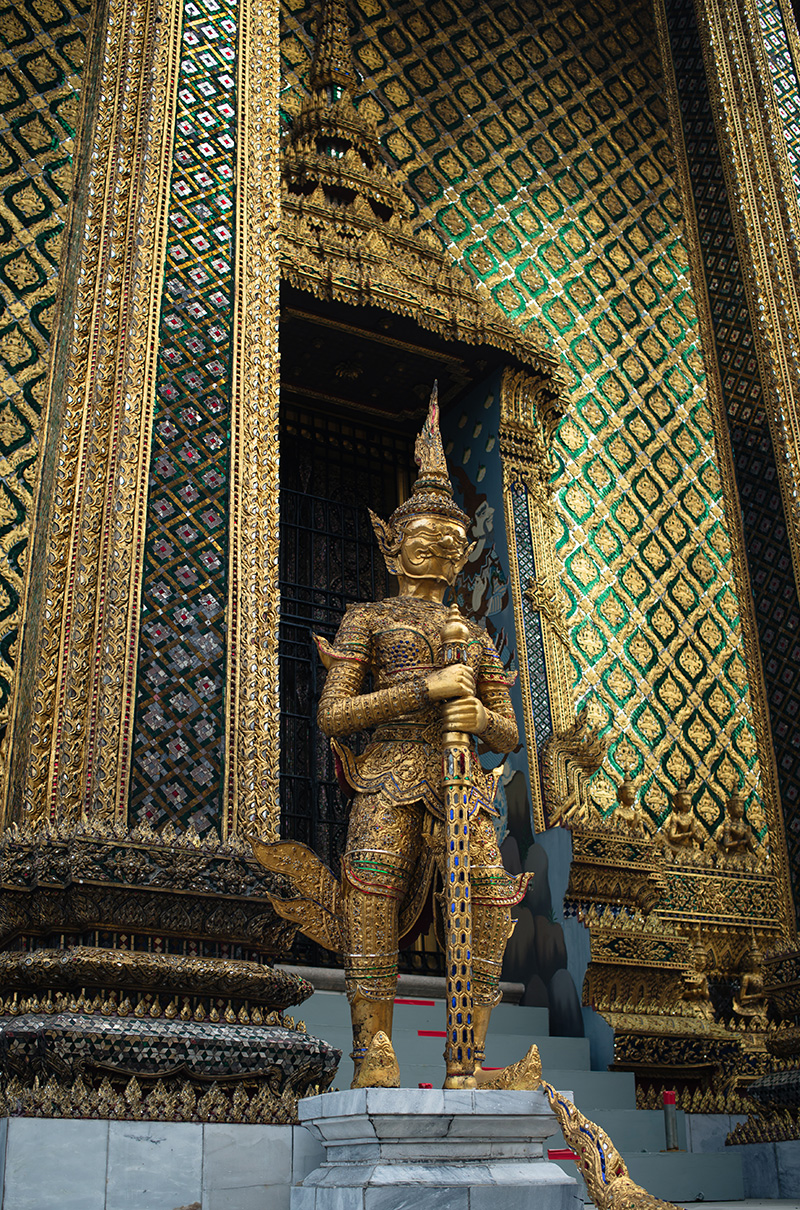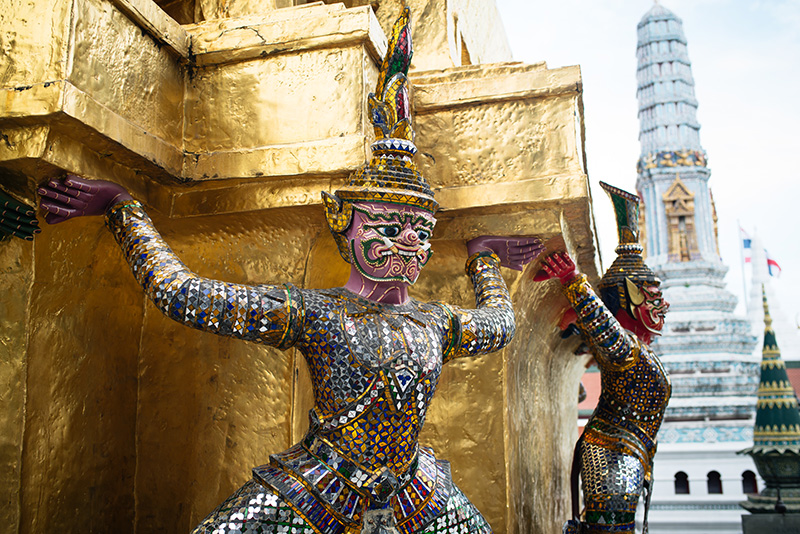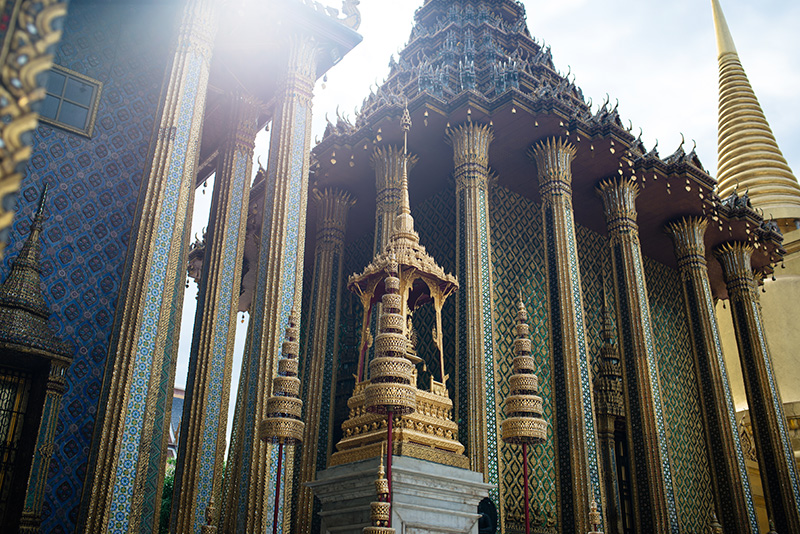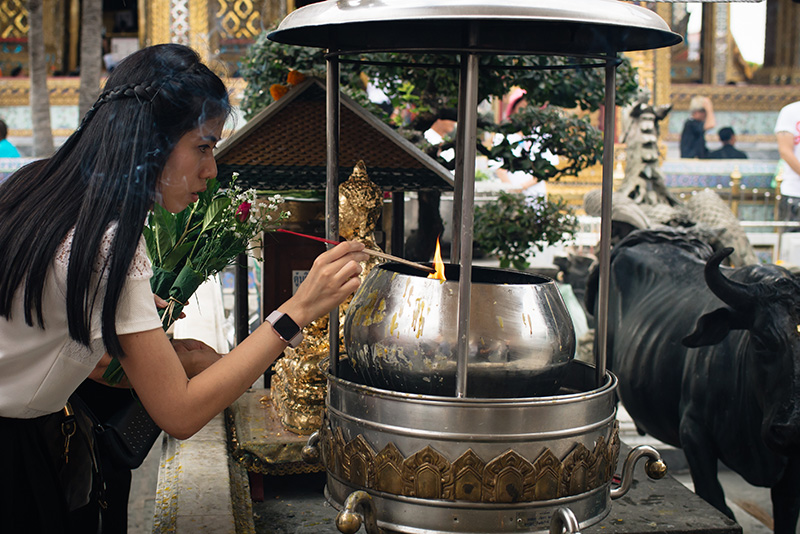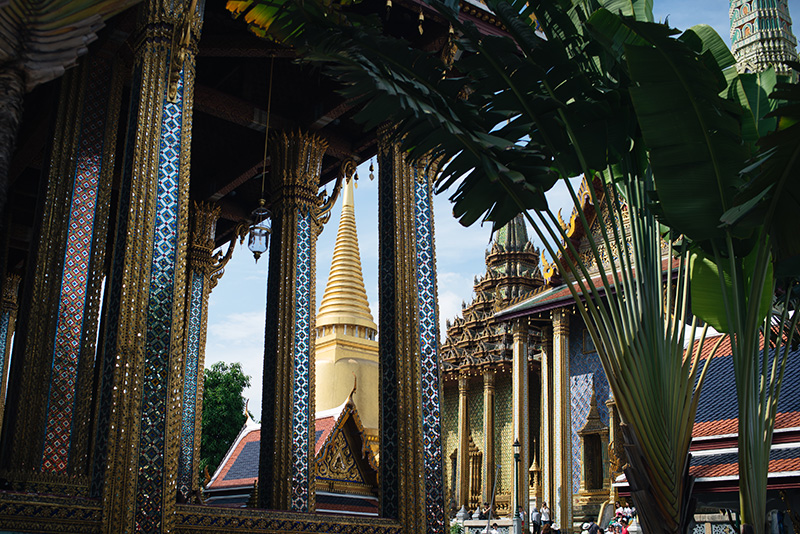 The Grand Palace and Wat Phra Kaew are both housed within the same complex and are one of Bangkok's biggest tourist attractions, drawing crowds so huge that it would be almost unbearable if the surroundings weren't quite so breathtaking. This was the first temple we visited and it remained my favourite of the three. As far as I'm concerned it's a must visit if you're in the city, and somewhere that is definitely worth battling the crowds to see at least once.
Wat Phra Kaew dates from 1782 and is also known as the Temple of the Emerald Buddha, as it houses one of Thailand's most sacred Buddhist relics, Phra Kaew Morakot – the Emerald Buddha. Carved from flawless green jade and adorned with gleaming gold, it sits enshrined high above the altar in the main hall. Due to the treasures it holds and its links to Kings past and present, Wat Phra Kaew is considered to be Thailand's most important and scared temple.
The complex was an awe inspiring introduction to Thai culture and a complete assault on the senses. Glittering mosaics studded with jewels adorning almost every surface, golden spires, the smell of incense, fresh flowers and candles, the bustling crowds and the sounds of thousands of excited people outside being reduced to a whisper as soon as we stepped into the main shrine. It was unlike anywhere else I'd ever been, and I felt completely awed by its scale and sheer beauty.
Whilst we were here, Thailand was still in mourning for King Bhumibol Adulyadej. As we walked into the grounds we saw thousands of Thai people, all dressed in sombre black, queuing in a snaking line around the perimeter to pay their respects to the King, whose body was lying in state in the Throne Hall. It was really quite humbling to see how much he was loved and how much he meant to the people of Thailand, with many of them waiting for hours in line just to pay their respects and say goodbye.
Wat Pho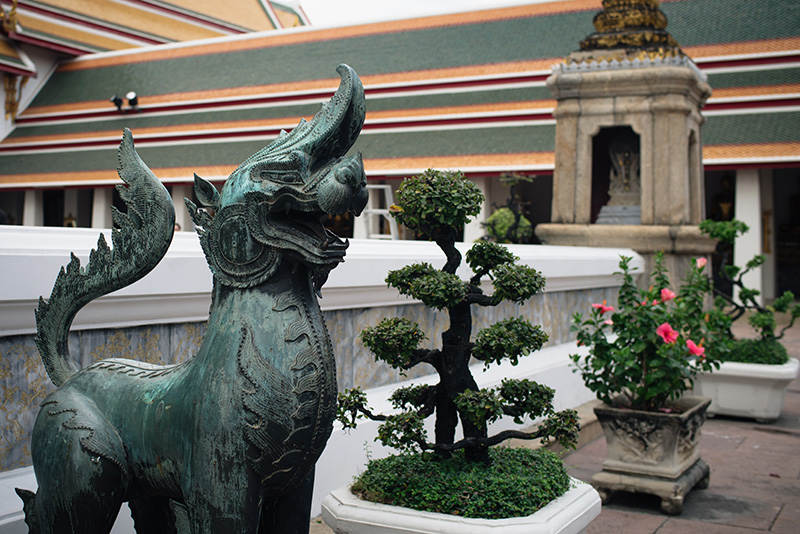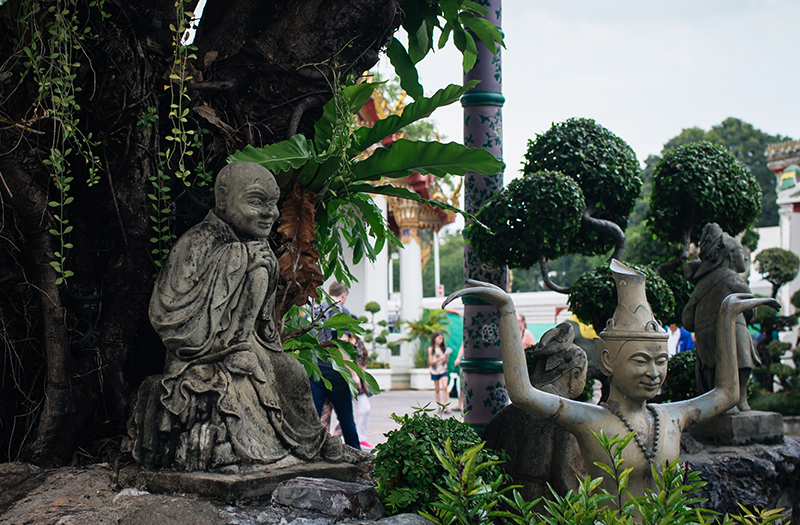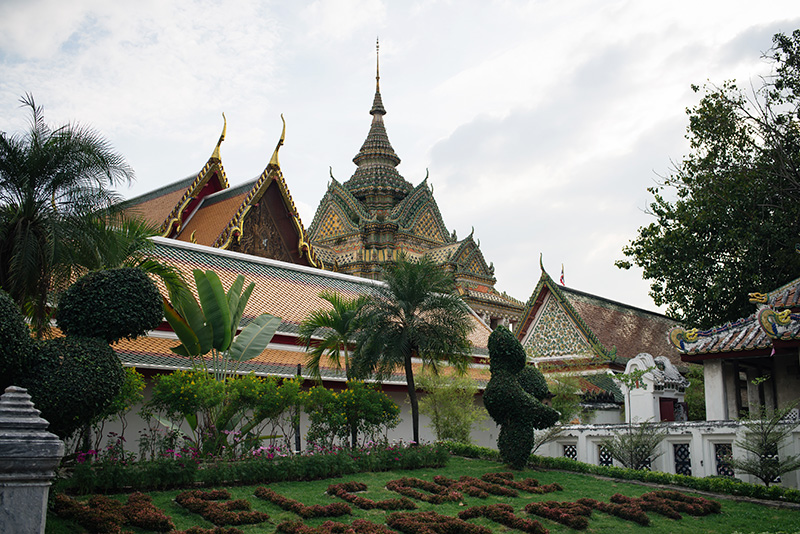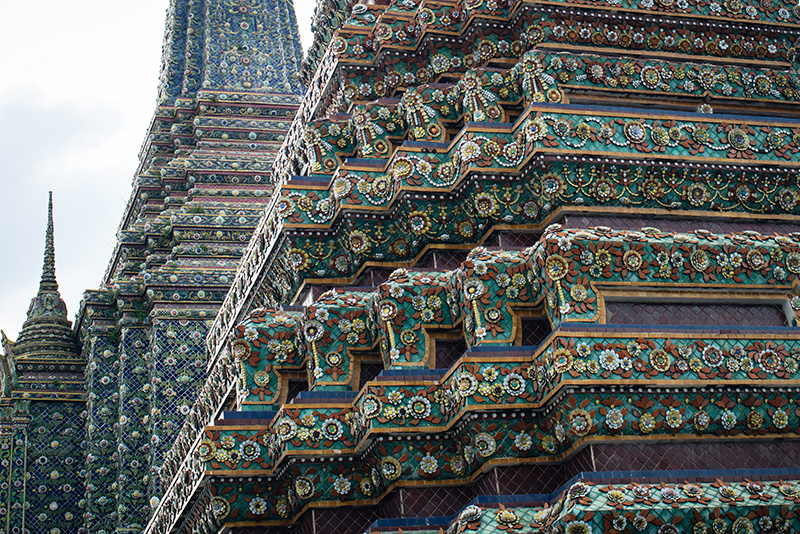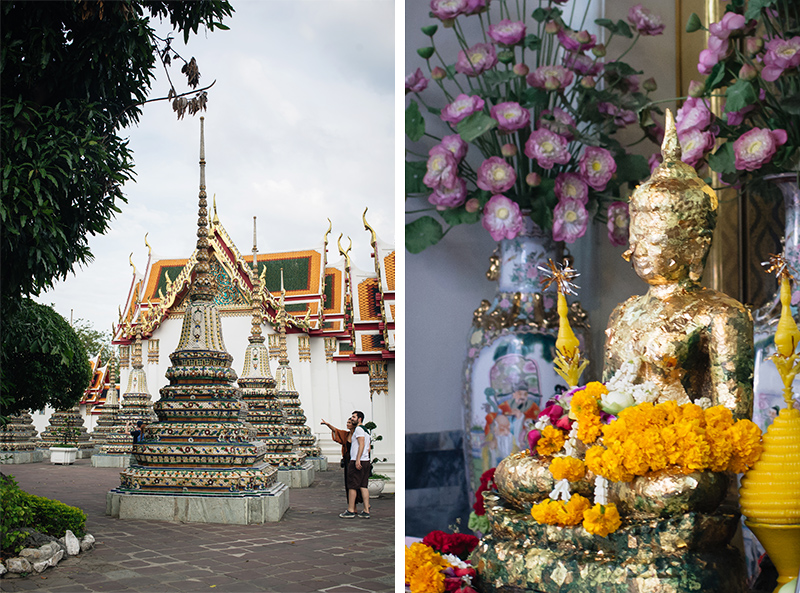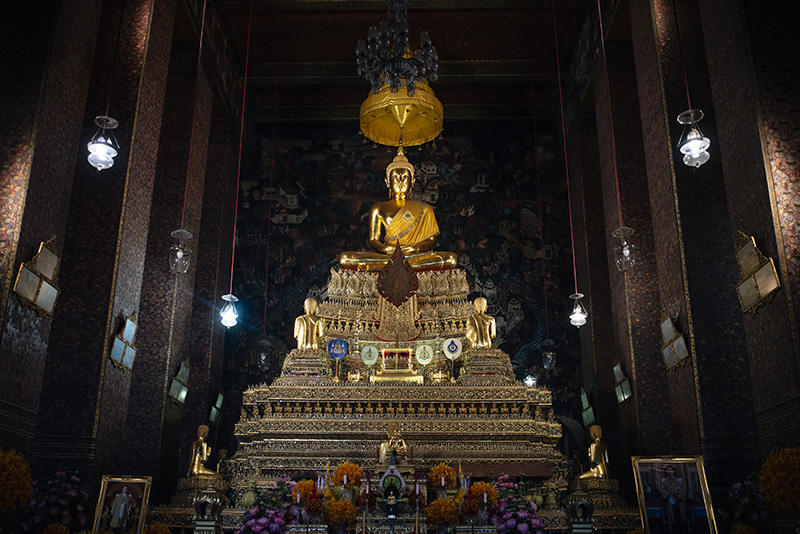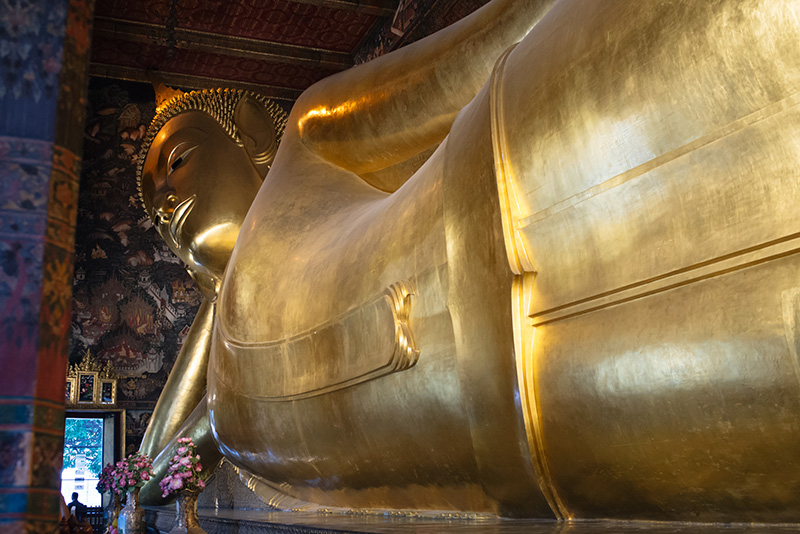 As we walked in to Wat Pho, or the Temple of The Reclining Buddha, it immediately had a different vibe to the glitzy Wat Phra Kaew. Here the mosaics adorning the temples were more earthy and neutral toned, it was less crowded and it felt much more relaxed and in tune with its surrounding area. It was incredible to think this was just down the road from where we had been.
That all changed as we got closer to the main draw of the site, The Vihara of the Reclining Buddha. Suddenly we were right in the middle of a crowd again, and the large open spaces were now taken up with brightly coloured marquees selling water and offering prayers and blessings. The atmosphere became much livelier as people gathered around the area and excitedly queued to see the Buddha.
The 46m golden Reclining Buddha really is a spectacular sight and the scale is quite overwhelming. Honestly, it's far bigger than the photos make it look! I spent a good few minutes just staring up in awe at the huge face looking down on me.
Wat Pho is one of the oldest temples in Bangkok, dating back to before Bangkok was established as the capital. It houses the largest collection of images of the Buddha in Thailand and is also considered to be the birthplace of traditional Thai massage. I was a little disappointed that we didn't have time to get ourselves a massage, which is still practiced here, and spend a little more time in the quieter areas.
Wat Arun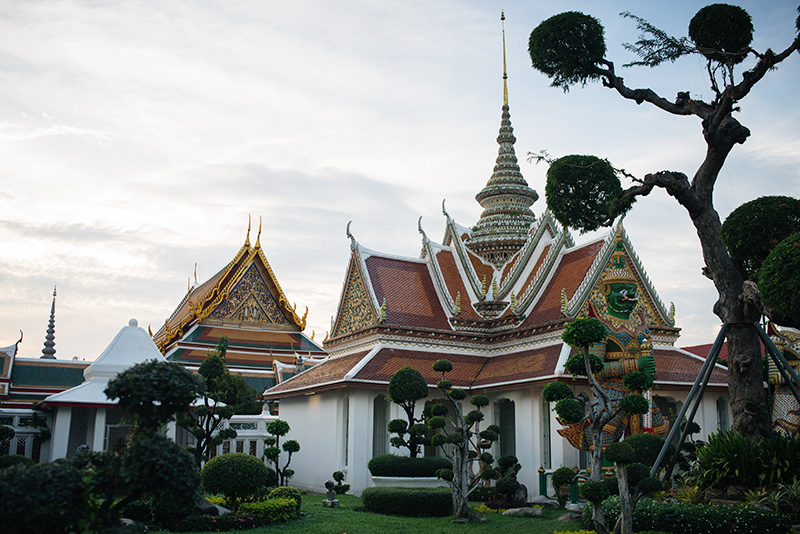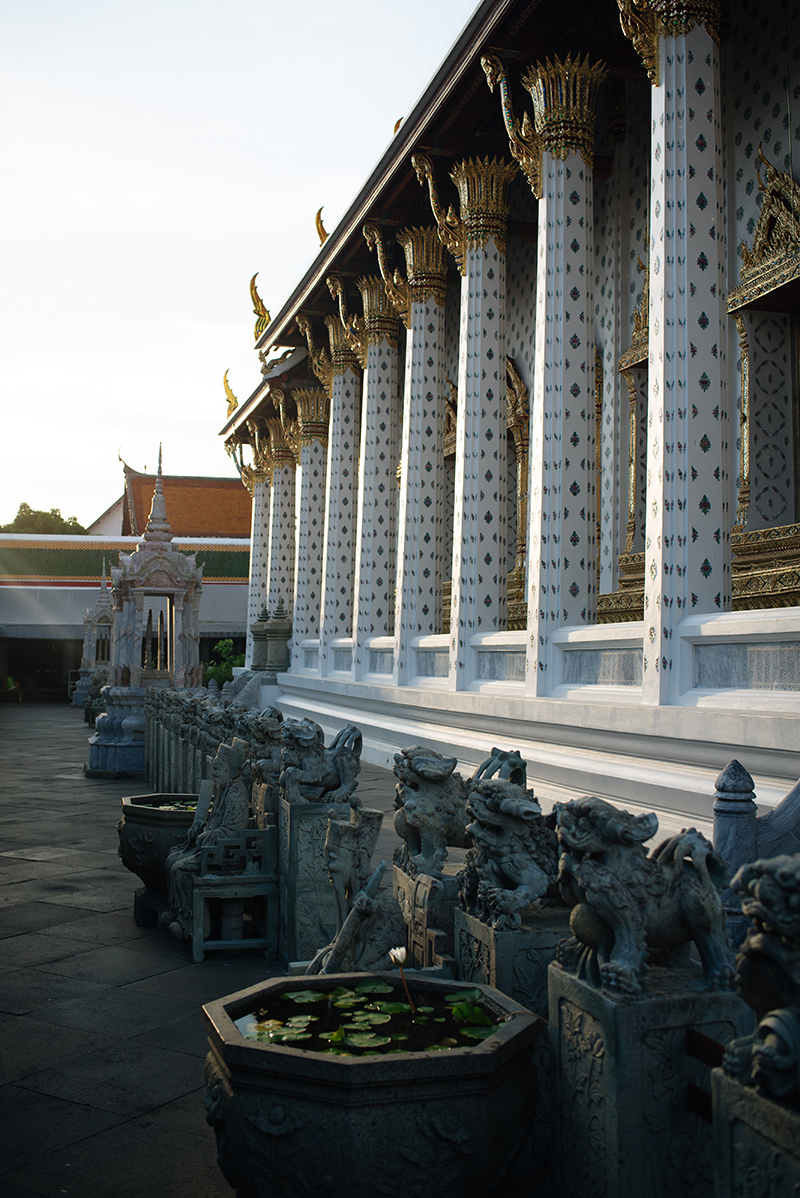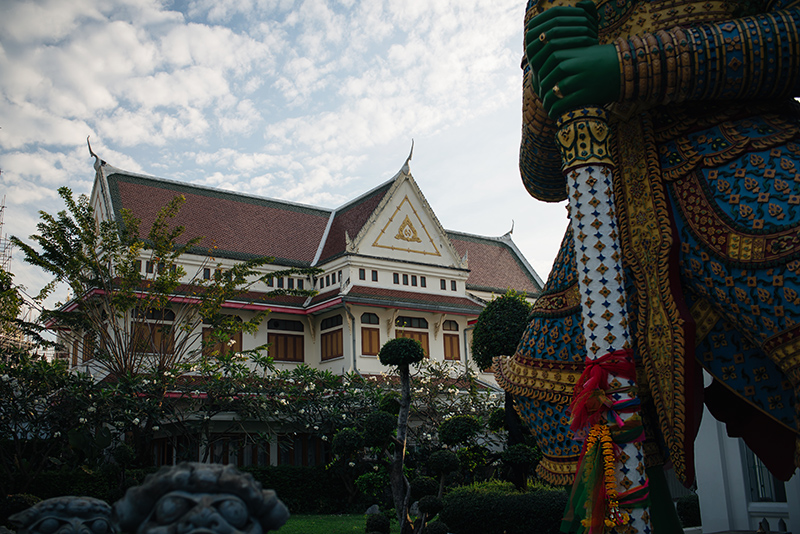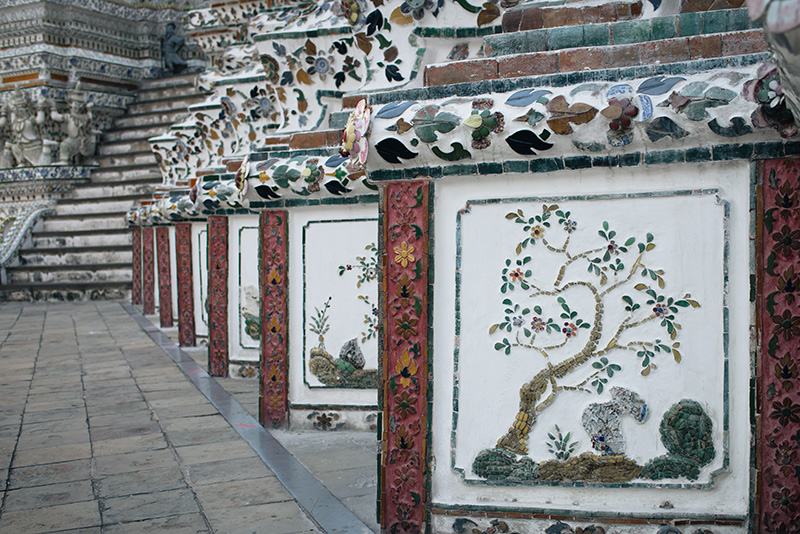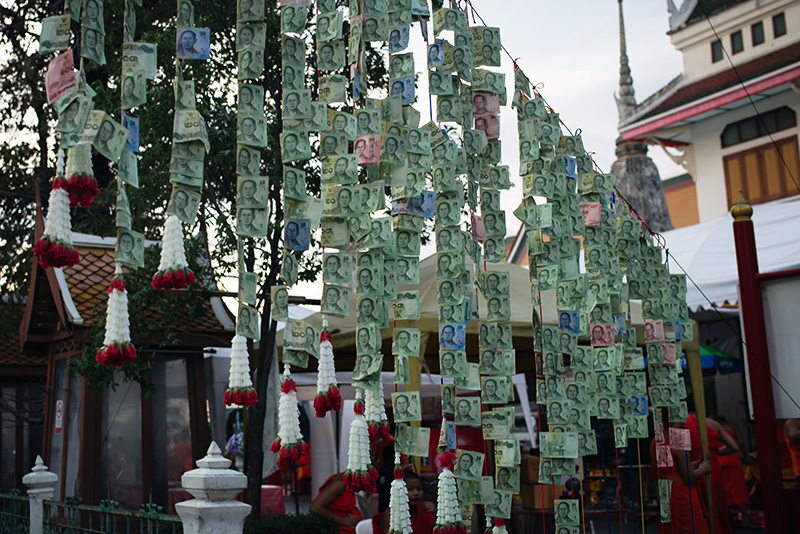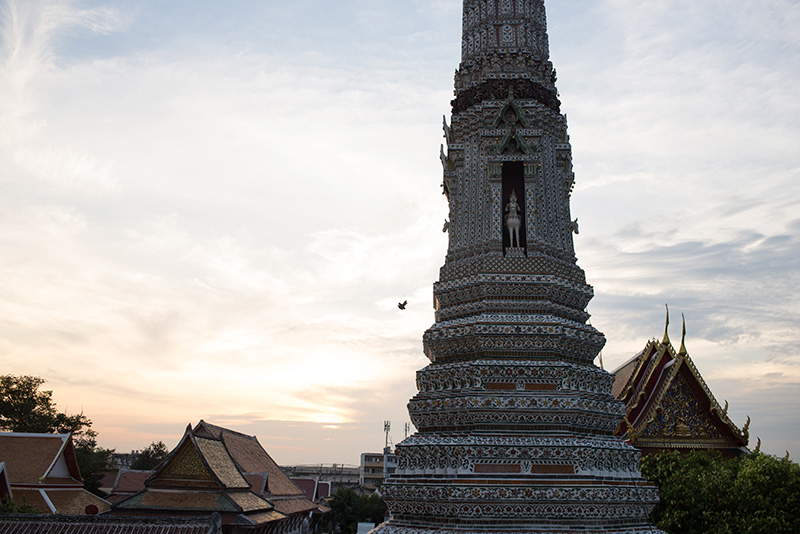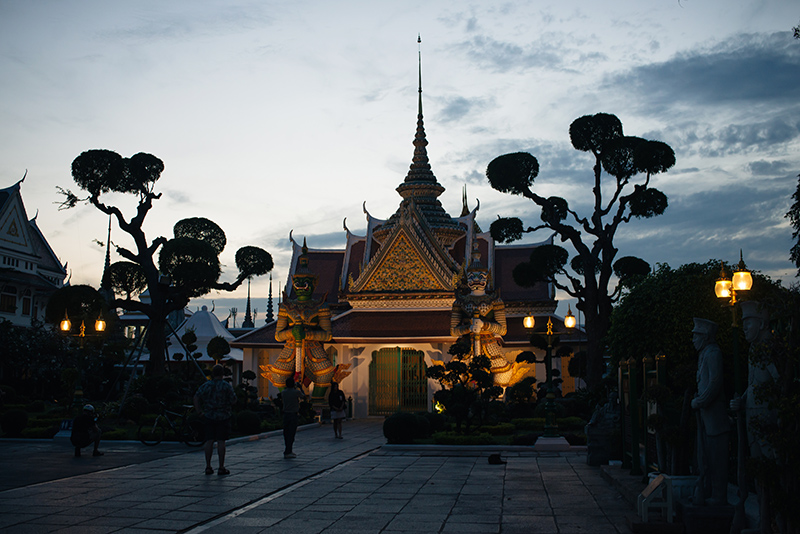 We arrived at Wat Arun, the Temple of Dawn, just as the very first signs of twilight were beginning to darken the sky, and found ourselves with the complex almost to ourselves. Just a handful of others, monks and members staff were still walking around. It felt much more serene here. It seemed quiet and empty in comparison, and the dying light bathed the whole area in a soft glow as it bounced off the porcelain encrusted towers.
Whilst still beautifully decorated, the style is much more paired-back here. Seashells are mixed in with china fragments to create the rustic mosaics which decorate the main stupa, and white space dominates giving it a lighter, more airy feel. It was the perfect end to our day, walking around in the twilight and taking in the view as we waited for the boat to take us back across the river.
Renovation work is currently being performed on the main stupa, so it was covered in scaffolding and we didn't get to go to the top or see it lit up at night. It wasn't any less incredible though, and it's actually great to see that these wonderful pieces of history are being actively preserved for future generations to enjoy.