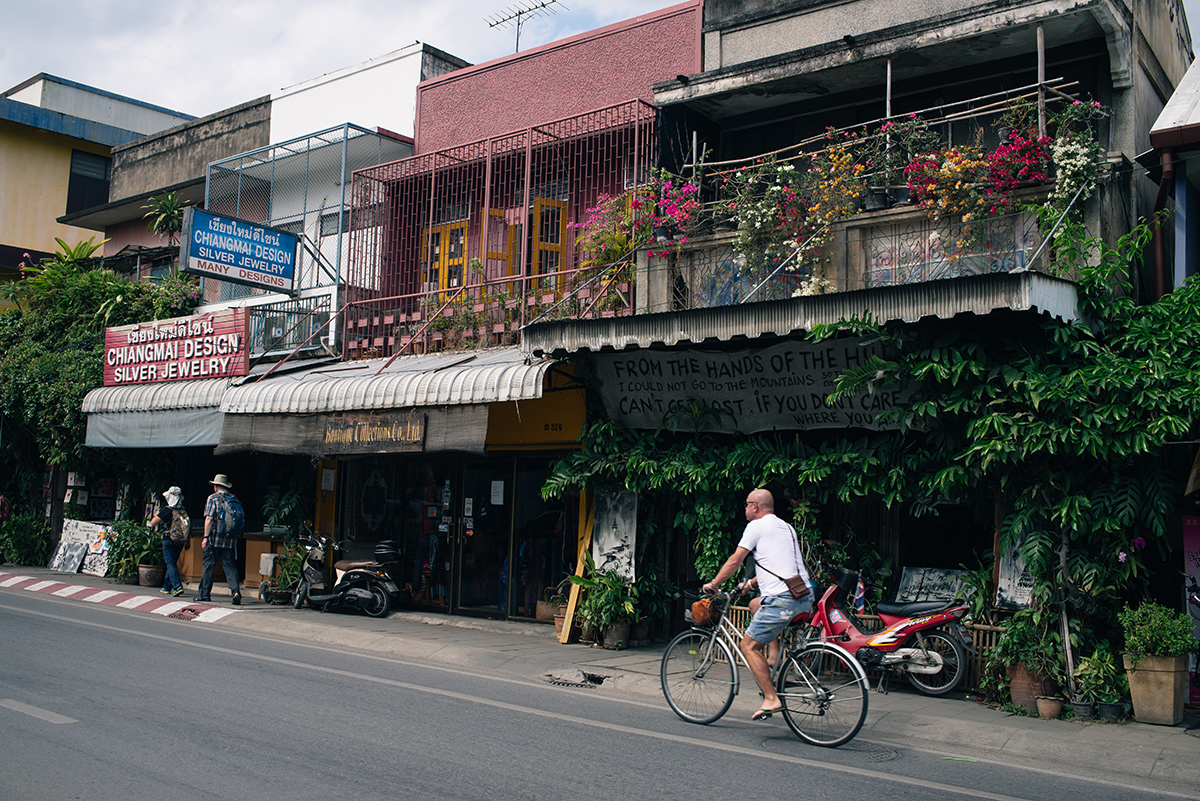 After our first hectic week in Bangkok and Siem Reap, the more laid back vibe of Chiang Mai was exactly what we needed. The pace here is much more relaxed, and one of the best things you can do is simply take the time to wander the streets and explore the city. We had five nights here in total, one of the longest stays during our trip, and we took full advantage of being able to take things a little slower here. We planned a few day trips out, but mostly we spent our time enjoying all of the great food on offer with long, lazy lunches and dinners, shopping to our hearts content at the market and the little independent stores, and exploring the temples and streets with no real plan in mind.
Shop the Sunday night walking street market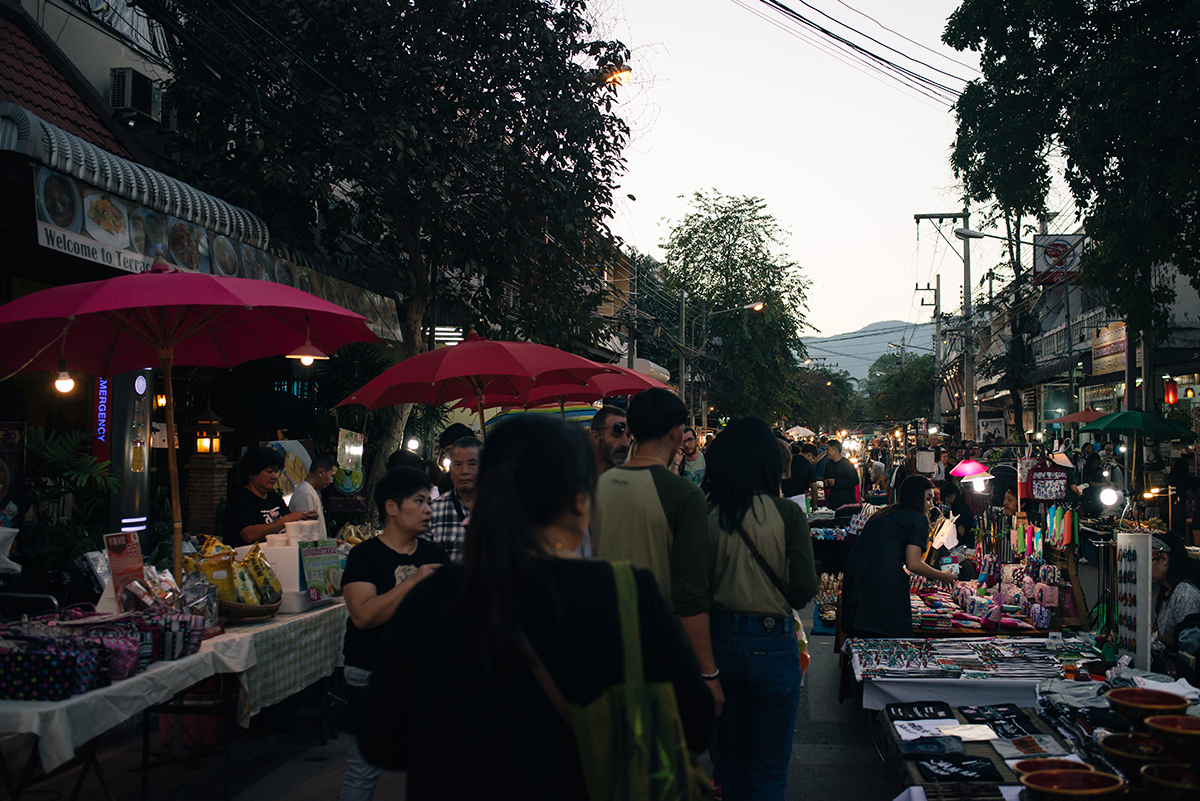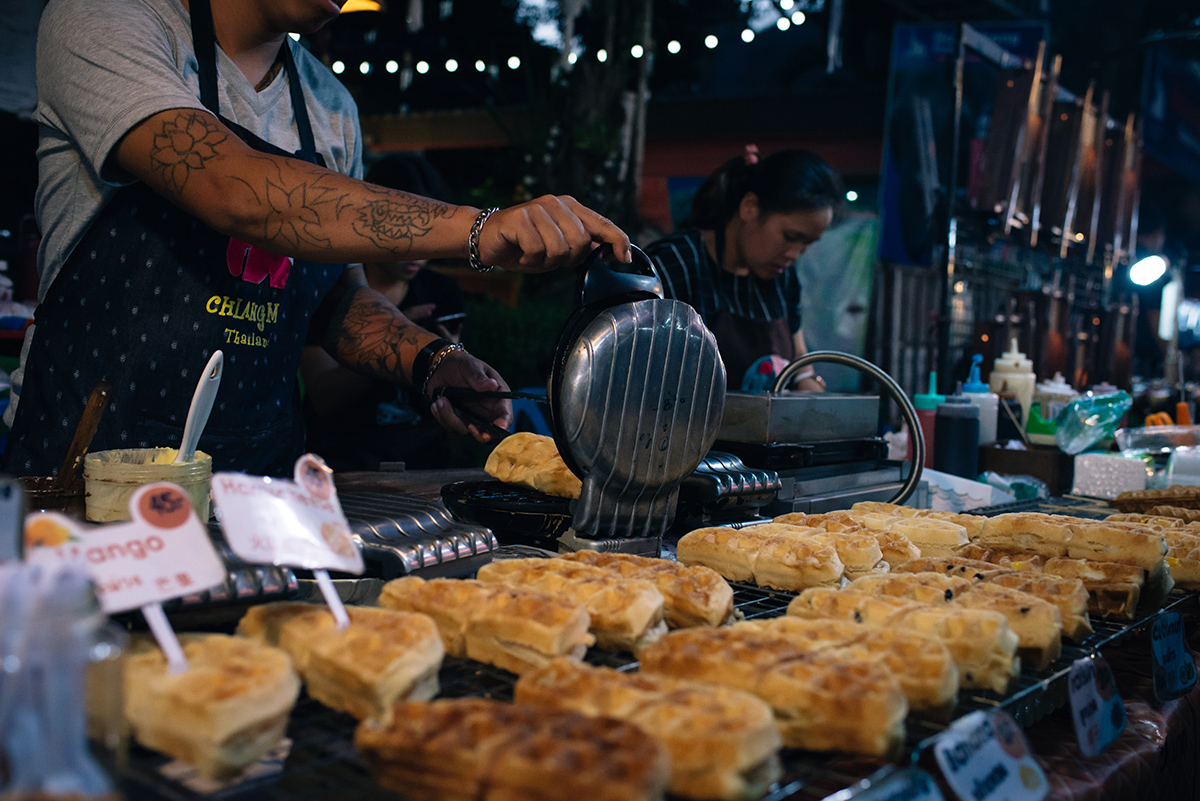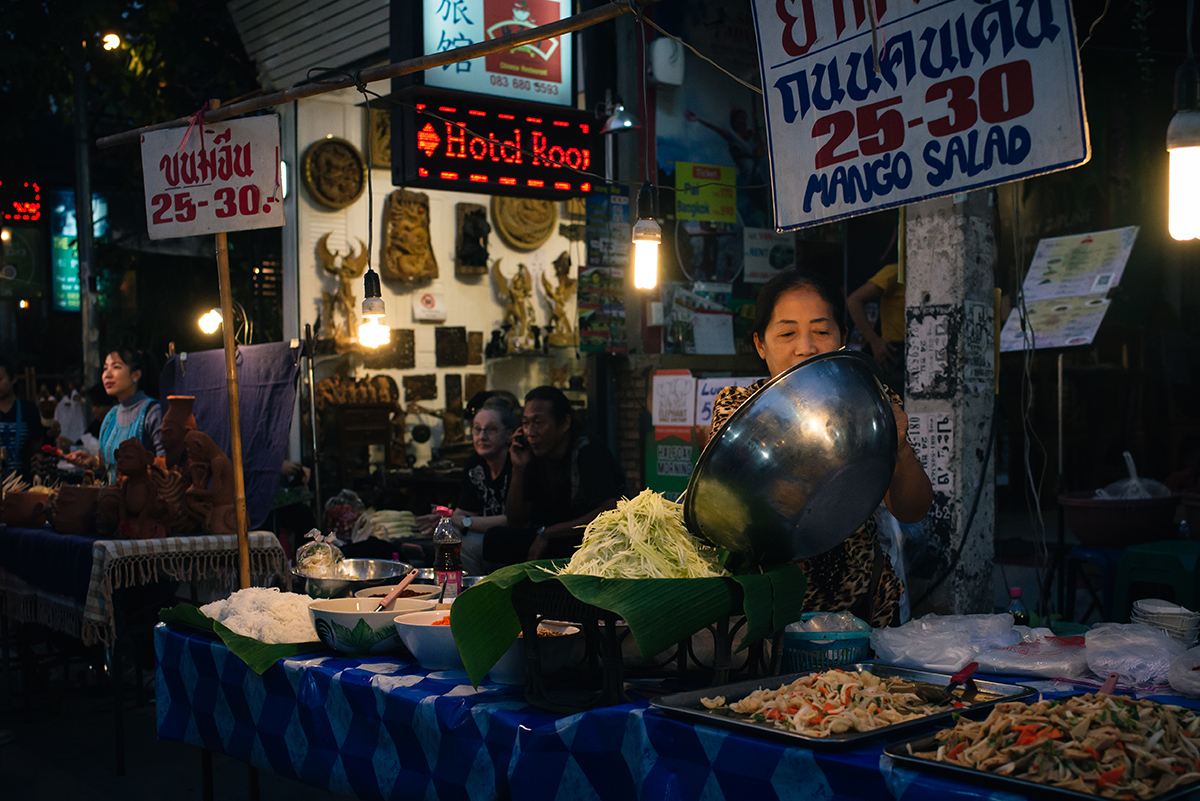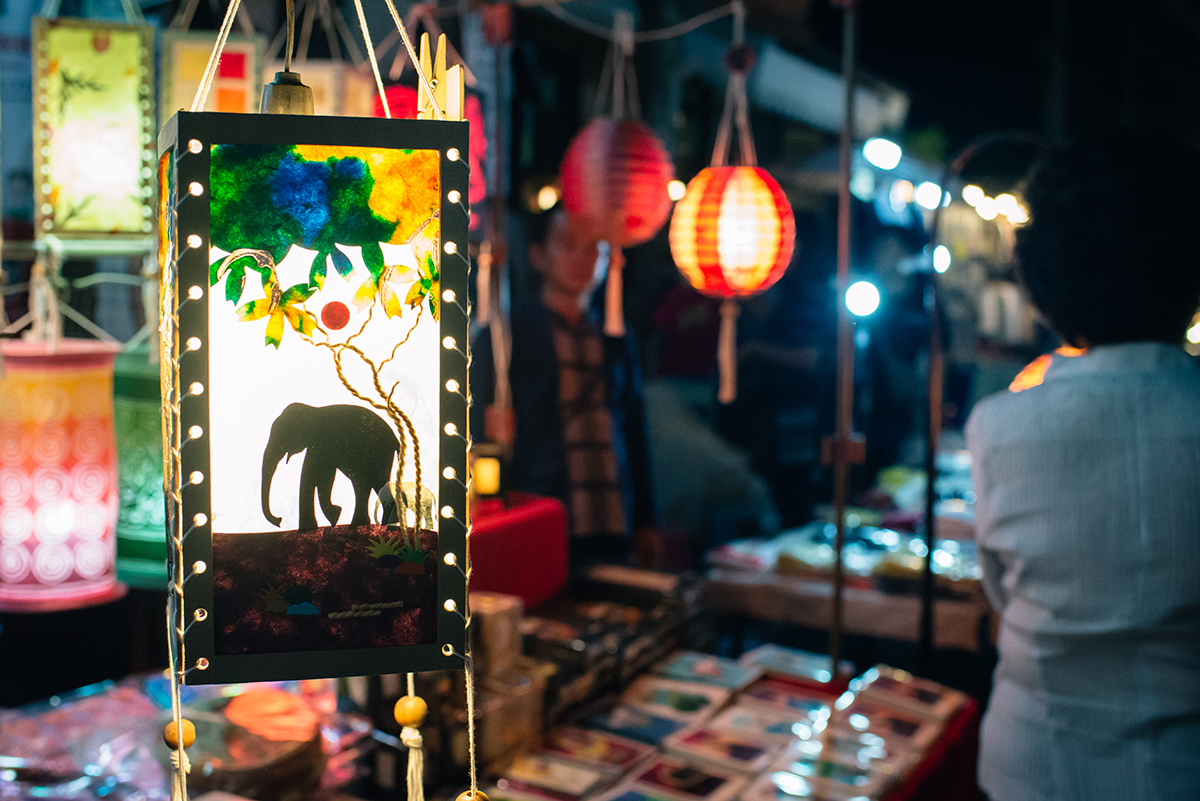 We arrived at our hotel in Chiang Mai late on a Sunday afternoon, and had planned on getting an early night, ready for the next day's adventures. When we told the manager of our hotel, Jenny, this over check in she practically insisted that we have a quick nap instead and then head straight out to catch the famous Sunday Walking Street Market. We both felt a little tired of markets after the hectic pace and pushy sales tactics we'd encountered elsewhere, but it was hard to say no to such an enthusiastic recommendation.
As soon as we arrived, we were so glad that we took Jenny's advice. Each weekend from 4pm until midnight, the main street of Ratchadamnoen Road overflows with stalls selling accessories, homewears, gifts, clothing, soaps, skincare, jewellery and the most delicious street food. It was crowded and busy, full of tourists and Thai people alike, but it somehow seemed less chaotic. We weren't constantly hounded to buy things and the overall experience was much more relaxed and enjoyable. Compared to the markets in Bangkok, here the focus was on handmade products, vintage items and traditional crafts, and we saw a lot of unique items that we hadn't come across anywhere else. We both ended up buying a lot of gifts for friends and family back home here, and quite a few nice pieces for ourselves as well.
The whole atmosphere around the road whilst the market is on is really wonderful too, so it's worth stopping by even if you don't want to buy anything. Many of the restaurants and bars have their happy hours around this time, and there's often live music playing and a real feel good kind of vibe. After having eaten one too many snacks whilst shopping, we sat down for cocktails and a small dinner at one of the nearby bars, listened to an incredible traditional Thai band and watched the world go by for a few more hours.
Explore the city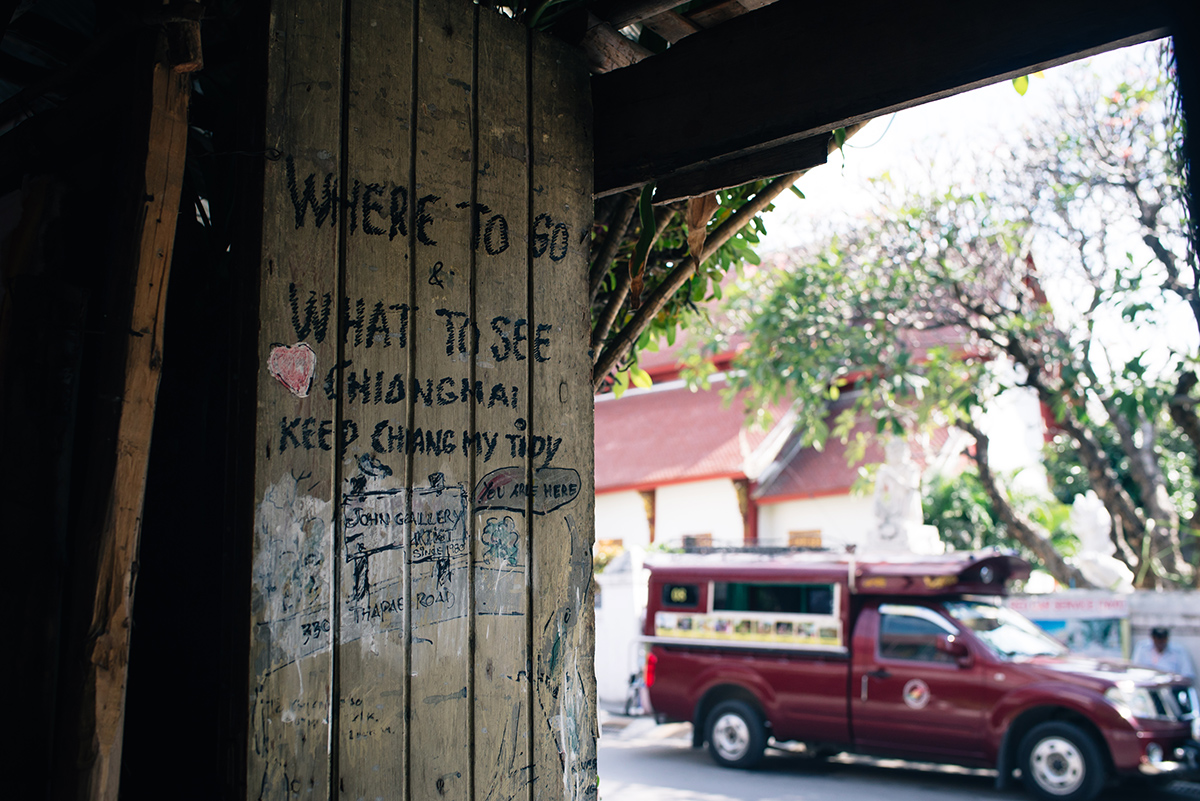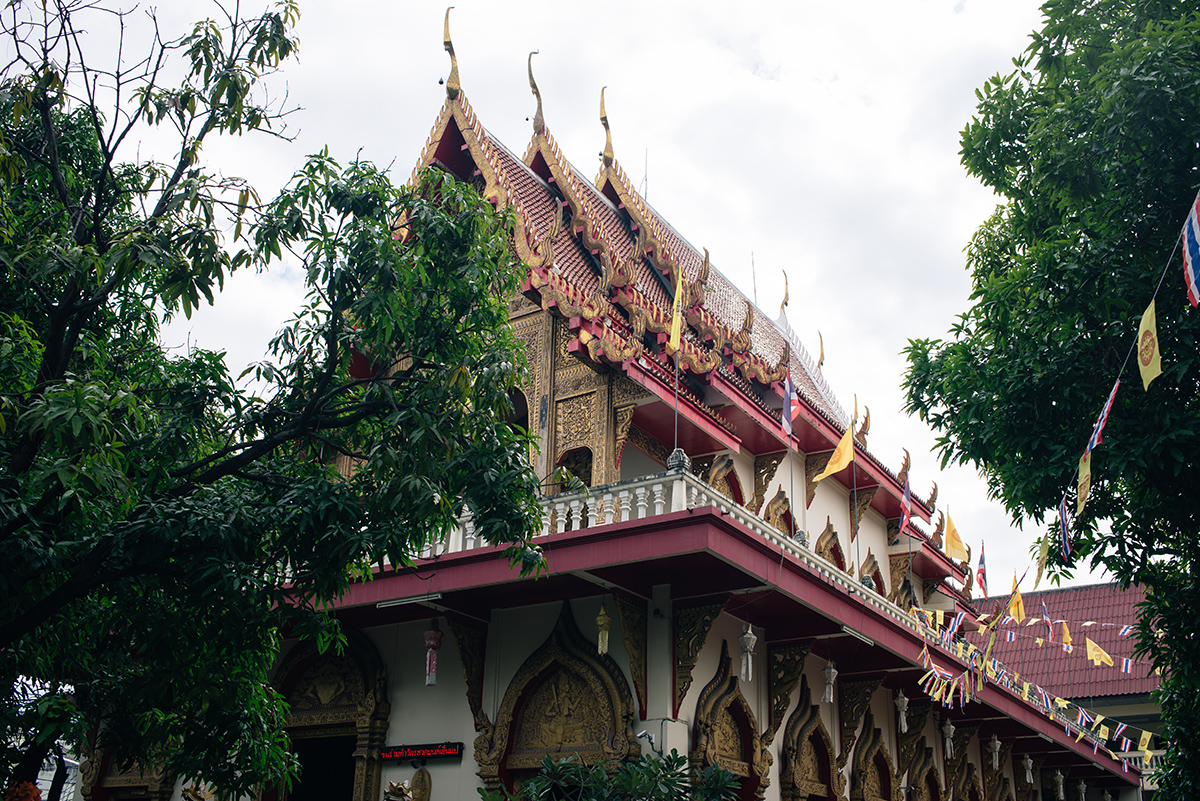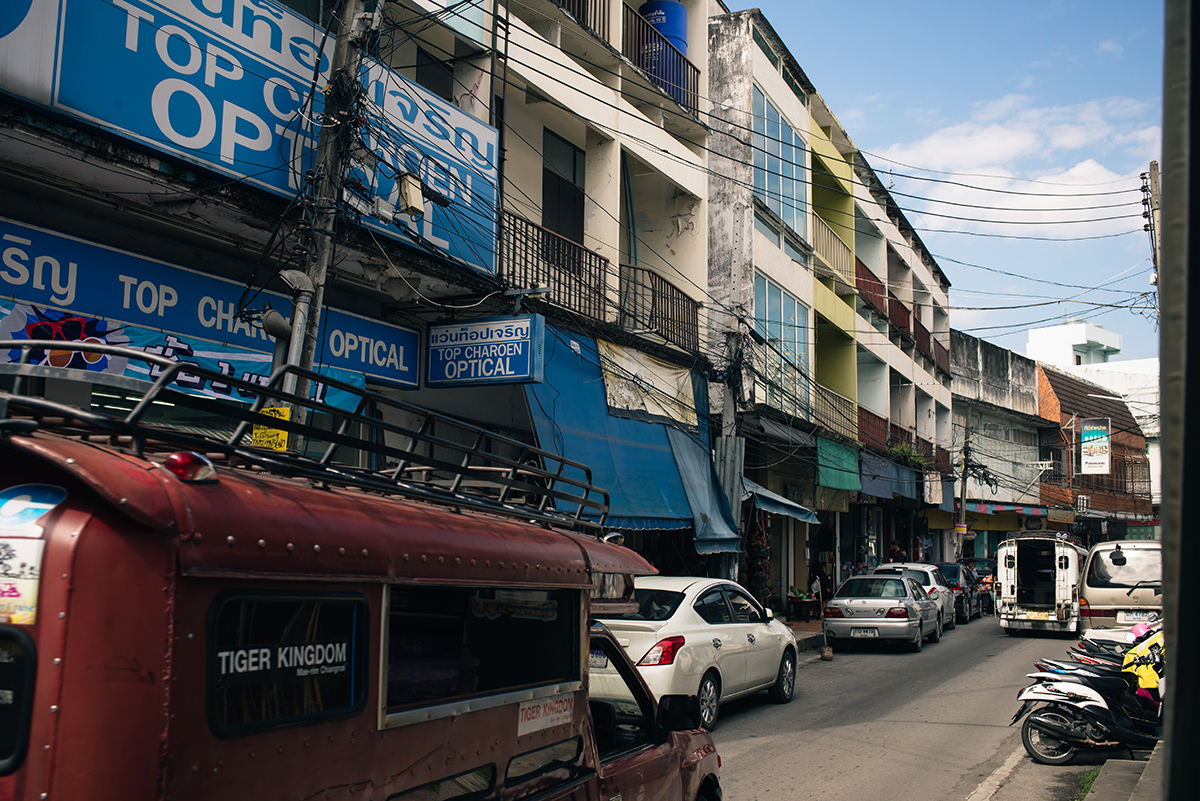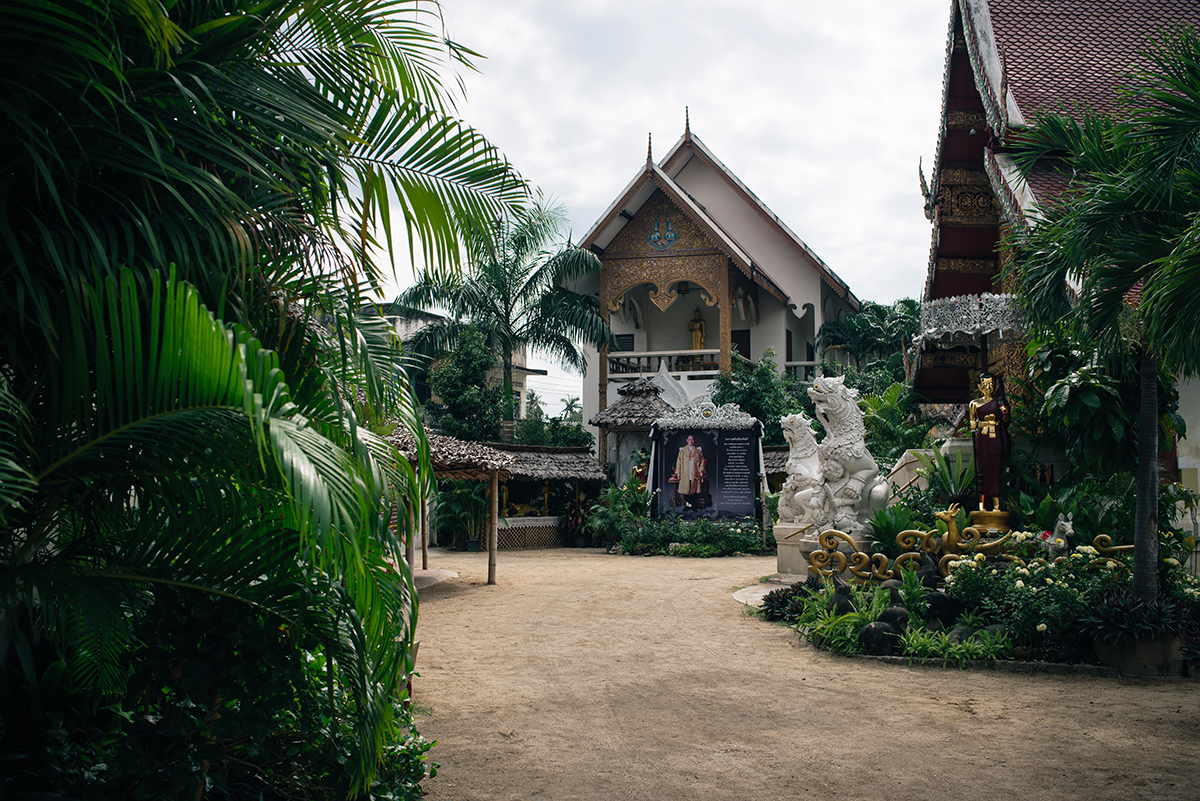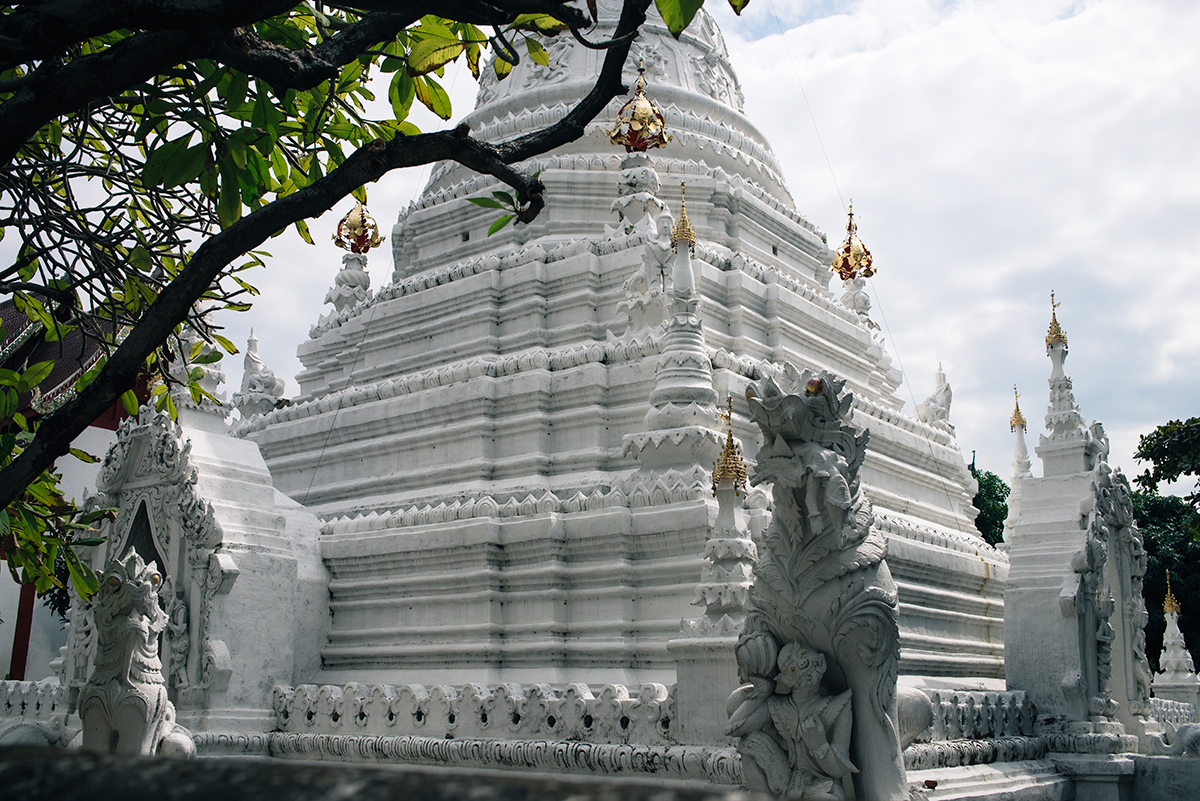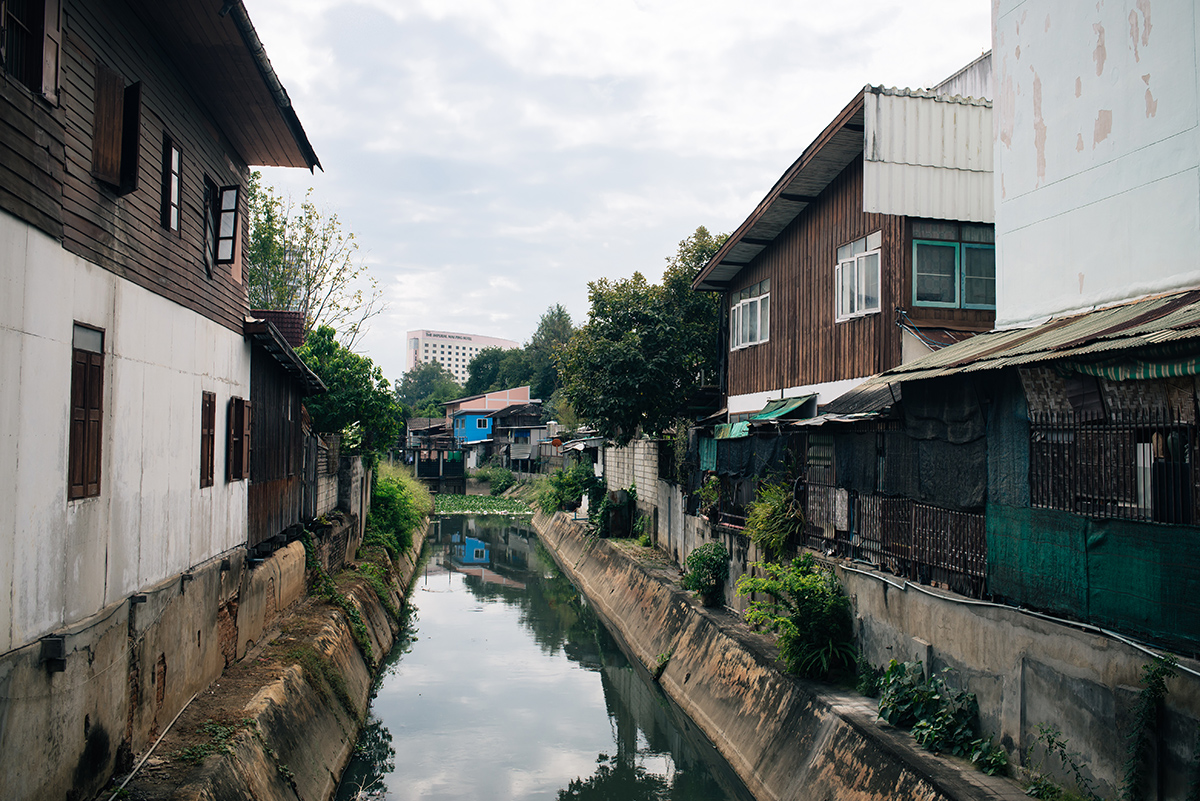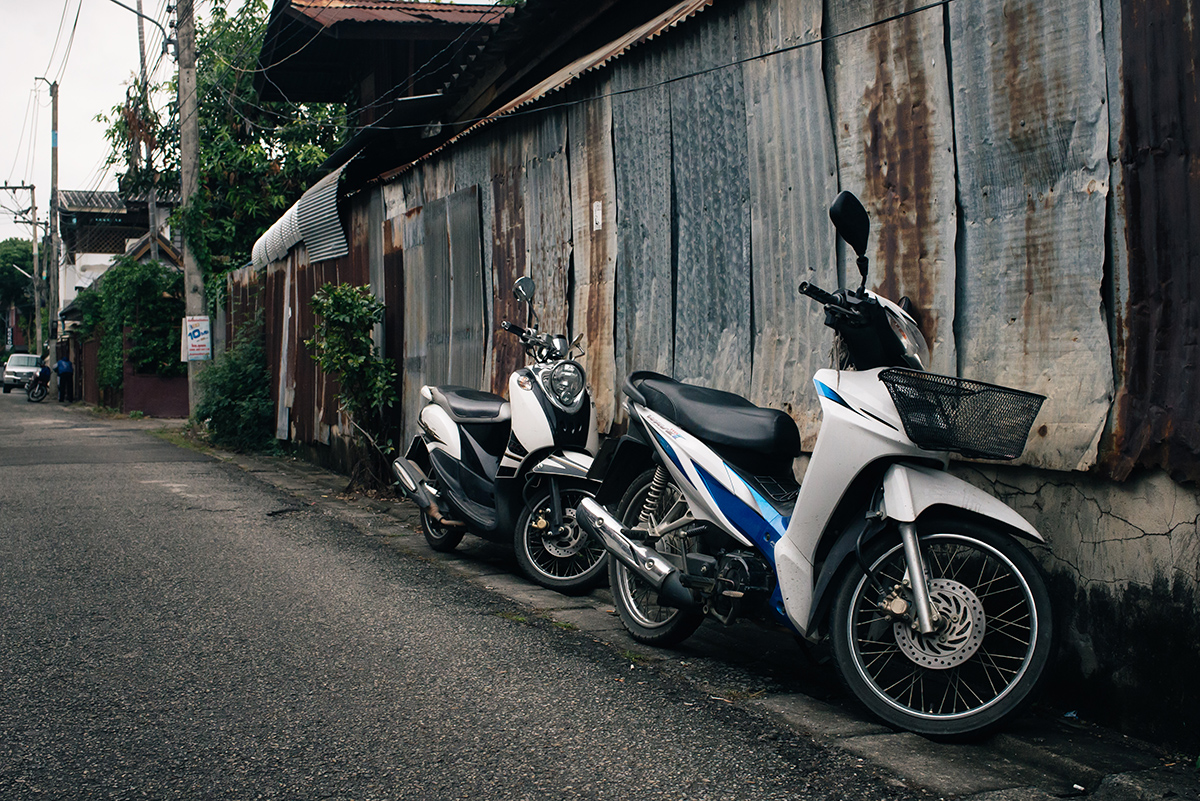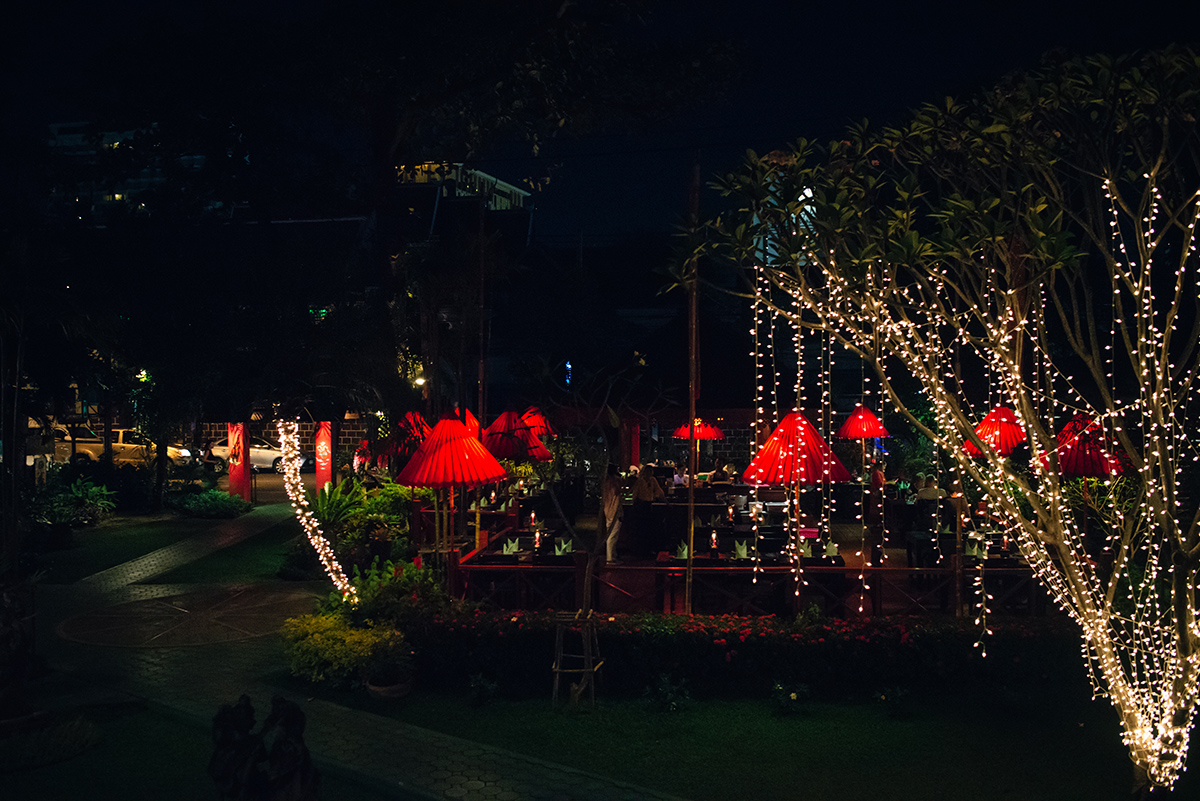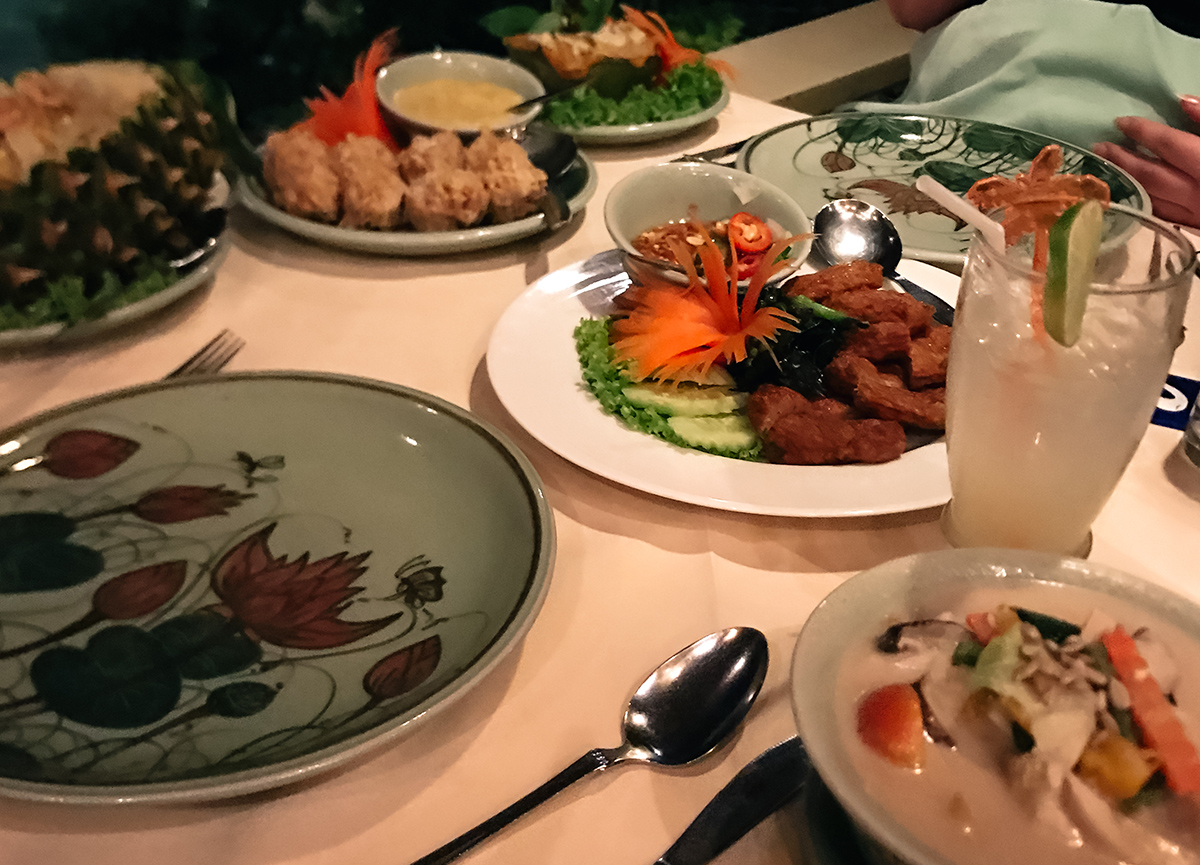 As I've already mentioned, one of the best ways you can spend time in Chiang Mai is just walking around. There's so much to see packed into these city walls, but it really pays to have a few lazy days here to fully appreciate the creative, laid-back vibe that seems to envelope the city. Independent boutiques, local artist's shops, small cafes and restaurants, street food, temples, art galleries and jewellery stores all sit side by side and you'll find yourself wanting to go into each and every one.
We ate so well whilst we were in Thailand, but I think the food we ate in Chiang Mai might have been some of the best. There's so much choice here, and no matter whether we chose street food, a tiny run down looking cafe or a well rated restaurant every single dish was delicious. On our last night we had dinner at The Whole Earth and I wish we'd found it sooner so that we could have gone back once more. Not only is the setting absolutely beautiful, perched in a traditional teak building overlooking sprawling gardens and fairy light draped trees, but they also have a huge vegetarian and vegan offering too. We decided to go all out and tried lots of different sides along with our main meals, including a few vegetarian dishes I'd never tried before. The green curry I had here was one of my favourites of the trip, and I now have a real taste for fried taro balls.
Get a Thai massage
If you've yet to treat yourself to a traditional Thai massage, Chiang Mai is the perfect place to do so. There are massage shops all across the city, offering both traditional massage and more relaxing, spa-like experiences. Our first stop was a small parlour near our hotel, for an authentic Thai massage. I had no idea what to expect and the masseuses here were pretty brutal, even despite me asking them to be gentle! I was bent in ways I never knew I could bend and although it was anything but relaxing at the time, we both left feeling strangely lighter and deeply refreshed afterwards.
A few days later we decided to try out one of the more luxurious offerings and stopped off at Lila Thai to get manis and pedis, plus a hot oil massage ready for our next stop in Krabi. This was a much more relaxing experience, with dark, private rooms filled with scented oils and soft background music. Coming out into the sunlight afterwards I felt as though I'd just woken up from the best nap of my life, and it seemed like such a luxury for the tiny price we paid.
Visit the temples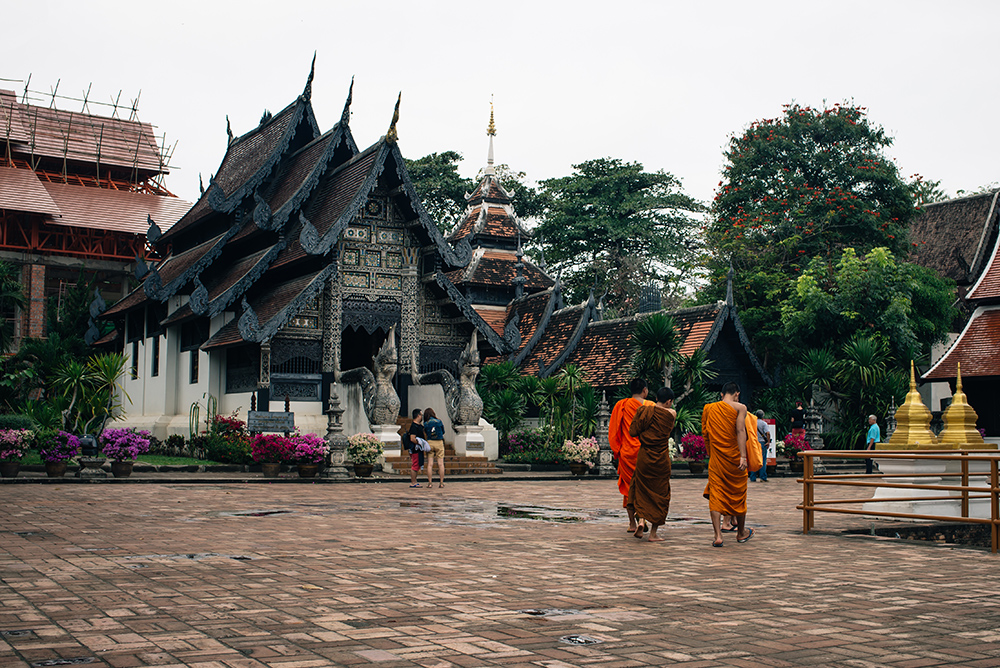 Walking through the streets of the old city, you'll stumble upon many beautiful temples. Chiang Mai has almost 30 inside it's walls, and more than 300 spread across the city. You probably won't want to visit every single one, so wandering around is the best way to see a good variety of them without ending up with temple burnout.
One temple you cannot miss is Wat Phra That Doi Suthep. The most revered and magnificent temple in the city is a short ride away, up a twisting mountain road, but the gleaming golden stupa and breathtaking views across the city make it completely unmissable. If you're able to head over in the afternoon, you'll miss the main crowds and may even be lucky enough to quietly watch as the monks perform their evening rituals and chants.
Read more in my Temples of Chiang Mai and Wat Phra That Doi Suthep posts.
Take a day trip to Elephant Nature Park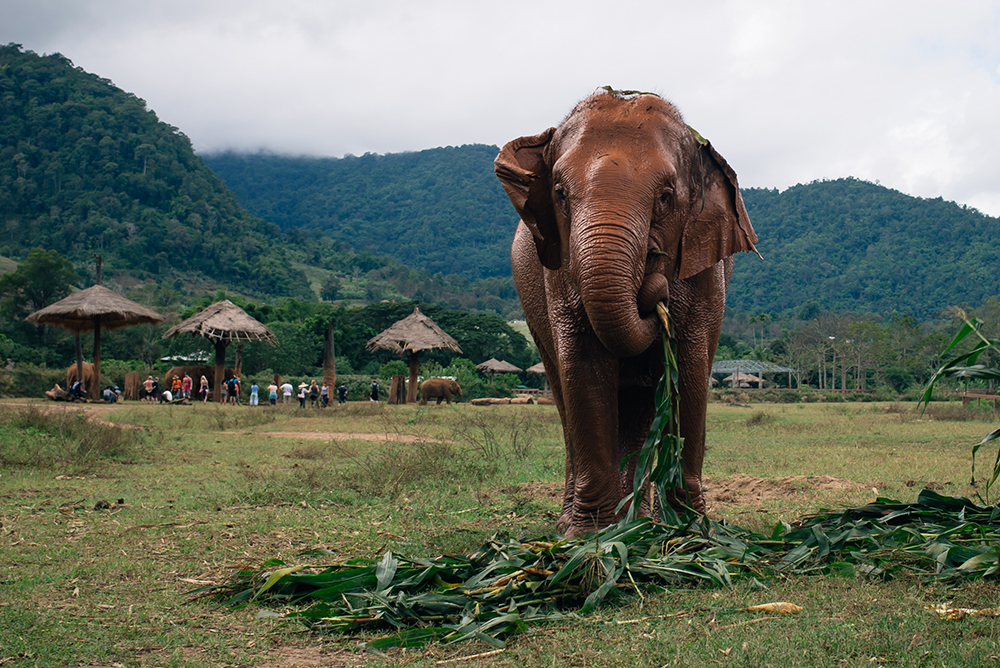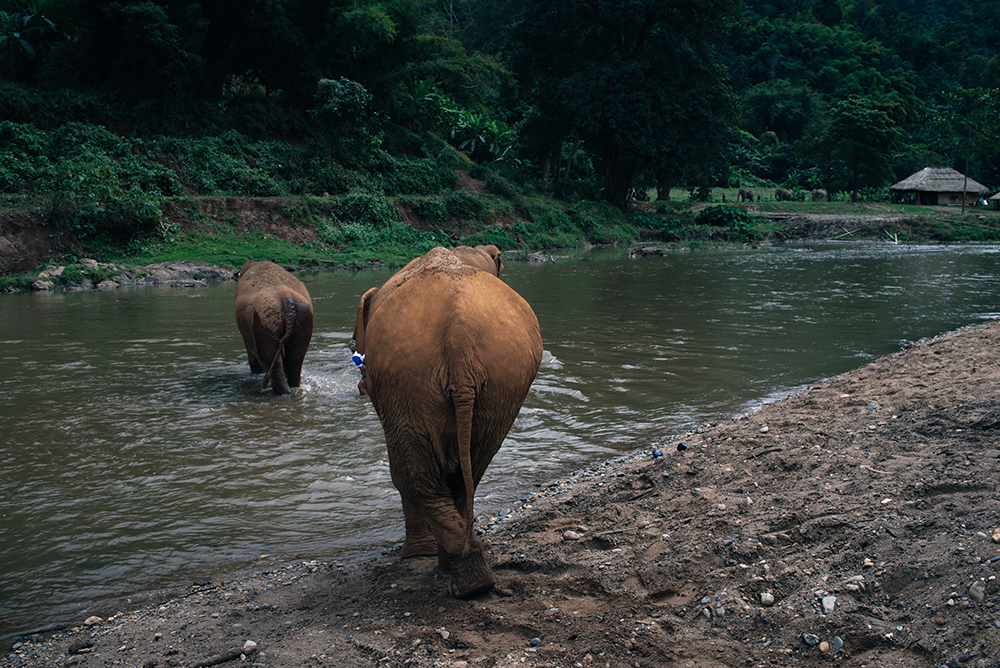 Despite all of the wonderful things we saw and experiences we had in Chiang Mai, our trip to Elephant Nature Park was easily our favourite day we spent here. Whether you have two days or a whole week, this is something you really have to make time to fit in. The park works tirelessly to rescue and rehabilitate abused elephants, and you can be sure when visiting here that you are not causing them any harm or distress in the process, unlike many of the other animal 'attractions' across Thailand. It was such an unforgettable experience to get up close to these incredible creatures, and profits from tourism here go straight back into helping the elephants too.
See all of the photos and read more about our day here in my Elephant Nature Park post.